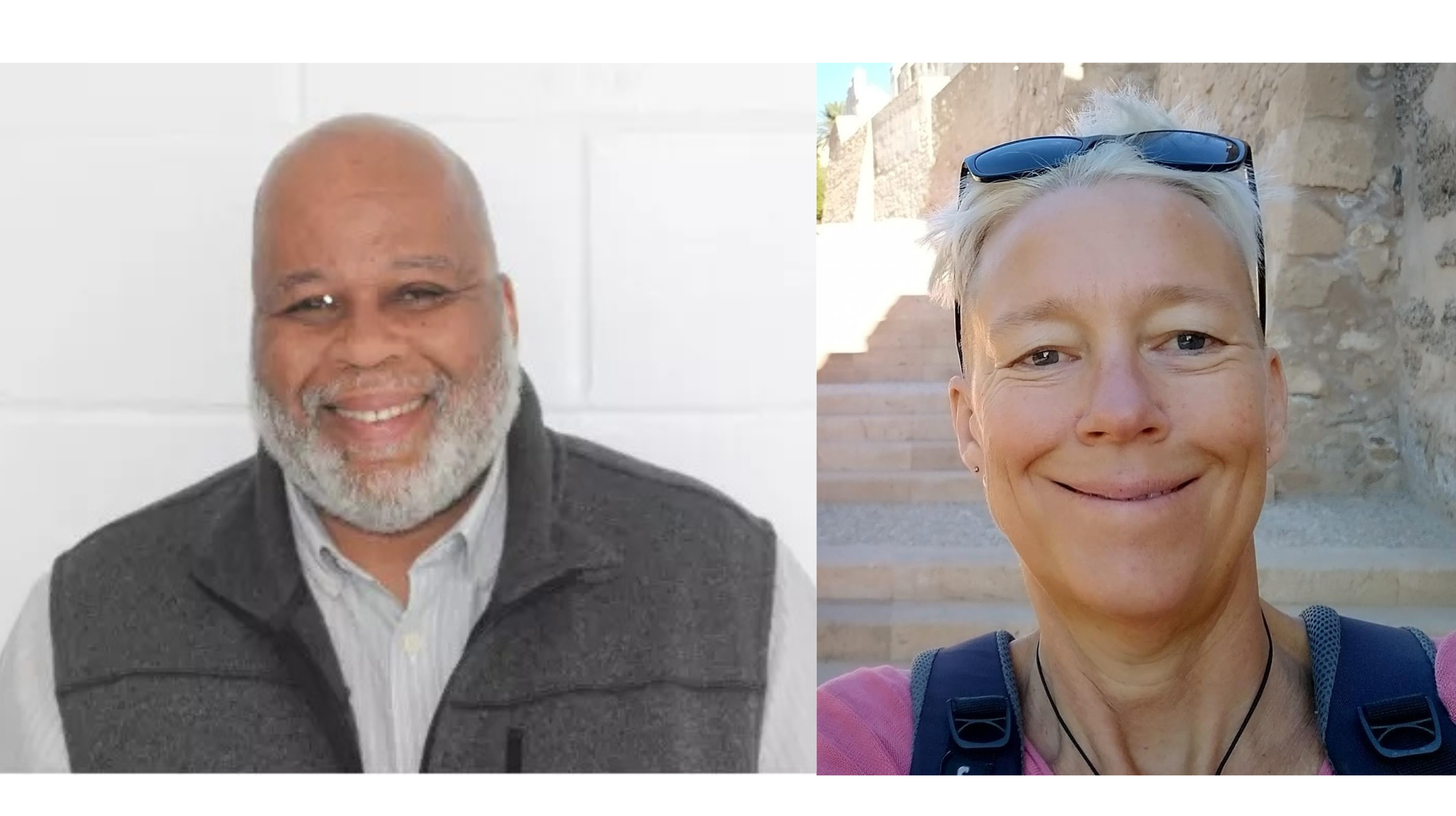 Philadelphia, PA (April 10, 2023) – The American Friends Service Committee (AFSC) has hired Lewis Webb and Lucy Roberts to serve as the organization's U.S. peacebuilding director and international peacebuilding director, respectively. These new positions within AFSC reflect the organization's commitment to a ten-year strategic plan that prioritizes the promotion of non-violent and diplomatic solutions to conflict by demonstrating the effectiveness of peacebuilding.
Lewis previously led AFSC's New York-based healing justice work for over 12 years and since 2017 has been the coordinator of the organization's national healing justice network. Since joining AFSC, Lewis has built an advocacy program that focuses on sentencing and the school-to-prison pipeline, established a growing youth advocacy training program, and guided the collective development and eventual organizational endorsement of "Our North Star: A Vision for Community Safety Beyond Prisons and Policing." Lewis holds degrees in philosophy and law and has many years of experience as an educator. He will be based in Philadelphia.
"What an exciting opportunity to work with and support colleagues and communities in advancing conflict transformation," said Lewis Webb. "Together, we look forward to dismantling systems of discord while building sustainable systems of peace."
Lucy returns to AFSC after having previously worked as the Asia Regional Director from 2013 to 2018. In that role, she led the development of regional strategy and brought an integrated approach to the work in Asia. Lucy's work experience includes senior management in international development, peacebuilding, and conflict transformation, with specific experience in the disability rights sector and inclusivity. For the past five years she has worked as a conflict transformation consultant and executive and leadership coach with clients in the private and charity sector. She is also a Trustee with the Lansbury House Charitable Trust, a UK grant giving trust focused on peace projects, and is a member of the Rethinking Security council, a network of organizations, academics and activists working together for UK security based on justice, cooperation and sustainability. Lucy holds an MA in International Development and ILM Level 7 Certificate for Executive and Senior Level Coaches and Mentors. She will be based in London, UK.
"I feel excited and honored to rejoin AFSC in this pivotal role," said Lucy Roberts. "I can't wait to collaborate with International and U.S. colleagues to ensure we, with our inspiring partners,
create environments and systems where peace can thrive. I am 100% committed to working positively and appreciatively and making our dreams of peace and security a reality".
In their new roles, Lewis and Lucy will be responsible for leading AFSC's work towards a future free of militarism and violence. AFSC works to address the root causes of violence—and transform systems to ensure just, sustainable peace for all. To learn more about AFSC's peacebuilding work, visit https://afsc.org/issue/global-peace.
###
The American Friends Service Committee (AFSC) promotes a world free of violence, inequality, and oppression. Guided by the Quaker belief in the divine light within each person, we nurture the seeds of change and the respect for human life to fundamentally transform our societies and institutions. We work with people and partners worldwide, of all faiths and backgrounds, to meet urgent community needs, challenge injustice, and build peace.