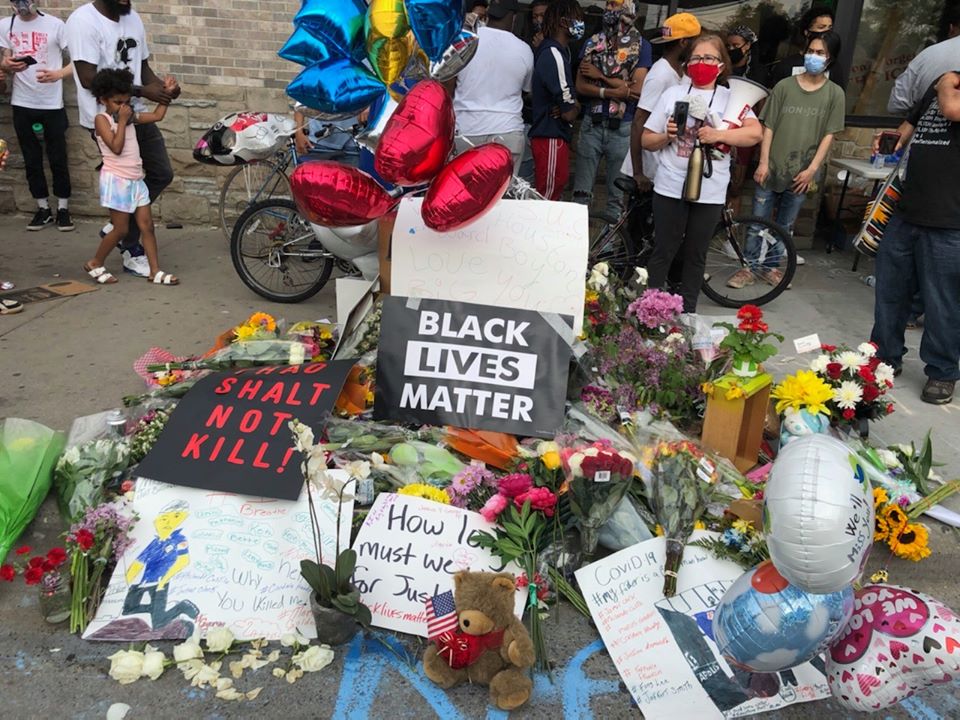 SAINT PAUL, MN (May 29, 2020)  On May 25, George Floyd – a Black 46-year-old Minneapolis resident – was murdered by white police officer Derek Chauvin and three other officers, Tou Thao, Thomas Lane, and J Alexander Kueng. Floyd's murder sparked widespread condemnation and protests across the Twin Cities and across the country. Protesters were met with tear gas and rubber bullets. Minnesota Governor Tim Walz has deployed the National Guard. The American Friends Service Committee (AFSC) – a Quaker social justice organization – condemned the killing and the police violence.  
 
"The brutal murder of George Floyd is the consequence of a racist system that disproportionately targets people of color for violence, imprisonment, and premature death," said Shanene Herbert, director of AFSC's Healing Justice program in Saint Paul. "Firing these police officers is not enough. We need resources directed away from the police forces that occupy our communities. We need investment in our young people, in our schools, in our health care, and in transformative forms of justice that address the root causes of harm." 
 
The Healing Justice program works to dismantle the cradle-to-prison pipeline, institute restorative practices in St. Paul Public Schools, conduct circle-keeping training for students and educators, and help young people build an analysis of race and organizing through a bi-annual Freedom School.  
 
Since the murder of George Floyd, the program has been working alongside organizations, individuals, and communities across the Twin Cities to hold space for young people to express themselves and take action. Last night, they held a restorative circle in front of the police precinct, setting up a mic for young people of color to share their grief and anger at the system that allowed this to happen.  
 
AFSC and others have also been organizing to gather and distribute groceries and resources, as communities face the twin hardships of COVID-19 and the destruction of nearby grocery stores.  
 
"When you turn on the news, all you hear is the chaos ensuing in our city instead of asking who or what harmed our community, again, that they are responding in this way? Or what about the people that were killed by the hands of police that sparked the protest in the first place?" said Nhu Richards, Healing Justice Cary Fellow for AFSC. "What you are witnessing is evidence of marginalized folx exhausted from having an oppressive foot on their necks – or in George Floyd's case, a knee – from Officer Chauvin, who has multiple brutality complaints against him. Where are the interviews with the thousands of survivors of police violence that live in this city? Where are the stories of the strength of Black and Brown communities coming together to reclaim our space and support each other during this crisis?"  
 
George Floyd's death is the third high profile police killing of a Black person in recent weeks. On March 13, Breonna Taylor, a Louisville EMT, was killed in her own home by Louisville police officers. On May 27, Tony McDade was shot and killed by police outside an apartment complex in Tallahassee.     
 
Communities in the Twin Cities are calling on city leadership to hold the police officers accountable, and to make changes in the police contract. They also are calling for the defunding of the police and investment in community needs.  
 
### 
 
The American Friends Service Committee is a Quaker organization that includes people of various faiths who are committed to social justice, peace and humanitarian service. Its work is based on the belief in the worth of every person and faith in the power of love to overcome violence and injustice.