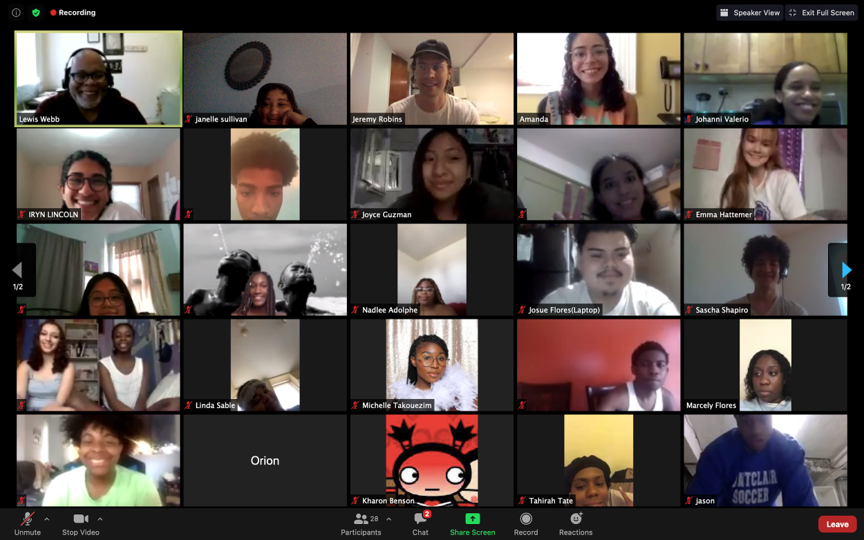 As a Healing Justice intern with AFSC in New York, I worked with the Liberation Summer Youth Advocacy Training Camp, which helps high school students learn skills to become self-advocates and agents of change.
For the past several years, AFSC has partnered with Echoes of Incarceration to host the camp and create a safe place for young people who have been personally impacted by the U.S. criminal legal system or immigration policy. This could include having a loved one who has been incarcerated, faced deportation, or other injustices in our legal systems. The camp also welcomes young people from the New York Tri-State area who have not been directly affected by these systems but want to become agents of change. During the summer, the campers learn about issues such as felony disenfranchisement, the school-to-prison pipeline, detention, and deportation—all while being trained in the art of filmmaking for change.
The pandemic required us to move the camp online and adapt the curriculum to fit our virtual setting. Instead of learning about filmmaking this summer, participants focused on creative writing and photography skills. Teaching them creative writing techniques gave them an outlet to voice their opinions and express how they have been affected by the oppressive systems in our country. Activities included developing their own theories of change, portraying various emotions through photography and writing, and engaging in discussions hosted by guest speakers.
Here's a piece, meant for a protest, that a camper wrote about deportation:
"...¡Damas y caballeros,
viniendo a ustedes en vivo desde Facebook es la familia Hoyt,
QUIÉN SABÍA SUS DERECHOS!
No fue suficiente para estos policías.
Estos policías ignorantes persistieron.
Ellos conocían sus derechos pero cada segundo de este video,
se les quitan sus derechos.
¿Cuál es el punto de conocer sus derechos, si ni siquiera los tiene?"
This photo, taken by a camper, represents how she felt confined due to COVID-19: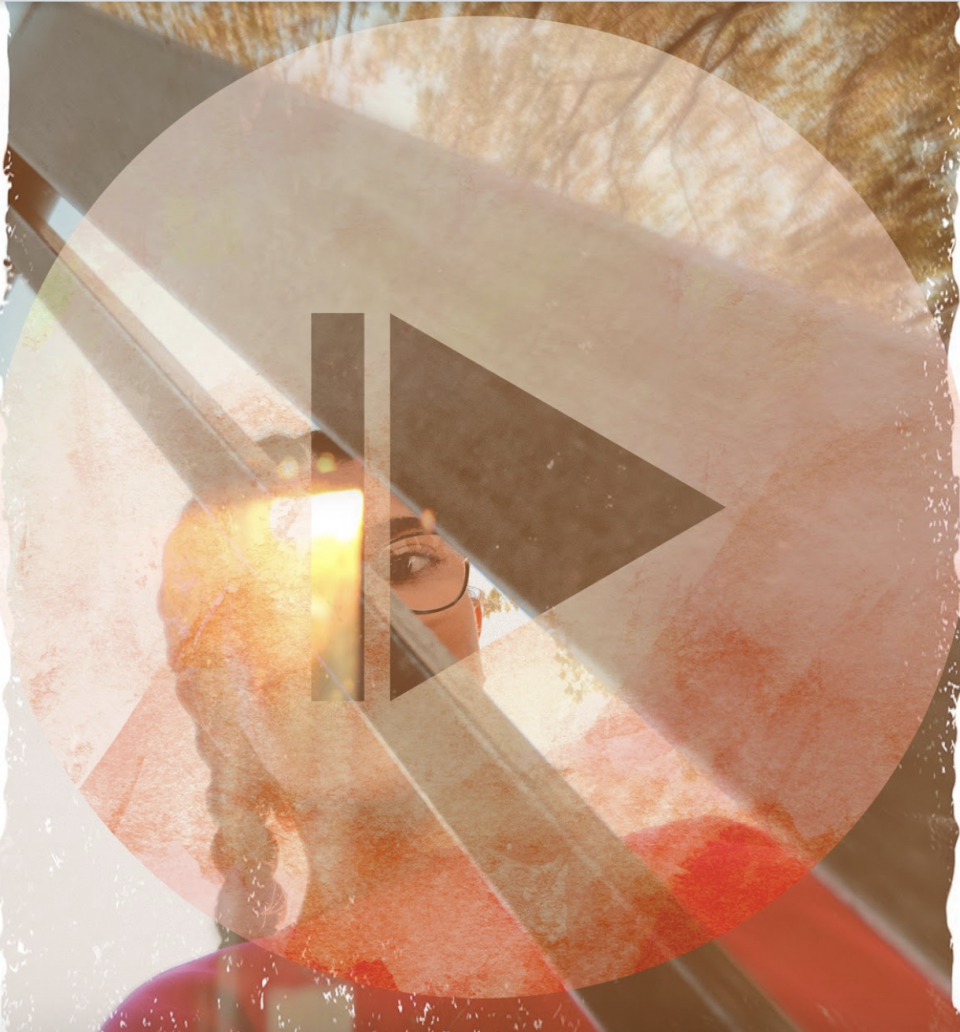 In the wake of the police murder of George Floyd, we wanted some of our efforts to be focused on advocating for the Black Lives Matter movement. The challenge was how to make our voices heard while having to stay in our homes due to the pandemic. The Black Panther Party curriculum was a way for the campers to connect with the present ongoing movement by learning about those who paved the way before them. We had a guest speaker who is a former member of the Black Panther Party, King D, talk to the campers about what we can take from our past to improve our future. He talked to us about the structure of the Black Panther Party, the power that certain messages have, and how they promoted community reform by giving their communities the aid that the government was not providing them at the time. This experience gave the campers a better understanding of the notion to defund the police and demonstrated the different ways that they can get involved in this movement.
Campers also learned about different tools to support their advocacy work, including finding self-care practices that resonated with them, identifying mentors who they could rely on, and creating a "pod" of people who they can trust to hold them accountable. These are all tools that everyone needs in their life in order to tackle difficult situations in a healthy way, regardless of who they are and what they do.
Campers were also certified in one of three skills: Social Media, Restorative Justice, or Relationship Abuse Prevention. I participated in Restorative Justice, where we learned how to facilitate our own RJ circles, in order to foster healing and community building. Social Media participants learned how to create platforms that engage in advocacy work, and the Relationship Abuse Prevention Program participants learned how to safely prevent and de-escalate abusive relationships.
At the end of the camp, the campers presented one piece of work that they accomplished this summer with a group of panelists—many of whom were social justice activists, organizers, and advocates. For many campers, this was their first time ever presenting to a group of strangers and it offered a great opportunity to practice public speaking and receive feedback from people other than the Liberation Summer Staff. Words can't begin to describe how impressed and proud I was of these campers. In a world where kids constantly feel discouraged or unheard, hearing a CEO tell a 16-year-old that they need to continue writing and consider becoming a writer was definitely a highlight of the camp that will always stick with me.
Here is a screenshot from the panel: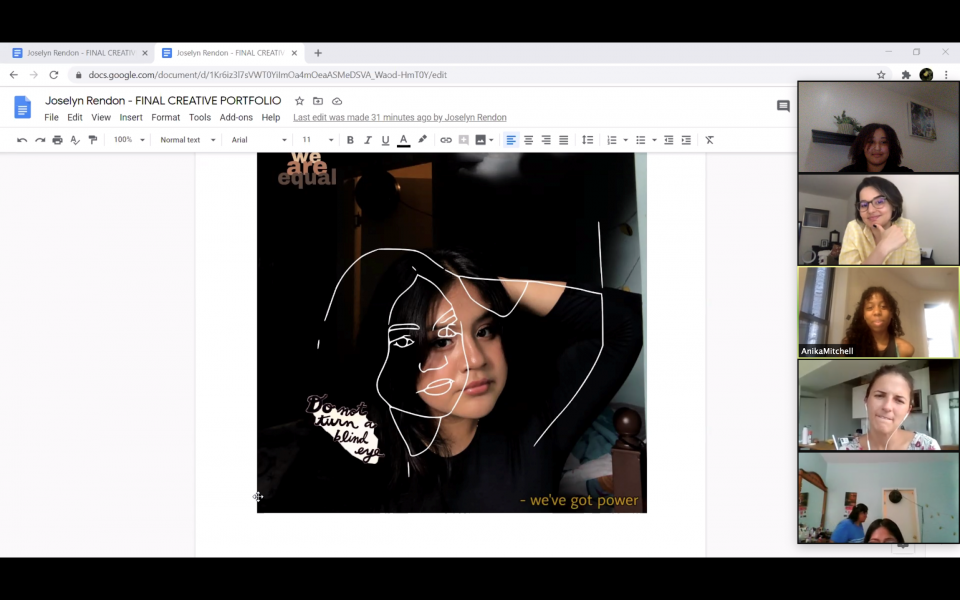 I was really excited about this work because it gave me an opportunity to become more familiar with the U.S. criminal legal system and immigration system while learning alongside the campers as a facilitator. Not only do I believe that this factor strengthened the bond between the counselors and campers, but it created an atmosphere that allowed for a safe space to form almost naturally. None of us could have predicted this outcome and that is a direct reflection of the work and passion that the campers put into this summer. Not only can I say that this internship has provided me with the experience that I desired, but it also left me with a reignited drive to continue doing this work. To top it all off, I had a lot of fun while doing it.