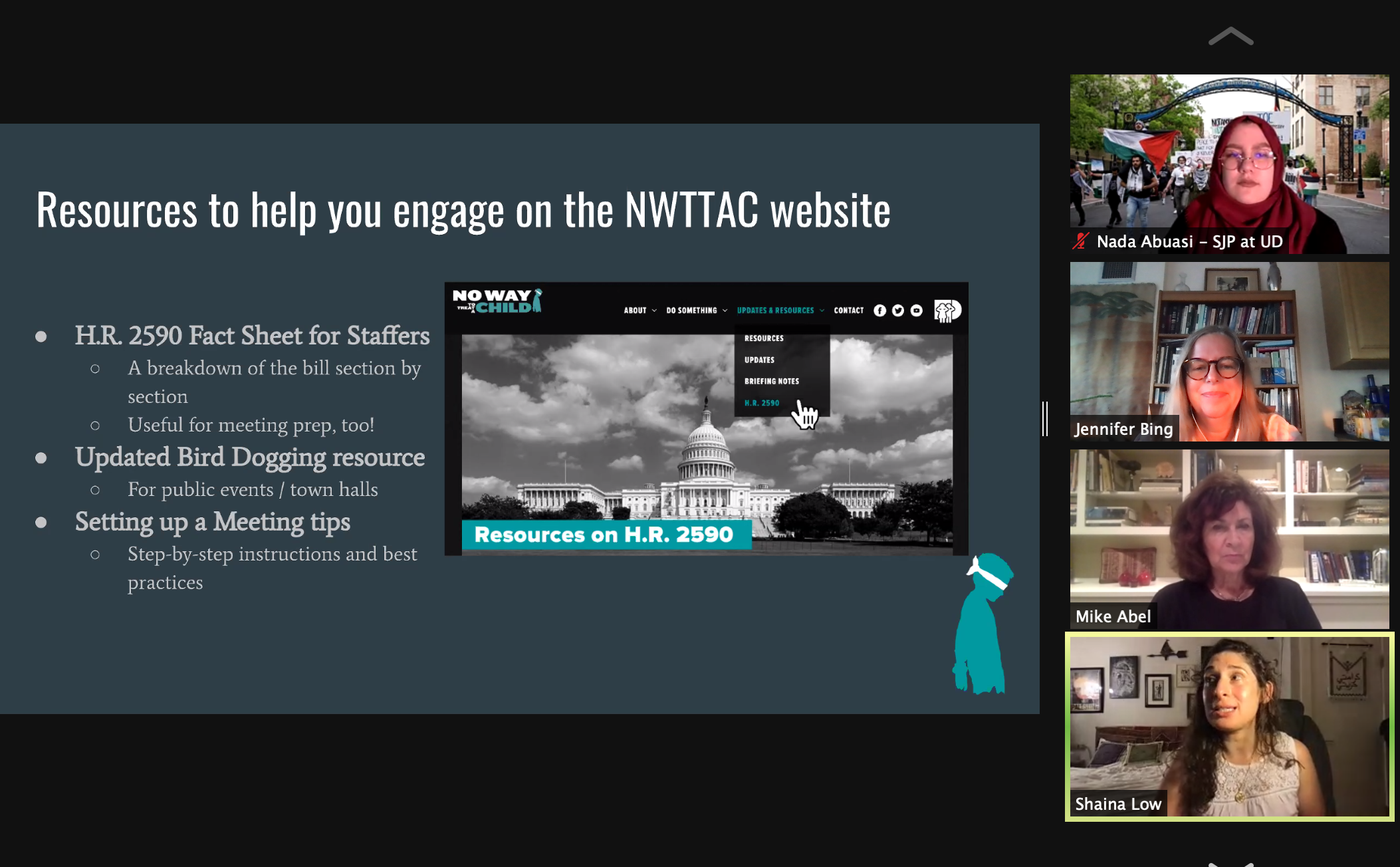 Since 2014, AFSC has partnered with Defense for Children International-Palestine on the No Way to Treat a Child campaign. We're working to end the Israeli military detention of Palestinian children–as part of our ongoing work to promote Palestinian children's rights. 
Thousands of individuals as well as Quaker meetings, congregations, colleges, and other groups have joined our efforts. Together, we have urged Congress to stop U.S. assistance to Israel from funding Palestinian child detention and other human rights violations. 
Thank you to everyone who engaged with us! With your support, we have sent thousands of emails and made numerous calls to elected officials. We've learned more about the issues through webinars. And we've joined online and in-person actions for Palestinian solidarity. 
Our collective efforts are making a difference. This year, we have seen unprecedented congressional support for bold legislation on behalf of Palestinian rights. And we're bringing in more faith groups and organizations as partners in our advocacy efforts.  
Here are some takeaways from 2021: 
The need to protect Palestinian children's rights is as urgent as ever. 
Palestinian children continue to face threats to their lives and rights. In May, 67 Palestinian children were killed during the 11 days of Israeli attacks on Gaza. At least 685 more were injured. Thousands were displaced from their homes. 
When a ceasefire was reached, Palestinian children resumed life under the Israeli blockade, which affects every aspect of life in Gaza. They face food insecurity, overcrowded housing, broken water and sanitation systems, shortages of basic medicines, and an overburdened and under-resourced health care system. 
In the West Bank, including East Jerusalem, 17 Palestinian children were killed by Israeli soldiers and settlers. Several children were killed during demonstrations or confrontations related to the expansion of illegal Israeli settlements. 
As in previous years, hundreds of Palestinian children were arrested from their homes and schools in the West Bank and held in Israeli military detention. Israeli authorities put children in solitary confinement, subjected them to physical and psychological abuse to induce confessions, and denied them access to their parents or a lawyer. Our No Way to Treat a Child campaign seeks to stop these violations of Palestinian children's rights.. 
Palestinians made their voices and stories heard–and people in the U.S. and around the world listened.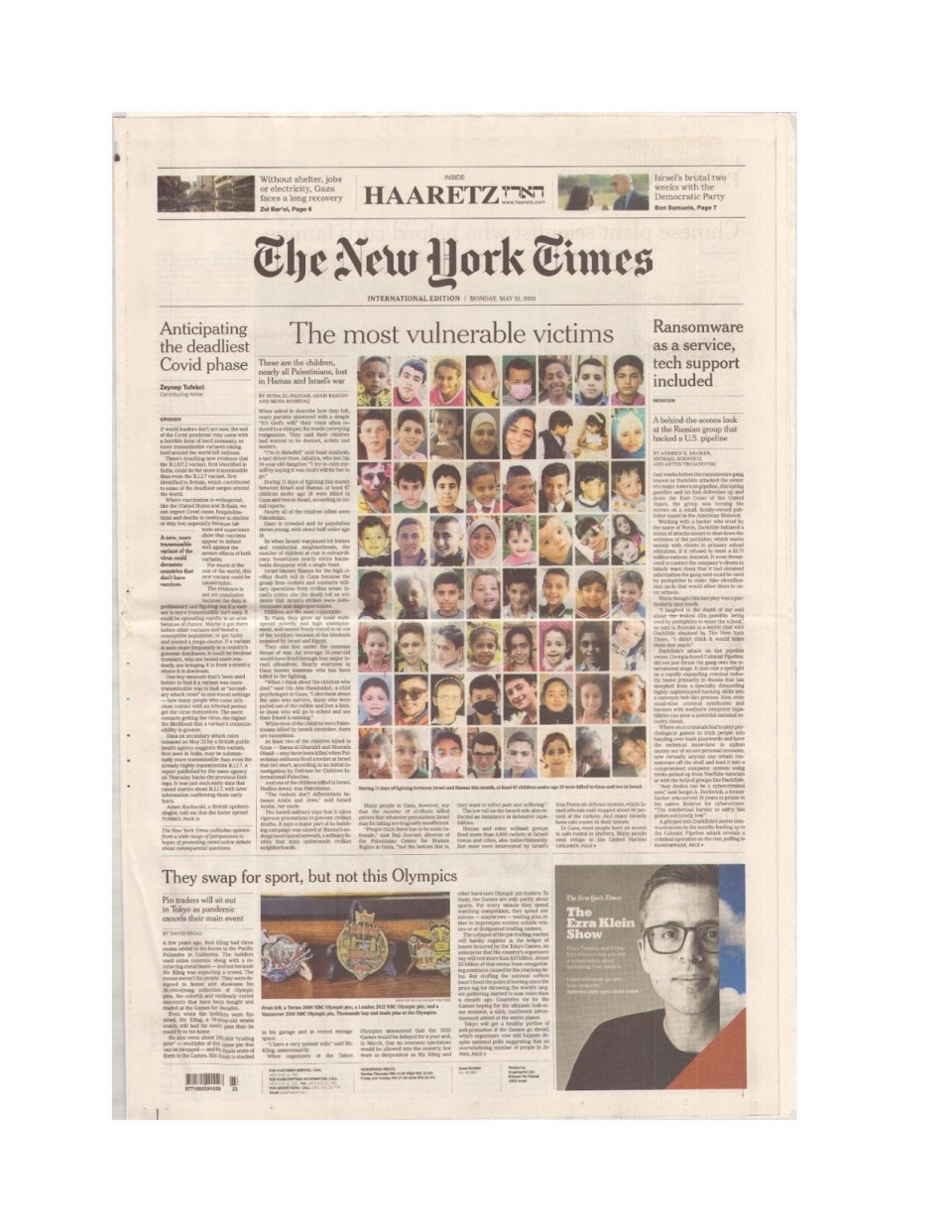 After the Israeli military assaults on Gaza in May, Palestinians penned op-eds and shared stories in the media. The New York Times ran an essay by Gaza-based professor of English literature Refaat Al Areer, titled "My Child Asks, Can Israel Destroy our Building if the Power is Out."  
Soon after, The Times ran a frontpage story of its international edition with the headline "The most vulnerable victims." It included photos of 64 Palestinian children killed in the attacks. This article prompted many people to see, perhaps for the first time, the young faces of Palestinian lives lost to military assaults. 
More people in the U.S. had opportunities to view Palestinian films this year. Virtual Palestinian film festivals were organized around the U.S. Netflix curated a collection of Palestinian movies for viewing. One powerful film "The Present" featured the experience of a Palestinian father and daughter at an Israeli checkpoint. It was nominated for an Academy Award. 
Palestinians documented their experiences in real time on Twitter and Facebook, despite government attempts to censor and restrict social media.. Palestinians posted in real time as Israeli settlers took over Palestinian properties or shot at Palestinians harvesting their crops. In Gaza, Palestinians—even young teens—held onto their phones and captured on video the moments bombs fell on their homes or people dug through rubble to find survivors. Their stories made their way into mainstream media, including this New York Times story "So They Know We Existed': Palestinians Film War in Gaza."
Faith and community groups organized film screenings and online events to lift up the lived experiences of Palestinian children and their families. We honored them at vigils and demonstrations to protest Israeli attacks and U.S. government complicity. Hundreds of activists attended webinars hosted monthly by the No Way to Treat a Child campaign.
More legislators, organizations, and individuals in the U.S. stood up for the rights of Palestinian children in 2021. 
In April, U.S. Rep. Betty McCollum introduced the "Defending the Human Rights of Palestinian Children and Families Living Under Israeli Military Occupation Act" (H.R. 2590). It's the most progressive piece of legislative on Palestinian rights to date. 
H.R. 2590 seeks to promote justice, equality, and human rights for Palestinian children and families by prohibiting Israeli authorities from using U.S. taxpayer funds to detain and torture Palestinian children, demolish and seize Palestinian homes, and further annex Palestinian land in the West Bank. 
By December, 31 members of Congress had sponsored the bill—the direct result of sustained engagement by activists from faith communities, human rights groups, community associations, unions, and students.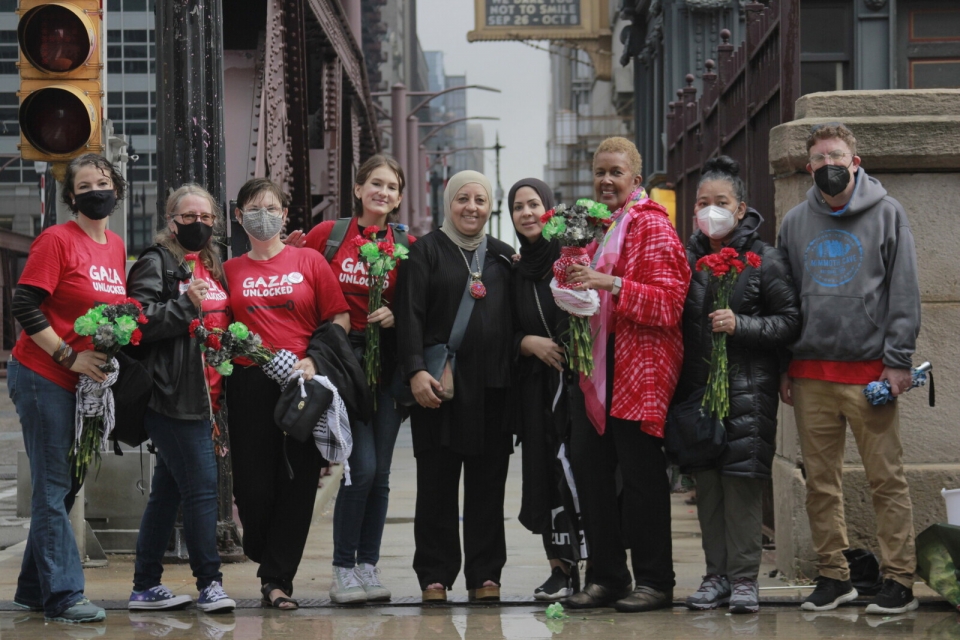 A record number of over 170 organizations and institutions endorsed H.R. 2590. That includes allies in the Movement for Black Lives, climate change and immigration rights activist groups, Jewish, Muslim, and Christian organizations, and progressive political organizations such as MoveOn, Justice Democrats, and the Working Families Party.  Members of these groups drafted petitions and action alerts to Congress, held virtual informational sessions and teach-ins, engaged elected officials, passed supportive church resolutions, and broadened the base of people in the U.S. engaging in support of Palestinian children's rights. 
Our collective impact on public opinion is clear. A majority of likely voters and 72% of Democrats now support H.R. 2590 according to a Data for Progress poll released in June.
Work for Palestinian children's rights remains a priority in 2022. 
The root causes of the grim statistics showing the threats to life and health of Palestinian children must be addressed by the international community. The systematic inequality that exists between Israeli and Palestinian society is a condition of apartheid as determined by Palestinian, Israeli and international human rights groups. And it must be exposed and challenged by all those who seek a better future for Palestinians and Israelis. 
We must keep lifting up the arts, storytelling, and experiences of Palestinian children to help build compassion and nurture solidarity. We must keep pushing members of Congress to support H.R. 2590. And we must further engage political leaders—including our senators and President Biden—in conversations about accountability for human rights violations. 
May we increase our growing movement in support of Palestinian rights in 2022 and continue to build a world where all children thrive in justice and peace.