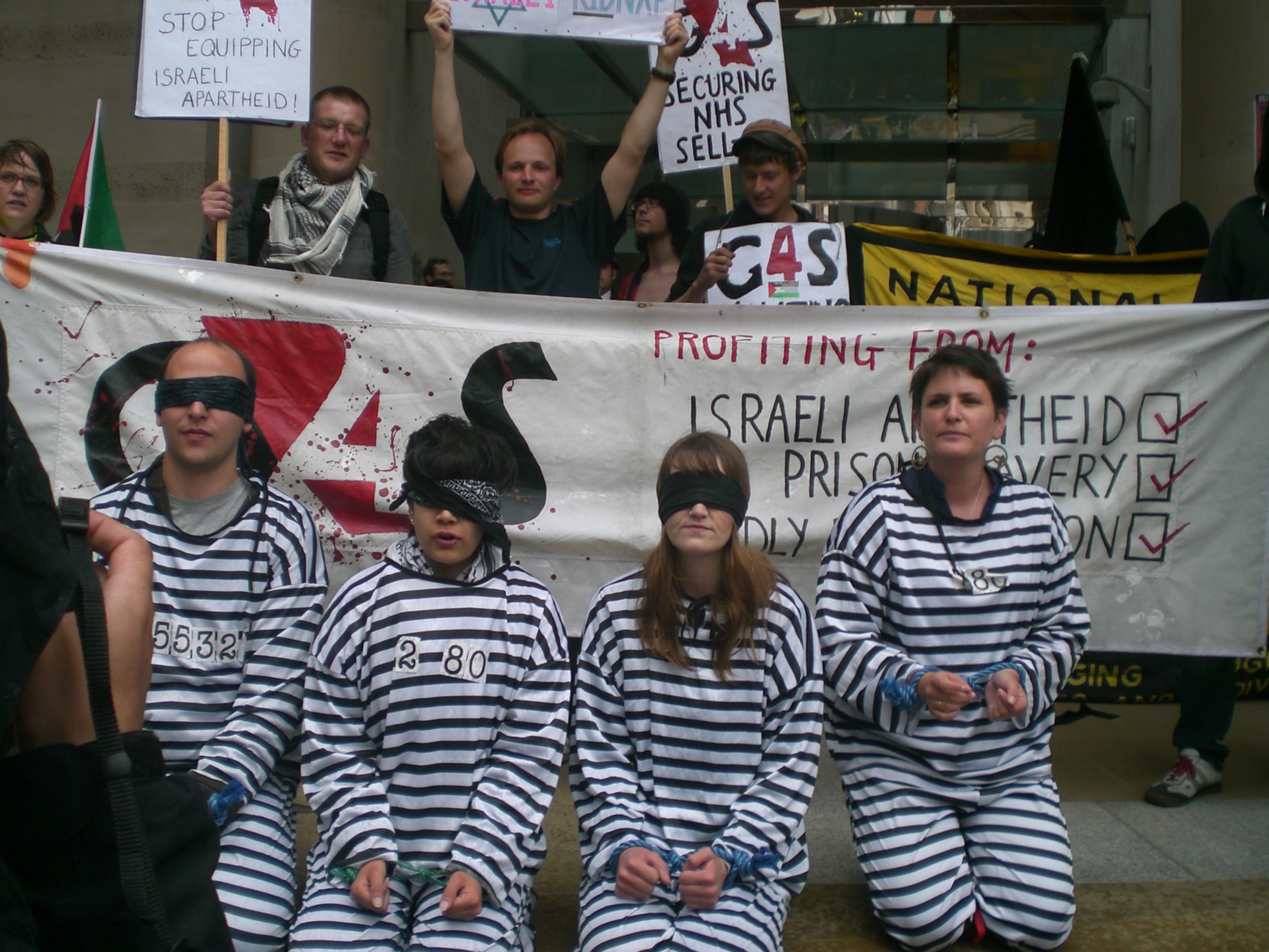 A week ago, my phone pinged with a notification from the Israeli stock exchange. I routinely track the reports of such companies, to learn about their involvement in state violence and repression. But this announcement was far from mundane: G4S—the world's largest private security company—was selling its last remaining business with the Israeli government.

This is a major victory that took over 13 years of global campaigning, as the company faced escalating pressure to divest all its involvement in Israeli apartheid.

In 2010, Israeli research center Who Profits first exposed G4S's complicity in the Israeli occupation, testifying at the Russell Tribunal on Palestine. At the time, the company was providing security services and equipment to illegal Israeli settlements, military checkpoints, and prisons.

Over the following decade, dozens of institutions around the world, including cities, universities, churches, unions, United Nations agencies, and even the European Parliament, dropped the company as their security contractor. For example, the University of Bergen rejected G4S's bid to be its security contractor, despite the company's lowest price, concluding that future reputational risks outweigh the price difference.

Similarly, the cities of Durham, North Carolina, and Denver, Colorado, as well as the Sacramento Regional Transit, dropped the company's services. Large institutional investors, like the Gates Foundation, the California Endowment, and a dozen mainline Protestant denominations, all divested their G4S shares.

Each of these small victories came after a prolonged local campaign. This is what it takes to move the largest security company in the world and one of the world's largest employers.

As a result of this mounting pressure, G4S got rid of almost all of its business activities in Israel in 2017. It only retained a minority (25%) stake in Policity, the Israeli National Police Academy. Given the police's essential role in maintaining Israel's apartheid regime, the campaign pressed on.

Public pressure increased two years ago, when G4S was acquired by Allied Universal with financial backing from CDPQ—Canada's second-largest pension fund—which became the company's largest shareholder. Trade unions and Palestine solidarity activists—led by BDS Quebec and supported by AFSC—ran a fierce campaign calling on CDPQ to divest from Israeli apartheid. It reached the point of CDPQ's president publicly testifying just a month ago that what Israel does to Palestinians "is not the kind of activity that we endorse at all."
Our collective efforts worked!

This is a monumental victory, showing that even the largest private security company in the world, which (still) runs private prisons and deports immigrants, cannot afford to do business with apartheid.

Now, we must keep up the momentum in working for an apartheid-free world.
This week, we announced the launch of Apartheid-Free Communities, a new initiative to end Israeli apartheid.
We are calling on all communities, groups, and organizations to cut all support to apartheid. More than 100 congregations, faith communities, and solidarity organizations have already pledged to become "apartheid-free." This includes two nationwide denominations—the United Church of Christ and the Alliance of Baptists—as well as other Christian, Muslim, Jewish, Buddhist, and interfaith groups.
You can join us. Ask your congregation, university, union, city, business, and other communities—large and small—to sign the apartheid-free pledge and join the growing movement to end Israeli apartheid.
To learn more about Apartheid-Free Communities and how you can get involved, visit our website. To support this new initiative, donate to AFSC through the Stephen McNeil Fellowship.