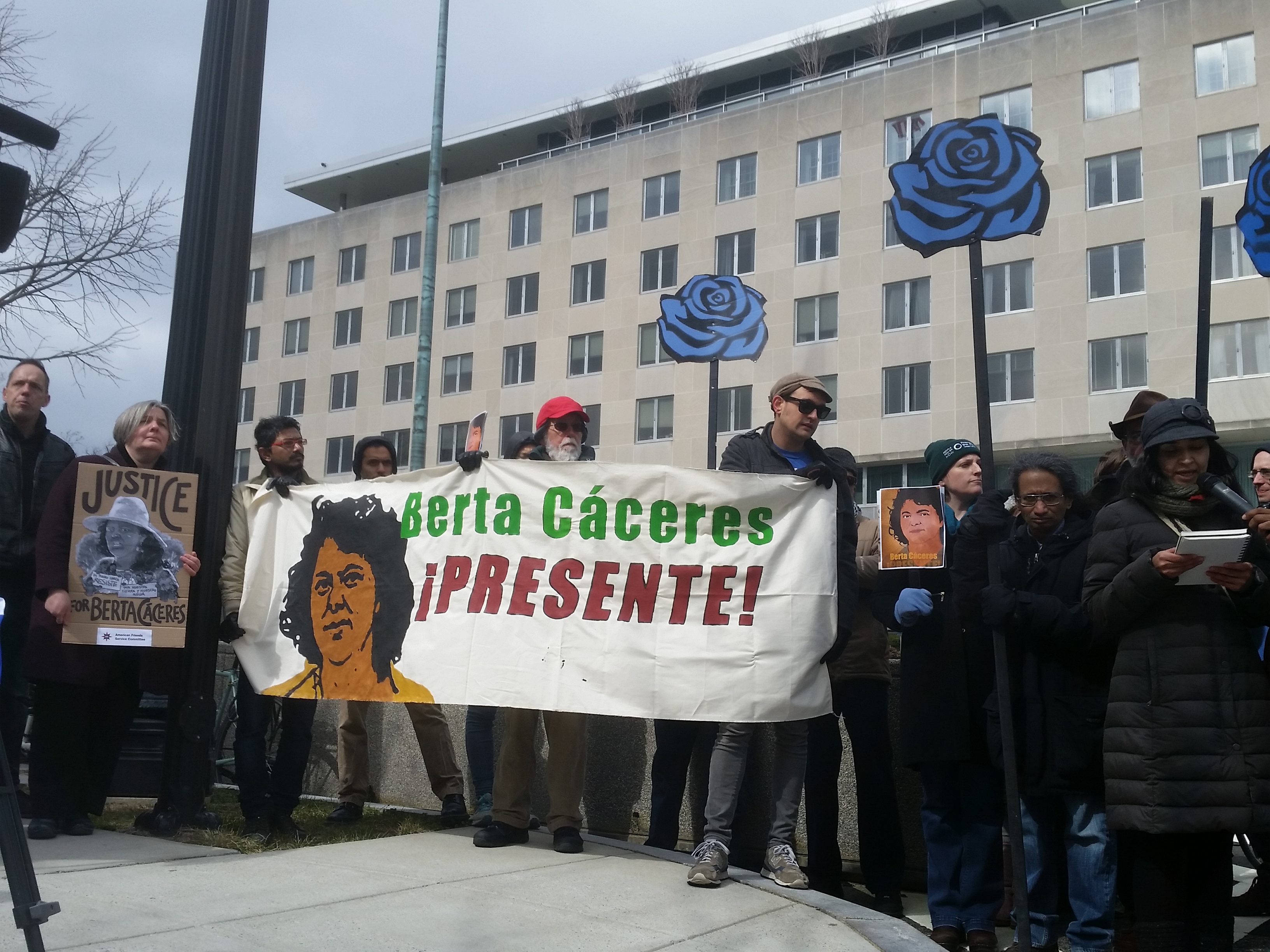 AFSC joined an action today at the U.S. State Department to call for international investigation and accountability in this week's murder of Honduran indigenous rights activist Berta Cáceres, a courageous Lenca leader who co-founded the Civic Council of Popular Indigenous Organizations of Honduras (COPINH). Cáceres was awarded the Goldman Environmental Prize for her work in 2015 and has received global recognition for her efforts.
Honduras receives significant amounts of U.S. assistance, with a further increase in funding requested for FY17. AFSC calls on the U.S. government to reexamine that assistance in light of Cáceres' murder and ongoing attacks on human rights defenders in Honduras.
Cáceres was killed late Wednesday night by armed men who forcibly entered the home where she was staying. The attack was preceded by a sustained history of death threats, attempted kidnappings, and threats of sexual assault against her for successful efforts to challenge one of Central America's biggest hydropower projects, the Agua Zarca dam in Rio Blanco. These threats increased after a COPINH march in Rio Blanco on Feb. 20, with the army, police, local mayor, and employees of the dam company DESA confronting Cáceres and other participants.
We are deeply concerned to learn that the Social Investment Program of DESA, the private Honduran company building the dam, has benefitted from U.S. assistance through the MERCADO project. In addition, Los TIGRES, a Honduran specialized police unit also funded by the U.S., has reportedly worked to defend the private interests of DESA.
Honduras is the world's most dangerous country per capita for environmental or land defenders according to a recent report from Global Witness, with at least 101 people killed in the country between 2010 and 2014 amid a surge in destructive agriculture, mining, and dam projects. The Inter-American Commission for Human Rights (IACHR) had granted Cáceres precautionary protective measures, and had again issued a formal call for the government of Honduras to apply protection as recently as 2015. Cáceres had indicated that the government was not complying with the IACHR request.
The U.S. can no longer ignore these numbers and, in particular, this tremendous loss to Honduras and the worldwide movement for human rights.