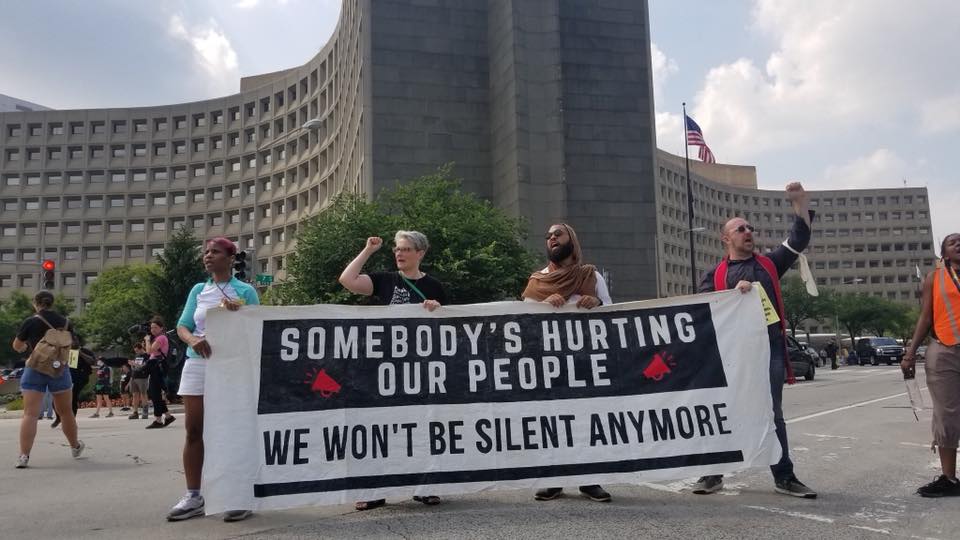 "Well I went down to the rich man's house
And I took back what he stole from me
I took back my dignity
Took back my humanity…
Ain't no system gonna walk all over me." - Margie Wiltz
On Monday, May 14, I traveled by train to Washington, D.C. for the launch of the Poor People's Campaign. I agreed to participate because the campaign is bringing together thousands of people across the country to address the intersecting systems of oppression and injustice in this county. The campaign is focused on challenging "the evils of systemic racism, poverty, the war economy, ecological devastation and the nation's distorted morality." I had agreed to put my body on the line and risk arrest on this first day of action of the campaign.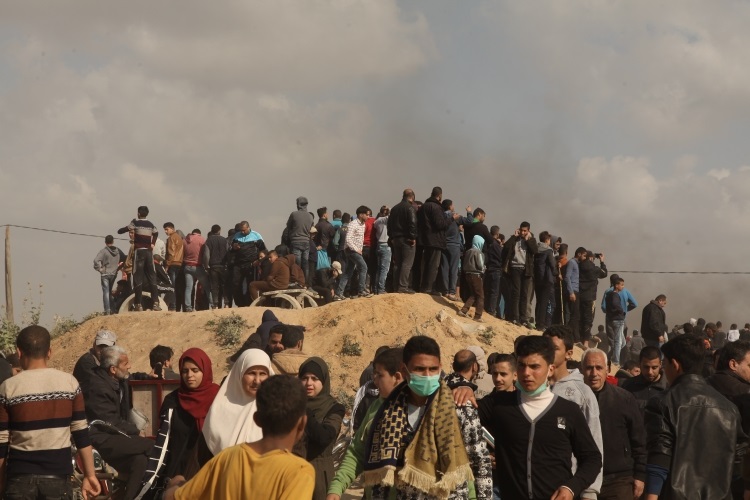 I worked a bit on the train, but mostly was distracted by the news from Gaza. U.S. officials were conducting a posh ceremony marking the move of the U.S. Embassy to Jerusalem, a move which signals support for increased displacement of Palestinians. On the same day those in Gaza were protesting at the border fence, advocating to be allowed to go home as they had been since March 30th, "Land Day," where Palestinians remember protests against land theft in which six Palestinian citizens from Israel were killed in 1976. Their protests had been met with brutal suppression and on the first day 16 protesters were murdered by Israeli snipers. As I rode the train and watched my social media feeds, I kept hearing the numbers that Israeli snipers had killed or injured increase.
The people in Gaza were protesting just for the right to go home, for the end of the blockade and occupation. By the end of the day, 66 protesters would have been murdered at the Great March of Return in a brutal massacre.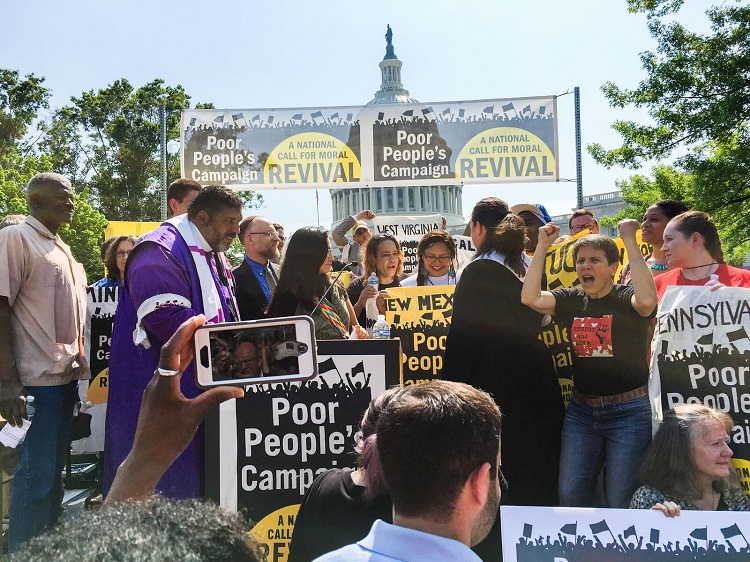 Needless to say, Gaza was on my mind as I participated in the protests for the day. Having been to Gaza twice, it's hard not to see that Gaza could be the future for more people in the world: that powerful governments and corporations will expand their use of creating open air prisons which limit people's movement, access to water, to electricity, to health care, to livelihoods, to dignity. As I listened to the speakers, this reality hit home, and such techniques have been used for decades and are used currently in the United States.
People impacted testified about their experiences of lack of access to health insurance, to living wages, to support for disabled folks and the moral bankruptcy of a country that refuses to care for its people. One woman, Kalli, cried out and told the story of sitting by her daughter's bed as she died because she had no health insurance or access to health care. Her cries rang out on the Capitol lawn and those of us present wept with her. As a last speaker Linda Sarsour spoke about the peaceful protesters being executed in Gaza, the brutality that our government has supported through military aid and how spending money on the military detracts from caring for people here at home. She said, "This movement is an act of worship. My God is a God of action. I'm gonna tell my Lord that I used every blessing that he gave me to stand up for his creations."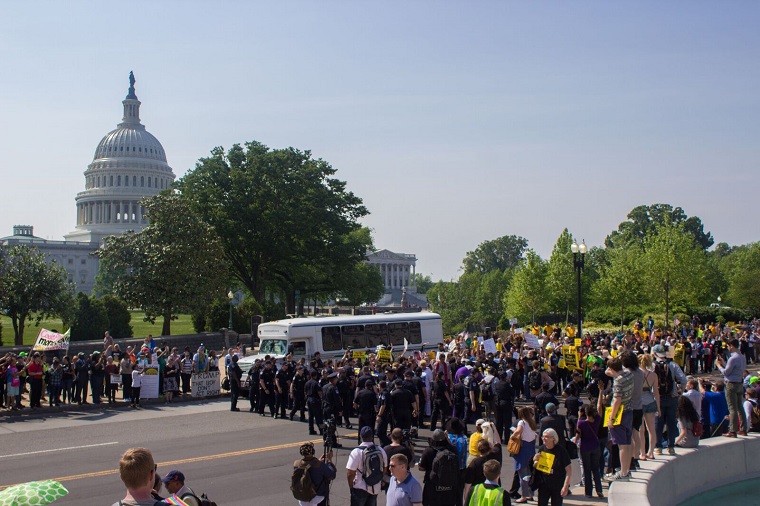 We marched from the Capitol lawn to a street nearby. Hundreds of us blocked the street, a symbolic action representing shutting the system of government supported injustice down. The police arrived, it looked like as many of them as us. They warned us three times that they would arrest us, those who were offering support stepped aside, and 153 of us were arrested for blocking the road. We were placed in makeshift pens on the lawn, and talked with each other about the action, our work and organizing while it took the police three hours to process us. We were released with a citation and a $50 fine that we had to come back within 15 days to pay.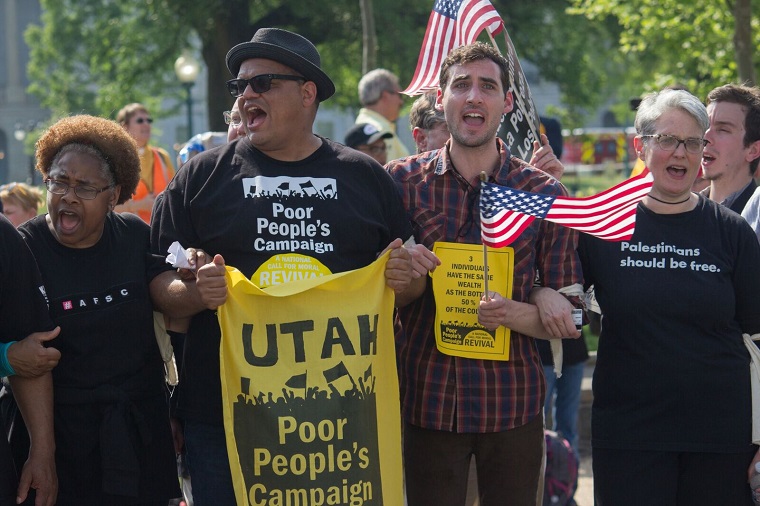 As I took in the news from Gaza, I felt as though this action was benign in comparison with the courage of those at the Great March of Return, who all knew they were risking not a citation, but their lives when they went to the border fence to protest. When I spoke to our Gaza staff later that week, though, they were grateful that so many are risking arrest in the United States, calling for justice here as well. I feel called to take greater risks for justice. I want to be on record in as loud a way as possible that I object and will stand in the way of the injustice being enacted in the United States and in Palestine.
I went back on Monday of this week to risk arrest again. As I traveled to DC, my mind was on the over 2,200 children who had been kidnapped by ICE from their asylum-seeking families and placed in detention facilities on the border. The techniques used in Palestine and toward immigrants are linked: dehumanization and criminalization of people just trying to go home or find a home. In Palestine children are disabled, killed, or put into Israeli jails. In the US at the border children as young as a few months old have been taken from their families and put into "tender age shelters," concentration camps for babies.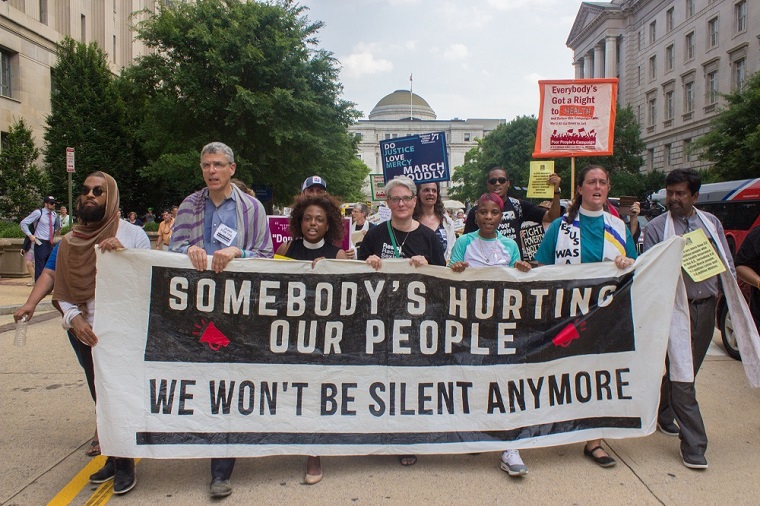 The Poor People's Campaign understands that the different systems of abuse and oppression are linked. This Monday the actions would potentially end up with us being processed and perhaps result in a night in jail. Many didn't feel they could take such risks, but there were seven of us in my group willing to get arrested by the local police and take whatever consequence that might require.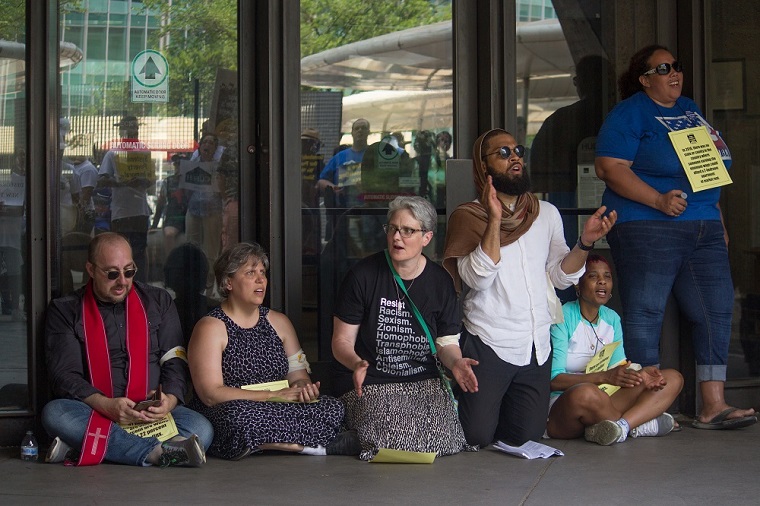 Actions were focused on federal agencies: the Environmental Protection Agency (EPA), Housing and Urban Development (HUD), and Health and Human Services (HHS). The intention was to either enter the building and block the exit or to block entry to the buildings and not leave until we were arrested. The agencies and police saw us coming and locked the door to HUD, which said, "Welcome to HUD." We blocked the locked door for some time, chanted and sang, read the brutal statistics about housing in the United States, and read our demands for massive expansion of fair housing. We said that housing is a human right and that everyone deserves a place to call home. One security officer pushed me from behind, trying to move us.
When it became clear they would not arrest us, we moved out onto the street, blocked all the intersections in front of the HUD office. The DC police arrived, but diverted many folks to other roads, but a few cars were blocked for almost half an hour. We chanted that folks could get home when everyone had a home. One car right in front of three of us standing peacefully, revved his car repeatedly, threatening to run us down. One of the protest marshals stood in front of the car, seemingly in prayer, determined, but calm and clear. After about twenty minutes, the police did not arrest us, likely they had been given orders not to as the arrests increase the press and reveal the abuse of the system. So, instead we marched to other intersections, eventually meeting up with the other groups. It was powerful to have the groups converge, to come together in the streets and testify. I was moved by the action leaders, who were caretakers of all of us, singing when we were hot and tired, sensing the next move, supporting us in each step we took. They were so clearly motivated by a deep commitment to transformational change.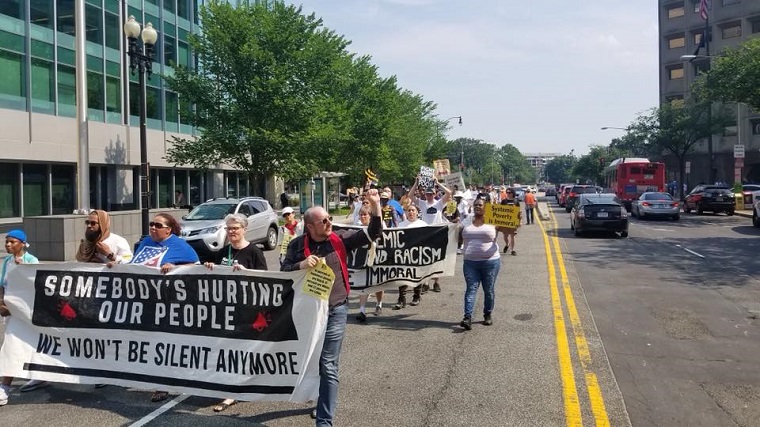 I was joined by fellow Quaker and AFSC staff Laura Boyce when I was arrested and this week I was joined by Nell Warnes, member of Live Oak Friends meeting and of AFSC's South Executive Committee. I know Quakers are involved all over the country, but I keep wondering what would it mean if all of us Friends on the benches (and all people of faith and conscience) took to the streets and resisted in deep, strategic action now when the horrifying impacts of colonialism, economic injustice, white supremacy, and ecological devastation are becoming more and more catastrophic. I know Friends are involved in other efforts, but I still long for us as a people to be the courageous many, understanding that all our lives and futures are on the line, that we won't get home to a transformed world unless we can get there together.
Now is the time that we need more than just a few showing up to disrupt injustice, we all need to understand, as Linda Sarsour states so well, "that movements are acts of worship." I believe we are at a juncture and we risk not being able to undo so much of the damage of this administration, administrations of the past few years (Obama deported more people than any President before him) but also of 500 years of colonialism and violent white supremacy. Now is the time for all of us to be willing to take risks of faith to make real the society we envision and know to be possible. It's time to put our bodies on the line to end massive oppression and to become as bold at enacting justice as those we oppose have been at enacting injustice. It's time for everyone to be able to go home.
I believe in our power, as people of conscience and faith. Will you join me?