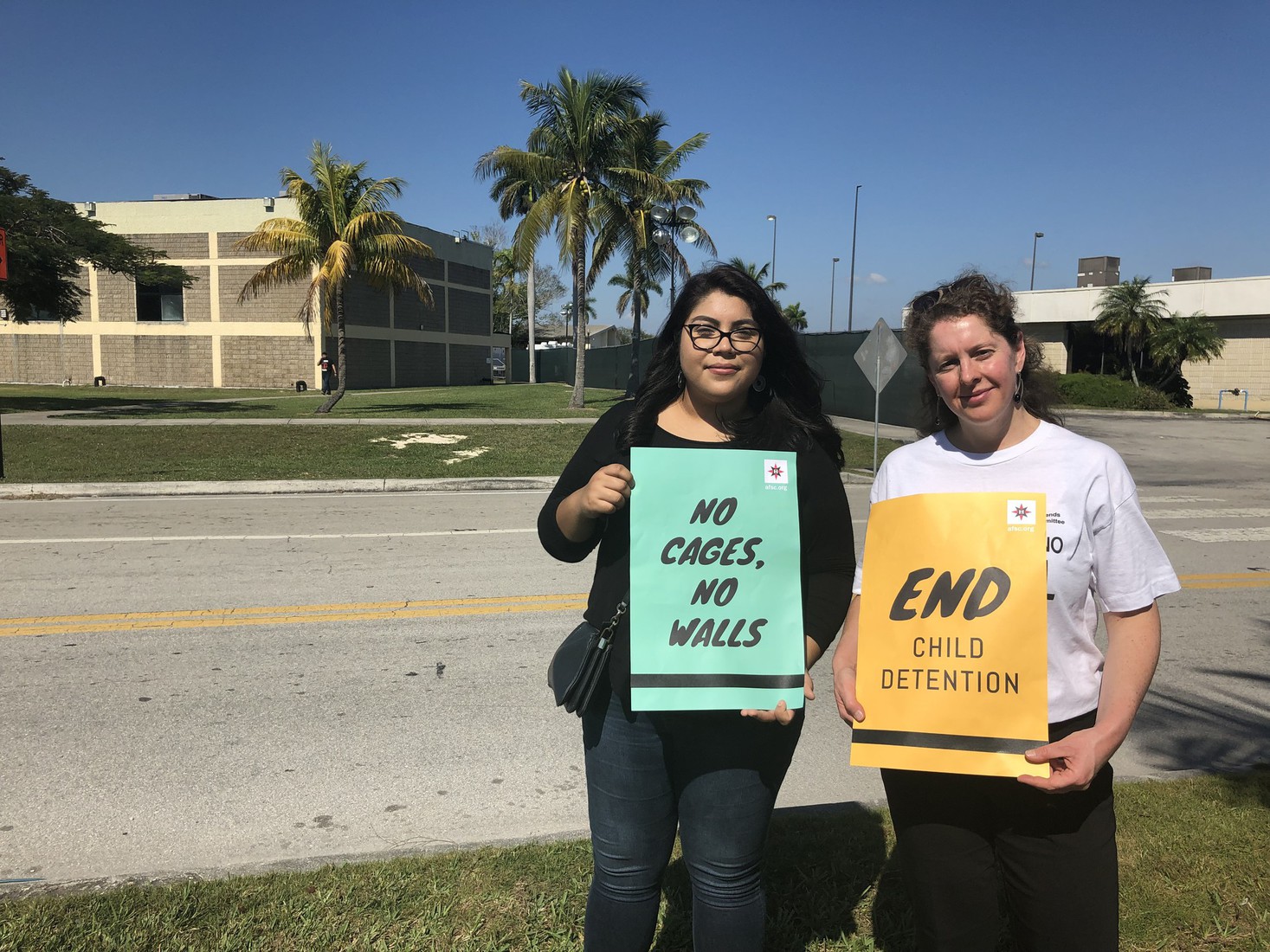 The Biden administration is exploring reopening a detention center for migrant children in Homestead, Florida—essentially imprisoning children who come to the U.S. seeking safety and refuge. Many of these young people have fled violence and poverty and are seeking asylum in the United States.
In 2019, AFSC worked with partners and advocates across the country to shut down the detention center, when it held around 2,000 young people under President Trump. Now we need your help to keep it closed for good—and to urge the Biden administration to reunite families and treat immigrants with the respect and dignity we all deserve.
Here's what you need to know:
Thousands of migrant children are seeking refuge in the U.S.
Asylum is a human right. All people should be welcomed with compassion—not confronted by overwhelming obstacles to seeking asylum. But today, it is extremely difficult for people to claim protection in the United States, a situation that was exacerbated by multiple anti-immigrant policies enacted by the Trump administration.
While President Biden has taken steps to reverse some of those policies, his administration has refused to rescind a Trump order from the Center for Disease Control (CDC) giving border agents the authority, under Title 42, to summarily expel migrants at the border without being processed. This order results in rapid-fire deportations that violate both U.S. and international law. And while it has been couched as a response to the COVID-19 pandemic, public health experts and even some of the CDC's own leadership have found that the order has no basis in public health. Reversing Trump's order and resuming processing of asylum applications will allow all migrants to safely seek legal protection in the U.S., promoting the health and safety of migrants and border communities alike.
The Biden administration's policy of turning away adult migrants while allowing unaccompanied minors to enter has resulted in de facto family separation. Rather than only allowing unaccompanied minors through the border, the administration must reopen the border so that families can cross together.
In the meantime, each day, hundreds of young people arrive at the border only to be detained in crowded, inhumane Border Patrol stations. Instead of being expediently transferred to the care and protection that migrant children are entitled to receive under the law, they are often held for longer periods of time than allowed. And because there has not been enough investment in alternatives to detention such as community-based care, the Biden administration has chosen to renew the Trump-era practice of reopening large "emergency influx facilities" that have historically operated as child detention centers. The administration has already reopened one such facility in Texas to hold the growing number of child migrants—and now it is considering reopening the Homestead detention center in Homestead, Florida, as well.
Jailing children is never acceptable. Alternatives to detention exist—and should be used. The administration must invest more deeply in community-based alternatives to detention that uphold and protect the rights of children.
Detaining young people is extremely harmful.
Children belong in homes and schools, not prison camps. Reopening Homestead—or any child detention center—places young people in greater danger, especially during a pandemic. Detention centers are places where social distancing is impossible, health care is inadequate, and abuses are rampant.
In addition, environmental conditions at the Homestead detention center pose potentially serious health and safety threats to children housed there, including possible exposure to toxic chemicals from a neighboring Superfund site. (Read our report.)
Studies have also shown that detaining children causes lasting trauma—and the cost of that to children, families, and our communities is incalculable.
Since 1997, an agreement known as the Flores settlement has limited the amount of time the government can detain children. It also limits the detention of children and families to facilities with certain licensing and standards. But because the facility at Homestead is considered an "emergency influx shelter" for children, the facility can avoid meeting Flores settlement standards through waivers. This loophole leaves children unprotected from the harms of indefinite detention.
There are more effective, humane alternatives to support migrant children—while ensuring their health, well-being, and rights are protected.
The Biden administration must prioritize uniting children with family members or sponsors in the U.S.—and invest in community-based alternatives to detention that uphold the rights of children and ensure their safety and their physical, emotional, and mental well-being.
The first step is to remove obstacles to uniting migrant children with their family or sponsors—a process handled by the Office of Refugee Resettlement (ORR) in the Department of Health and Human Services (HHS). On March 12, the administration took a very important step in this direction by ending an agreement between HHS and DHS that allowed for information sharing about the immigration status of potential sponsors, which made sponsors afraid to come forward.
The next step is to ensure that ORR has the funding and resources it needs to unite children with their sponsors as quickly as possible. Right now, ORR's budget to care for children in its custody is about $1.3 billion, a fraction of the $4.12 billion that the administration has budgeted for ICE to detain and deport people.
We must stop the Biden administration from reopening Homestead detention center—and end the detention of migrant children.
Migrant children should be treated with the respect and dignity we all deserve. Detention centers such as the one in Homestead, Florida have no place in U.S. immigration policy and deny migrant children their rights.
We must keep Homestead migrant child detention center—and others like it—closed for good. Instead, the U.S. should unite children with their families and sponsors and invest in community-based alternatives that fully respect the rights of children.
Please join us in urging the Biden administration: Keep Homestead detention center closed—and end the detention of migrant children today!