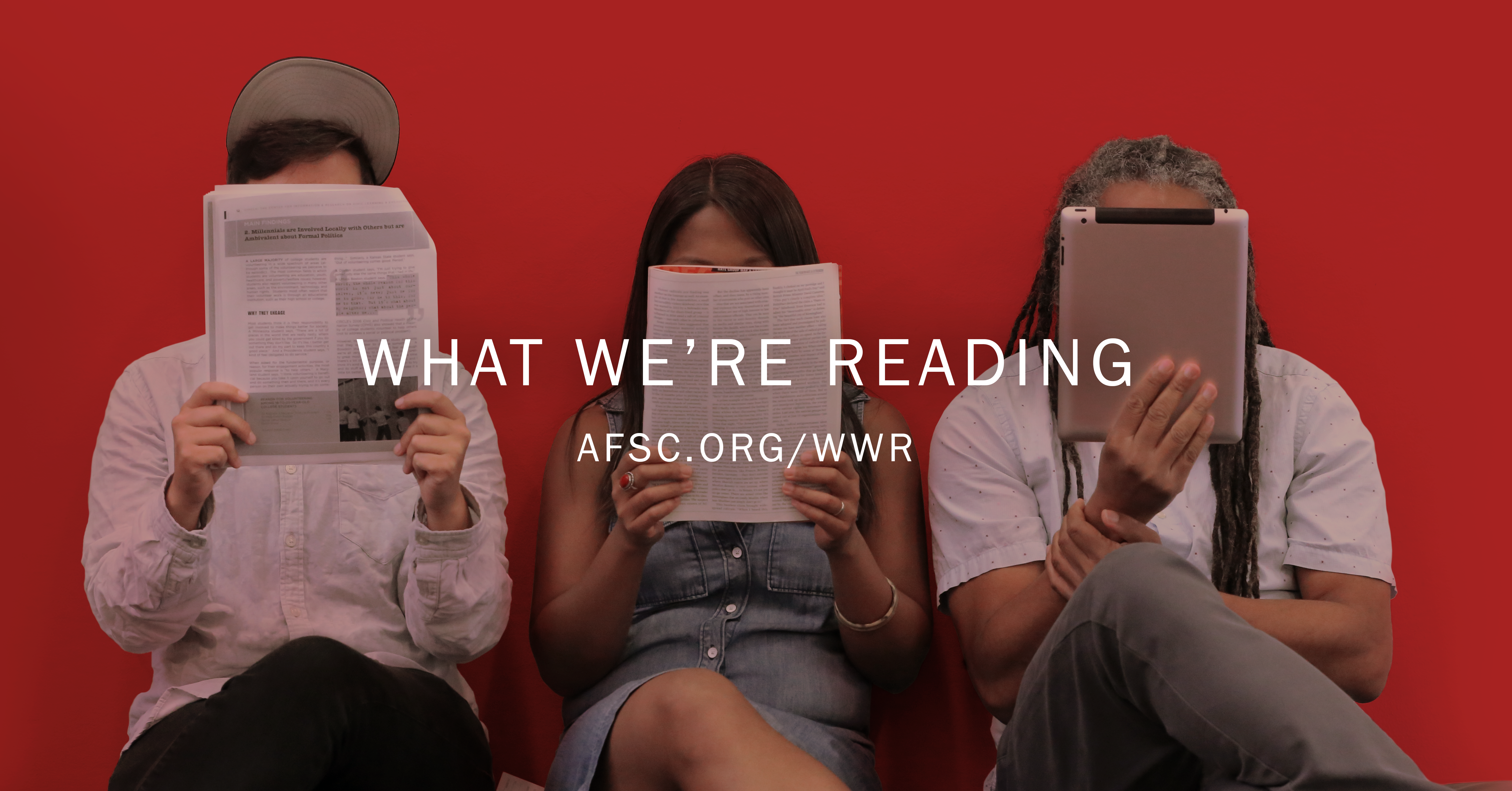 From sanctuary to sit-ins, resisting registries to archiving data, people across the country are mobilizing against racist and anti-human policy proposals. Here's what we're reading to learn more:
The return of civil disobedience, by Jelani Cobb via The New Yorker
"In that context, the waves of protests in Portland, Los Angeles, Oakland, New York, Chicago, and Washington, D.C., in the days after the election look less like spontaneous outrage and more like a preview of what the next four years may hold. Unlike the specific protests that emerged during the Obama Administration, the post-election demonstrations have been directed at the general state of American democracy."
Colleges across America are fighting back against Trump's deportation threats, by Kanyakrit Vongkiatkajorn via Mother Jones
"By publicly declaring themselves sanctuary campuses, universities can reaffirm their commitment to students. 'It says to students that we support you, we affirm your identity,' said Meng So, the director of UC-Berkeley's Undocumented Student Program. 'I think schools are going to be safe havens that communities seek to find themselves in. Students need to hear and understand that their top leaders care about them.'"
Here's how we prepare to be ungovernable in 2017, by Sarah Lazare via Alternet
"'A core component of resistance is to get the class of civil servants, particularly on the federal but also the state level, to not comply with arbitrary laws and policies that are going to be created,' said Akuno. 'To not recognize the laws we know are coming that will discriminate against Black people, Latinos, immigrants and queer people. There is no need for anyone to comply. Let's not give it legitimacy just because it's the law. We need to be prepared to disobey and engage in civil disobedience. We need to get ready for that now.'"
Democrats prep bill to fight Trump's Muslim registry plans by Jack Jenkins via Think Progress
"According to the Washington Post, Sen. Cory Booker (D-NJ) is preparing to introduce legislation that would block Trump or any future president from establishing a registry based on religion, national origin, nationality, or other classifications—an idea the president-elect and his staff have floated at various times. Co-sponsors of the bill include Elizabeth Warren, Bernie Sanders, Brian Schatz, Patty Murray, Jeff Merkley, Ed Markey, and Mazie Hirono."
NAACP President Cornell William Brooks not thwarted by arrest, will continue to protest AG nominee Jeff Sessions, by Veronica Hilbring via Essence
'"We find ourselves in the millennial civil rights movement,' Brooks said. 'We see hundreds of thousands of people protesting in the streets. This nominee [Jeff Sessions] will not stand with voting rights. He will stand in opposition. He refuses to acknowledge voter suppression. His state [Alabama] has lived under a voter suppression law. His state closed DMVs in Black communities. This is the kind of voter suppression that is going on in his state,' Brooks continued, calling out the Selma-born senator for not upholding the Voting Rights Act, which was also established in the historic city. 
'This is unconscionable. This [issue] is literally a matter of the life and blood of the NAACP. Our members gave their lives for this.'"
"What We're Reading" is a weekly feature on AFSC's News and Commentary blog, where we share a curated collection of recent articles on timely issues. "What We're Reading" is meant to spark discussion, debate, and knowledge sharing, and the articles we highlight do not necessarily reflect the official organizational positions of AFSC. We encourage you to tell us what you're reading on these issues in the comments below.