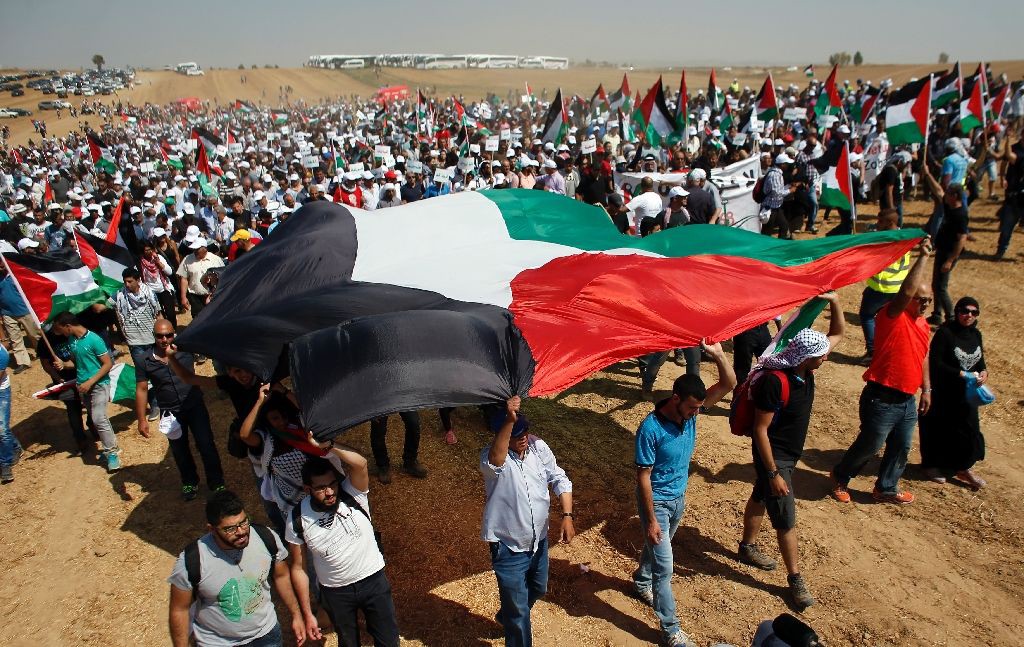 At least 18 Palestinians in Gaza have been killed and over 1,000 wounded while nonviolently demanding their right to return and an end to Israel's brutal military blockade. Here's what we're reading to learn more:
The Gaza March is a Wake-Up Call to the World, by Tareq Baconi via The Guardian
"A planned peaceful protest ended in the deaths of 16 Palestinians. The international community can no longer ignore Israel's intransigence. ...
[P]erhaps the greatest driver of this march is the tragedy of the Gaza Strip itself. Under an Israeli-Egyptian blockade for more than 10 years, Palestinians have experienced electricity shortages and a water supply crisis, with only a very few able to leave the tiny coastal enclave. They have been subjected to military assaults that make daily life seem like a post-apocalyptic vision."
Palestinians are Marching for their Lives, too–and Israel is Killing Them, by Jehad Saleem and Dorgham Abusalim via Palestine Square
"While any substantial achievement in the near future for the march's organizers seems far-fetched, the Great Return March indicates a revival of civil struggle among young Palestinians as a way forward. And, just as the old guard of Second Amendment partisans in the US seem incapable of comprehending the March for Our Lives movement – a rising tide of a new generation of political influencers and civil organizers – Israel too seems bewildered by the marchers in Gaza."
Will Israel Pay a Price for its Latest Gaza Massacre?, by Ali Abunimah via The Electronic Intifada
"Evoking memories of the South African apartheid regime's massacre of peaceful protesters in Sharpeville in 1960, Israel's military committed a new massacre against Palestinian civilians as they were peacefully commemorating Palestinian Land Day," the Palestinian Boycott, Divestment and Sanctions National Committee (BNC) said Monday.
The BNC, the steering group for the boycott, divestment and sanctions (BDS) movement, urged people around the world to "mainstream the demand for all private and public entities in your country to end all cooperation and/or trade with the Israeli military and 'security sector.'"
Gaza Protests Mark Shift in Palestinian National Consciousness, via International Crisis Group  
"Protests in Gaza on Friday 30 March, at which Israeli forces killed more than a dozen Palestinians, were the largest of their kind in several years and are likely to grow over the coming weeks. In this Q&A, Nathan Thrall, Director of Crisis Group's Arab-Israeli Project, says the series of planned marches reflect the Palestinians' determination to take matters into their own hands after losing faith in outside mediation."
Gaza's March of Return Reflects a Desire for New Palestinian Politics, by Amira Hass via Haaretz 
"The army allows itself to violate international law and shoot at unarmed civilians, and even kill them, because Israeli society accepts this as an a priori act of defense, without investigating the details. And despite a few feeble condemnations, even governments around the world do not represent an obstacle to deter Israel. The March of Return – whether it continues or not – declares to Israel and the international community that the residents of the Gaza Strip are not wretched and passive charity cases, but a politically aware public."
'He Had No Gun, No Molotv': Gaza Families Call for Investigation into Israeli Use of Fatal Force, by Loveday Morris and Hazem Balousha via Washington Post
"The morning after burying 19-year-old Abdul Fattah Abdul Nabi, his family gathered in a tent set up to receive mourners, watching and re-watching a video of the moment they say Israeli soldiers shot him in the back of the head.
The video appears to show the teenager, dressed in black, running away from Gaza's border fence with Israel carrying a tire. Just before reaching a crowd, he crumples under gunfire. 
"He had no gun, no molotov, a tire. Does that harm the Israelis, a tire?" asked his brother Mohamed Abdul Nabi, 22. "He wasn't going toward the Israeli side. He was running away." 
Join AFSC on Saturday, April 21 in Indianapolis for Gaza Unlocked: Hearing in the Heartland. This event is a special opportunity to learn more about the crisis in Gaza and connect with others working to end the blockade.