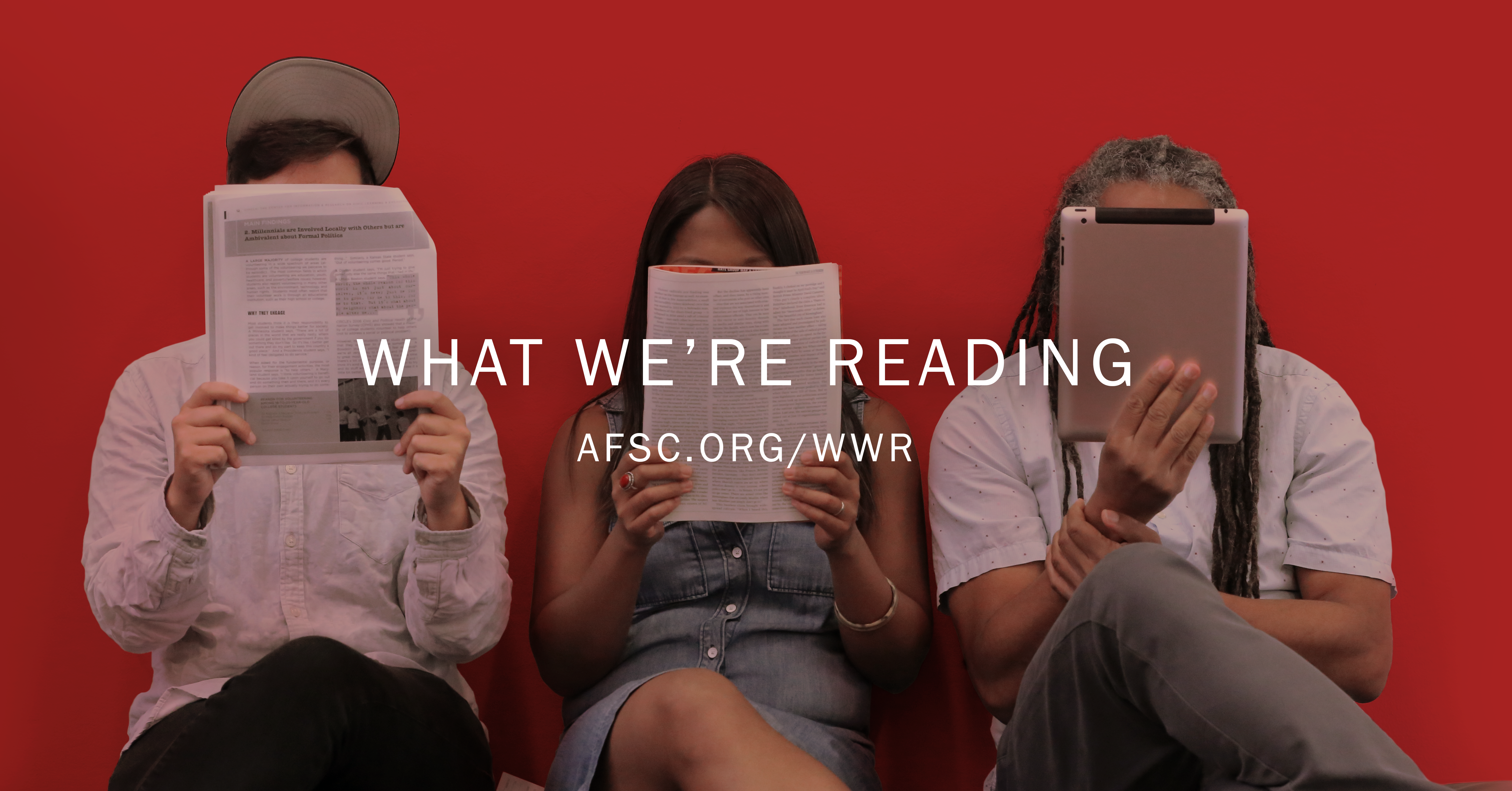 This week marks 50 years of the military occupation of Palestine. During the the Six-Day War in 1967, Israel occupied the West Bank, including East Jerusalem, Gaza, and the Syrian Golan. Over the past 50 years, Israel's occupation has entrenched a deeply abusive system of inequality and injustice that denies Palestinians their basic rights. Here's what we're reading to learn more:
For Palestinians, the 1967 War remains an enduring, painful wound, by Omar Barghouti via The Nation
"After 50 years of brutal Israeli military rule and almost 70 years of dispossession, enough is enough. The time for Palestinian freedom is now. After more than two decades of failed US-sponsored negotiations, which Israel uses as a cover for its 'maximum land with minimum Palestinians' policy, it is clear that, unless effectively pressured, Israel will carry on denying us our freedom and rights.
We may never forget our many emotional—and often physical—scars. But when, not if, we achieve justice and equal rights, we can truly heal. And we count on the growing support of conscientious people around the world to help us get there." 
Palestinian children's lives are shaped by 50 years of military occupation, by Jennifer Bing via Foreign Policy in Focus
"Israeli military courts in the West Bank lack fair trials and due process, and don't recognize the rights of prisoners. At least 500-700 Palestinian children are held in Israeli military detention in the West Bank every year. These children often experience abuse, especially immediately following arrest. Over 90 percent of the children are convicted in 'courtrooms' housed in Israeli military bases. 
Abuses suffered in prison last a lifetime. In the past 50 years, 700,000 Palestinians have been incarcerated by Israel, representing 40 percent of the male Palestinians living under occupation." 
LGBTQ Israelis come out against occupation and homophobia by Yael Marom via +972
"To racist homophobes: There is no pride in occupation. There is no pride in expelling asylum seekers. There is no pride in throwing families into the street. Your violence, and that of the state, are nothing to be proud of.
We have chosen to be part of the long battle for human rights and freedom — not only for the sake of our own liberation, and certainly not as PR for the government. We will continue to oppose injustice everywhere, and to point out the connection between Israel's violation of Palestinian rights and its discrimination against other communities."
The 50-year setback, by Hamza Abu Eltarabesh via Electronic Intifada
 "Sarah Ayoub was baking bread. She was putting a loaf into a clay oven when she heard the explosions.
That was on 5 June 1967, the day Israel declared war against Egypt.
As Israel's tanks drew closer, Sarah grew increasingly worried about Munther, her husband. He had gone out to work, transporting goods along with a merchant. After an hour passed, he made it back to their home in Beach refugee camp, part of Gaza City." 
United States must stop 'propping up' illegal, Israeli settlements, by Eva Melnikova via Medium
"Today, to mark the 50th anniversary of Israel's occupation of the West Bank (including East Jerusalem) and the Gaza Strip, Amnesty International is calling on third party states across the world to prohibit goods produced in illegal, Israeli settlements located in the Occupied Palestinian Territories, from their markets and to prevent their companies from operating in settlements or trading in settlement goods. This call is based on states' existing obligation to not recognize or assist in an illegal situation."
"What We're Reading" is a weekly feature on AFSC's News and Commentary blog, where we share a curated collection of recent articles on timely issues. "What We're Reading" is meant to spark discussion, debate, and knowledge sharing, and the articles we highlight do not necessarily reflect the official organizational positions of AFSC. We encourage you to tell us what you're reading on these issues in the comments below.