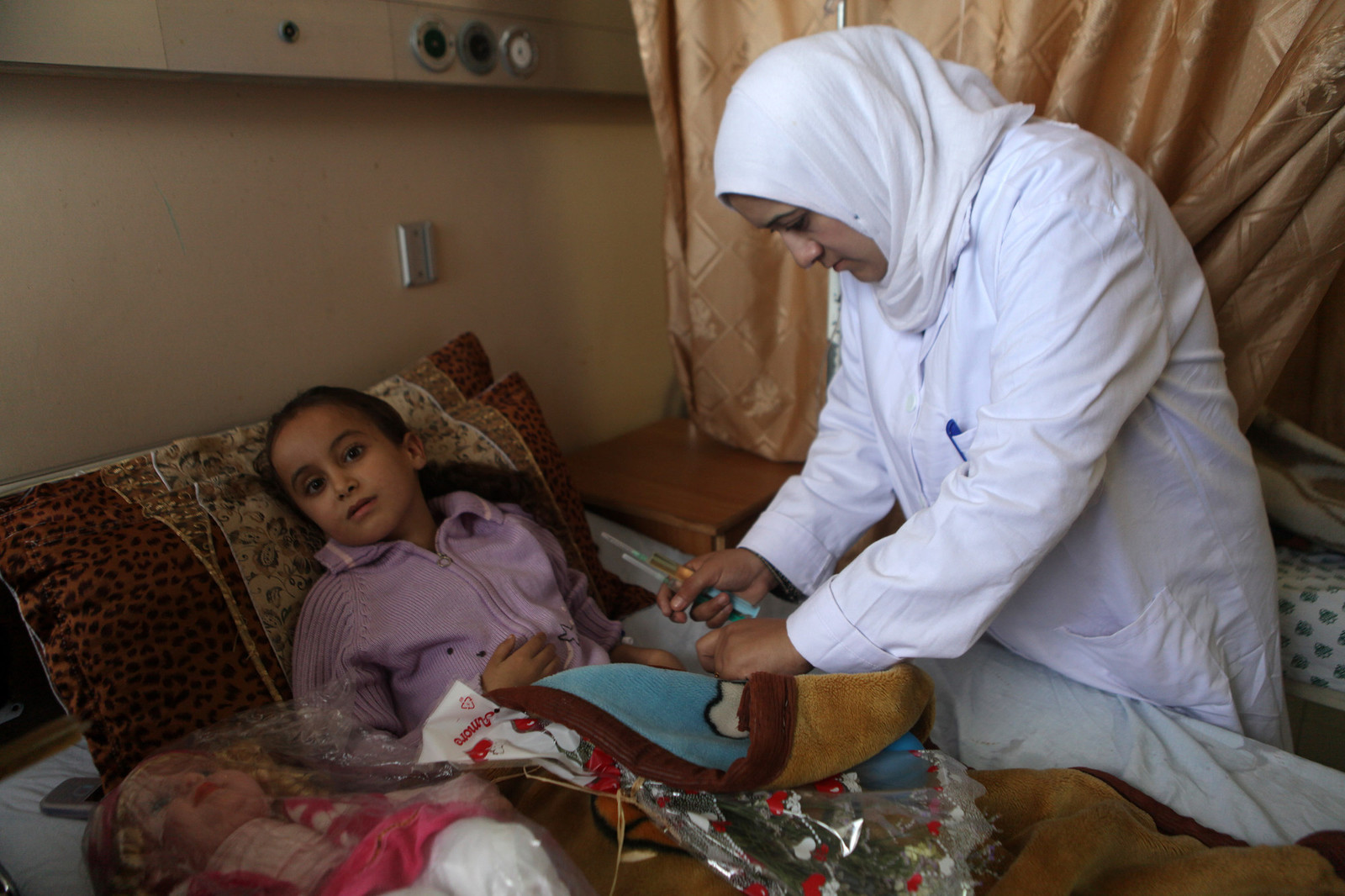 On June 1, 2018, 21-year-old Razan al-Najjar was shot and killed by an Israeli sniper while working as a volunteer paramedic with the Great March of Return in Gaza, providing care and assistance to people injured during protests. Razan was wearing a white medical vest and, according to witnesses, had her arms raised above her head when she was killed. Nobody has been held accountable for her killing.
Razan was one of three medical personnel killed by Israeli soldiers while aiding protesters during the Great March of Return. Between March and August of 2018, more than 400 Palestinian medical personnel were injured by Israeli attacks at those protests while 61 medical vehicles and two health clinics were damaged, according to Medical Aid for Palestine. Nobody has been held accountable for these attacks, either.
The COVID-19 pandemic has made it clearer than ever how critical health care workers are to our communities. On June 1, please join AFSC and people around the world for our social media day of action to honor Razan and all Palestinian health care workers.
Even before the start of the Great March of Return in 2018, the Safeguarding Health in Conflict Coalition ranked Palestine as the second most dangerous place on earth for health care in 2017, behind only Syria.
Attacks on health professionals and aid providers by the Israeli military are not new. In 2002 when parts of Ramallah were first put under curfew, I accompanied a Red Crescent team in an ambulance to deliver food and other assistance to families trapped in their homes. As we drove down Irsal Street near the edge of the city, an Israeli tank charged across a field toward us, forcing us to stop. Israeli soldiers surrounded the ambulance with guns drawn, forcing me and another provider to negotiate our release at gunpoint. At that time, attacks on ambulances and aid providers were a regular occurrence.
Later that year, I traveled across the West Bank gathering information for a report on Israeli attacks on the Palestinian medical establishment, which I wrote for the human rights organization Al-Haq. I talked with medical personnel who had been attacked, shot, and beaten; visited hospitals and clinics that had been invaded and attacked; and interviewed people who were denied access to care. There was never accountability for any of these human rights violations, either.
The challenges faced by Palestinian medical personnel are not limited to direct attacks. During a recent trip to Gaza, I was able to visit Shifa Hospital near AFSC's office in Gaza. I talked to a doctor there who told me about the difficulty he faces treating patients, given that over 40% of basic medicines and medical supplies are out of stock because of the Israeli blockade on Gaza. Because health centers in Gaza are severely under resourced, doctors see at least 40 patients a day; in some locations, they can see more than 100.
Lack of access to quality health services is a critical issue throughout the occupied Palestinian territory. Between 2008 and 2010, I managed a program that provided support to people living in Area C communities in the West Bank--the 60% of the West Bank that remains under full Israeli control.
A study we conducted at that time found that 92% of Area C communities had extremely restricted access to health services—and the situation has not improved in the decade since. There are no hospitals to provide people with care. And Israel has stopped all development in the parts of the West Bank it controls exclusively, which includes barring the construction of health clinics.
Many communities rely on mobile clinics for care, but in this pandemic, Israeli imposed movement restrictions have stopped mobile clinics from visiting communities.
These are some of these dire conditions faced by Palestinian health professionals. Yet despite attacks and risks to their lives, denials of medicines and supplies, and other limited resources, these health care workers continue to provide life-saving care throughout Palestine.
On this anniversary of Razan's killing, we stand together to lift up and celebrate the incredible work Palestinian health care workers do every day—while also demanding accountability for Razan and all Palestinians who have lost their lives because of violence or because they were denied the care they needed.
In this time of crisis, the world has united to celebrate the health care heroes who live in our communities. We must all remember the health care heroes of Palestine, who deserve more than our gratitude. They deserve protection, accountability, and access to needed resources so that there are no more deaths like Razan's to mourn.
Join us on June 1 for our day of action to honor Palestinian health care workers.