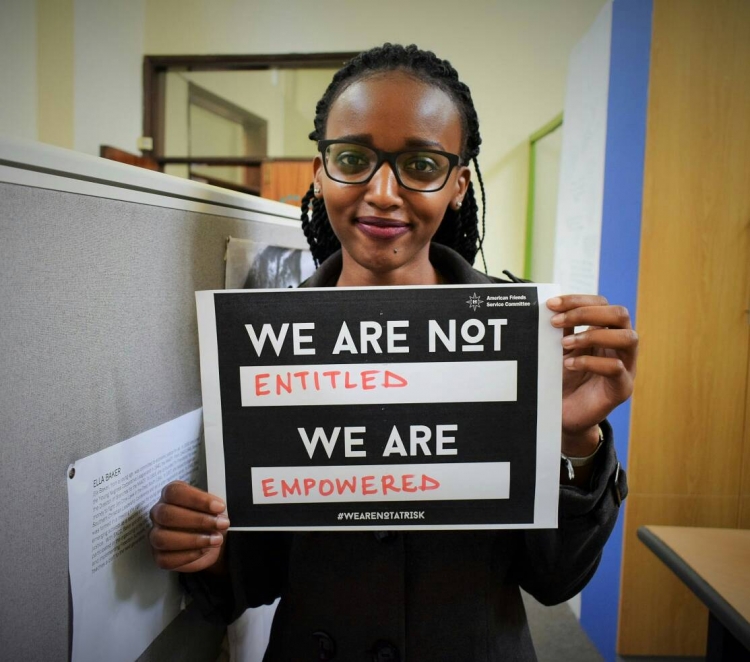 AFSC's "We Are Not At-Risk" campaign has inspired individuals and organizations to examine – and change – the language they use.
"Words create worlds!"

This was stated so clearly by one of the 20 young people who took part in AFSC's Youth in Action (YIA) gathering in Nairobi, Kenya in the spring of 2018. As part of this global youth network, young leaders from around the world had come together for a week-long training on racism, colonialism, imperialism, and youth organizing.

One common theme kept coming up throughout the week – the ways that words have been used for hundreds of years to oppress and dehumanize brown and Black people around the world. Since the onset of colonialism, European leaders have used specific language and writings to spread harmful rhetoric of supremacy and dominance – and to treat Black and brown people as "uncivilized" and "subhuman" individuals.

Today, words like "at risk," "thugs," "marginalized," and "minority" are used for the same purposes. And they're usually used to talk about young people who are poor and of color or those who fall outside of the dominant culture. Not only do these terms dehumanize youth, they shift blame to young people instead of to the oppressive racist systems that profit off them, their families, and communities.

That's why YIA participants decided to create the "We Are Not At-Risk" global social media campaign – to call attention to and change those linguistic behaviors.

The campaign urged people to sign a pledge to the rethink the words they use to describe young people, take part in local educational events, and share what they've learned with family, friends, and colleagues on social media. Over 14 days in November, more than 2,000 people in 15 countries participated. Over 1,000 pledges were taken by community-based organizations, faith-based institutions, universities, and colleges. And 25 youth programs worked with hundreds of young people, educating them on the power of words and ways that they can counter oppressive narratives.

Although the two-week campaign is over, YIA leaders and staff across AFSC's youth programs and beyond continue their work to change how young people are talked about within local organizations, institutions, and media outlets. And we're seeing the impact.

Several organizations and institutions have agreed to change the way they talk about youth:
In Philadelphia, the Department of Human Services agreed to adapt the language it uses in its Request for Proposals (RFP) to meet the We Are Not At-Risk guidelines.
The Grants Professional Association has widely distributed our guidelines among its 2,800 members and sparked much-needed discussion among grant professionals.
Several other organizations are having honest conversations about the systematic roots and consequences of our everyday language.
YIA participants have spoken at the National Immigrant Integration Conference, the Alliance for Peacebuilding conference, and universities – encouraging global organizations to move away from racist colonial language while working with young leaders in their communities to adopt wording that emphasizes young people's assets and liberation.

Additionally, young people in Nairobi have formed the Youth 4 Liberation network, a platform to raise up and address key concerns that impact youth in Kenya and other African countries.

It is necessary that organizations understand the severe impact that their words have on how young people are viewed, treated, and how power (or the lack thereof) is ultimately distributed. Words have the power to change how youth leaders, funders, and community members view and interact with young people at the most fundamental level. Even if the intention is positive, if the words contain racist and colonialist ideologies, they continue to perpetuate false notions about who is at fault (the young person and their communities) and who has the solution (the funder/the organization).

The words we all use to describe young people should be asset-driven, human-focused, and center on the wholeness of the young person. Join us in the movement declaring "We Are Not At-Risk, We Are Agents of Change."