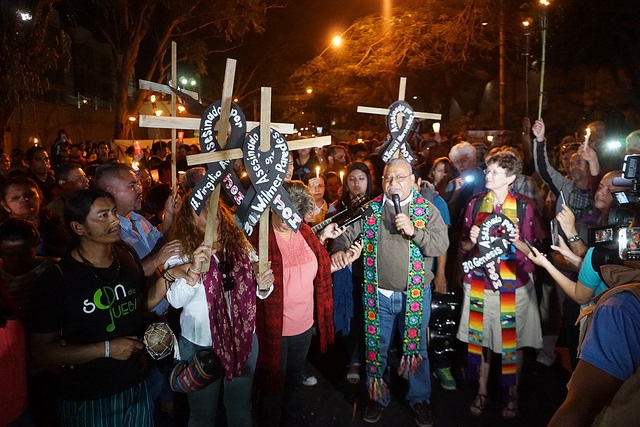 "Only God has the right to take a life," lamented 51-year old David Ramos. His first-born child, Jose, had been killed by military police while peacefully protesting fraud in the recent presidential election in Honduras. As I listened to David and others speak about the injuries and killings of their loved ones, tears welled up in my eyes. My heart ached for their losses and for Honduras, which is also the homeland of my spouse. 
I was visiting Honduras in January as part of a 50-member emergency ecumenical delegation that traveled from the U.S. and several other countries to accompany Hondurans struggling for justice. We were also there to witness and document the violent repression under the regime of President Juan Orlando Hernandez (JOH). 
Recognized by some Hondurans as a dictator, JOH had run for a second term as president last November—though the Honduran constitution prohibits it—and was declared the winner after an election widely criticized as fraudulent. Hondurans responded to the election results with widespread protests that turned deadly as security forces responded with violence. 
Initially, I feared for my own safety as I stepped out on the streets in El Progreso alongside demonstrators. But soon, I began to realize that the presence of our international delegation allowed Hondurans to demonstrate in peace. The accounts from participants were consistent. If our delegation wasn't there, they told us, the police and military would be throwing tear gas at them or worse. 
As a supporter of JOH and his security forces, the United States is complicit in the violence and ongoing human rights violations in Honduras. The U.S. has provided millions of dollars in weapons, training, and other support for the Honduran military and police, bolstering a violent and corrupt regime that has operated with impunity. 
And in the weeks after the election—despite ongoing disputes over the results, violence against protesters, and concerns raised by the international community—the U.S government announced its support of JOH as the winner. 
What happened to Jose 
Our delegation to Honduras met with family members of the victims of the violent repression in San Pedro Sula. I met David and his grandson—Jose's son—who was lying on his grandfather's lap. I greeted him and asked if his little boy was okay. David simply responded, "They killed my son." 
He pulled out his cell phone and showed me a photo of 22-year-old Jose, describing him as very loving and affectionate.     
On Dec. 1, Jose had attended a protest in Choloma, where he lived and worked. He wore the red flag of the opposition party, Libre, around his shoulders. Without warning, the military police began shooting at the protesters. Jose started to run away but didn't get far. He fell face down on the ground, shot in the back of the head. 
Five young men, including Jose, were killed in the shooting. All were shot from behind. Video of the event makes it clear that they posed no threat. 
Jose was the fourth in 38 documented deaths by U.S.-backed Honduran military and security forces since the election. In addition, an estimated 1,257 people have been detained, one disappeared, 76 tortured, and 393 injured as a result of excessive force and attacks against peaceful protesters, including the use of live ammunition, batons, water cannons, and tear gas canisters, which were made in Pennsylvania.
Hondurans now understand any association with a protest could cost them their lives. But even in the face of these risks, many people like Jose continue to mobilize to demand respect for the true results of the election and for basic human rights. 
At the same time, the violence in Honduras has forced many residents to flee the country to seek asylum. But when they reach the U.S. border in search of refuge, they are turned away or locked up in a detention center under the unlawful and inhumane immigration policies of the Trump administration.
What we can do about it
In the U.S., it's easy for us to stand by, thinking there's nothing we can do to affect what's happening in a country that's hundreds of miles away. But as someone who has met the parents and children whose loved ones have been taken away by this regime, I can't ignore what's going on.
What can we do here in the United States?
First, we can contact our members of Congress and tell them to stop using our taxpayer dollars to fund military and police in Honduras. The U.S. must demand that the Honduras government protect human rights and investigate and demand accountability for the detention and killings of protesters like Jose. 
We can also urge Congress to continue a life-saving program known as Temporary Protected Status (TPS), which now allows 60,000 Hondurans—and hundreds of thousands of other immigrants who've fled dangerous conditions in their countries of origin—to remain in the United States. 
In 1999, Honduras was designated with TPS after a deadly hurricane ravaged much of the country. Since a 2009 military coup, conditions in the country have worsened, and the recent fraudulent election threatens to deepen violence, corruption, and poverty.
Despite those realities, the Trump administration has failed to decide whether to protect TPS for Honduras, leaving tens of thousands of Honduran nationals and their families in limbo. 
"JOH! Es pa' fuera que vas!" (JOH, it's out you go). It's been weeks since I was in Honduras, yet I still can't get the protest songs out of my head, demanding the exit of JOH.
And I keep thinking of David, who shared his testimony with us and continues to join other Hondurans bravely speaking out for change, despite the risks. 
"It's dangerous—you can't even be safe at home," he told us. "I want justice. There still has been no investigation. I want the international community to know what's going on."
Note: In-May, human rights defenders from Honduras will travel to several U.S. cities and Washington, D.C. to raise awareness about the crisis in Honduras. Event details will be available on Share-El Salvador's website. The organization also seeks participants for an upcoming delegation to accompany speakers back to Honduras after their visit. 
Spanish version: Los Estados Unidos respaldan las violaciones de los derechos humanos en Honduras – esto es lo que podemos hacer al respecto
More resources: 
Articles
Websites
Videos