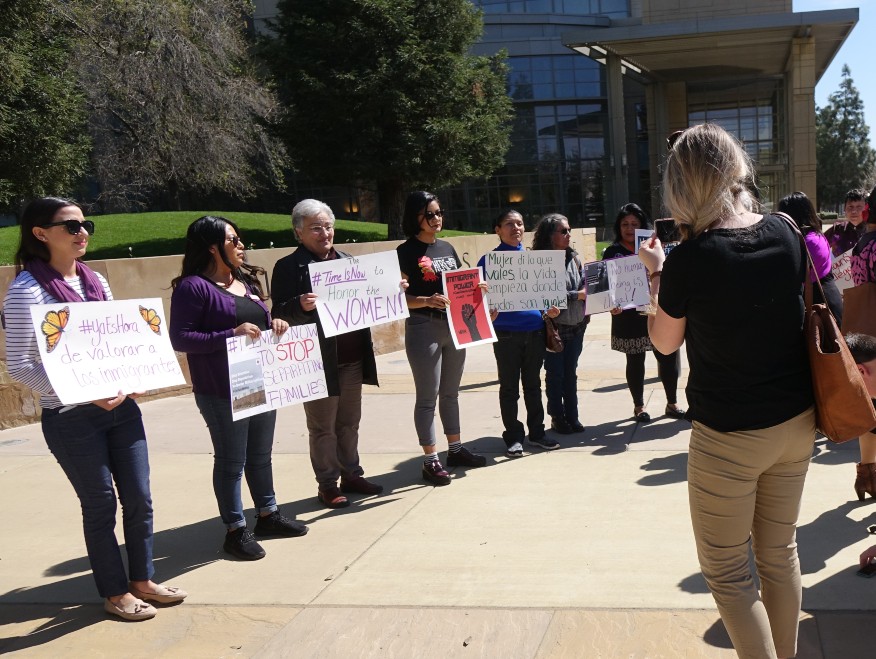 Maria Hernandez was born in the Mixtec region of Oaxaca, Mexico. At the age of 20, she left home and migrated to California, following many Indigenous people before her. She hoped to help her parents and siblings out of poverty and pave a more prosperous life for herself.
Lee Lor was born in Merced, California. Her family members were among the many Hmong refugees who fled Laos at the end of the Vietnam War.
Global political and economic policies displaced Maria and Lee's families—in countries miles apart. But the two women found much in common when they started participating in AFSC's Pan Valley Institute (PVI) in Fresno, California in 1999.
PVI was founded in 1998 to strengthen immigrant leadership and political and civic engagement in the Central Valley of California. The area is one of the most productive agricultural regions in the country, providing over half of the fruit and vegetables grown in the U.S. It has attracted immigrants and refugees from different parts of the world to work in the agroindustry. And while the industry has produced vast wealth for some, it also has entrenched cycles of poverty, racism, and environmental injustices.
As program director of PVI since its founding, I have been inspired by the hundreds of young people who have participated in our program over the years. It's been an honor to support them in their efforts to create more just and equitable futures for all community members.
The principles of popular education guide PVI's work. At PVI, immigrants and refugees have a welcoming space to share their experiences, learn from one another, and rebuild their world. Our approach includes accompanying immigrants and refugees in protecting their human rights. Over the past 20 years, we marched and advocated for just and humane immigration policies. We've called for access to driver's licenses for all immigrants, documented racial profiling by law enforcement, and accompanied families whose loved ones were deported. In this pandemic, we have stood with farmworkers and their families in urging political leaders to ensure the well-being of community members.
Supporting immigrant leaders working to transform their communities
When Lee and Maria joined PVI, their cohort included 11 young Southeast Asian and Indigenous Mexican women. Despite language barriers, they gathered regularly over four years, engaging in deep analysis and dialogue about issues impacting them and their communities. They discussed ways to break the barriers they confronted in exercising leadership. They also shared their experiences of losing cultural practices in the U.S. and their efforts to regain and preserve their culture.
"Women play an important role in the struggles for changing social issues that impact us," Maria says today. "Women can motivate and support each other while becoming leaders."
PVI participants take what they learned to work for change in their communities. Maria is a longtime advocate promoting the rights and visibility of Indigenous people. Lee worked on education and child welfare issues before being elected as a Merced County Supervisor in 2017. She was the first Hmong woman to attain the position.
Over the years, PVI's work has evolved in constant consultation with grassroots immigrant, refugee leaders, and community volunteers. In 2020, we started the ArteVism Fellowship Program. The program provides spaces and opportunities for youth of color to understand their power to transform their environment by becoming politically engaged. Fellows build community and advocate for change through artistic expression.
Our current ArteVism fellows are designing creative approaches to confront discrimination in the Central Valley. They are building on Central Valley social movements of the past to address the issues of inequality impacting youth of color.
Michael Piña is an ArteVism fellow who grew up in Kerman, California. Her parents are originally from Mexico. As a queer, Latinx, female-identifying person, Michael talks about the hardships of growing up in the Central Valley and searching for a more accepting community.
At PVI, Michael is building and calling for safe, welcoming spaces for queer, Indigenous, Black, and other people of color. "My time during the ArteVism Fellowship has changed my perspective on the Central Valley and who's in it," says Michael, who recently graduated from UC Berkley with a sociology degree. "It taught me the value of culture, art, and unique forms of knowledge beyond academia. It taught me how to love my home, find community, and inspire myself and others to become the changemakers in our community. Most importantly, it taught me that my voice and ideas matter, and with the appropriate support and resources, I can make an impact not only in the Central Valley but also in the world."
Hana Luna Her is also a fellow. She is a Hmong graffiti artist, muralist, and self-described "dreamer" whose graffiti name is "Better." Born and raised in Fresno, she is a first-generation Hmong American. Her parents escaped the Vietnam War. The lasting impacts of scarcity and assimilation shaped her upbringing, she says.
Today, Hana is designing and will paint a mural to welcome refugees and honor their diversity. The project is in partnership with Stone Soup, an organization that provides services to refugees.
"At times in the cohort, I found myself challenged, but the quest for positive change and growth requires strength from digging within," Hana says. "The skills of mindfulness that developed from this experience create this excitement of courage in me to persevere and continue what my heart believes in."
Investing in young leaders and the future of California's Central Valley

In January 2021, ArteVism fellows released their video project "More than a Bread Basket."
History has taught us that social change only happens when oppressed people exercise their power to dismantle unjust systems. AT PVI, community members tap into that power, strengthening their leadership skills and working together to achieve social change.
These changes require time and long-term investment. But every day, I am inspired by the signs of progress we see in the Central Valley. That includes seeing more young people of color running for local government, following in the footsteps of community leaders like Lee Lor. In November, we witnessed the election of the first Indigenous woman to the City Council of Madera, Elsa Mejia. Her campaign was managed and supported by three Indigenous young adults who are long participants and collaborators with PVI.
Working with PVI and so many young leaders over the past 23 years, I'm as excited as ever by the possibilities. And I am looking forward to seeing what more younger leaders will accomplish in the years to come.