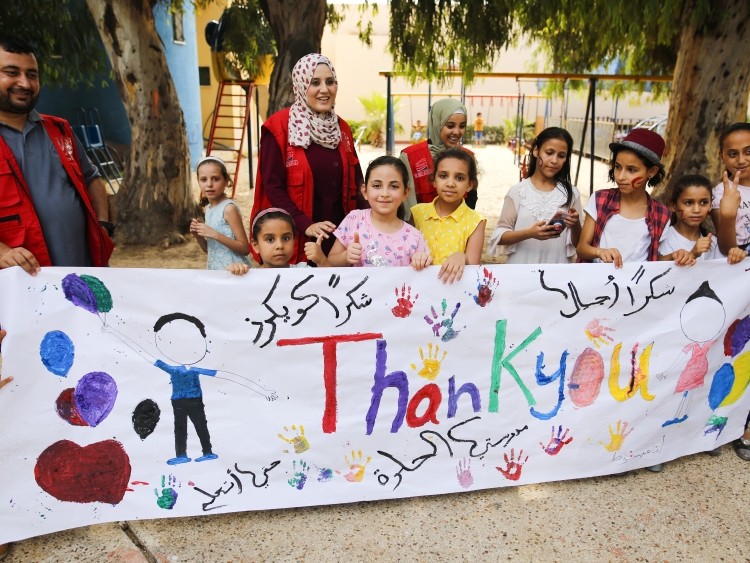 Earlier this year, AFSC supporters like you donated to help buy school supplies for children in Gaza.
Thanks to your generosity, 600 children in Gaza now have new uniforms, school bags, textbooks, and other supplies to start the school year.
As the Gaza office manager in Palestine, I want to thank you for making this possible.
Children of families living in poverty amid an ongoing blockade can't afford the supplies needed to enroll in primary school. For parents like Omar, support from the AFSC community has made a difference. He's a father of five in Shejaiya in East Gaza. And his wages aren't enough to pay for supplies for his school-age children, Malak, 6, and Mohammed, 8.
After our Gaza team delivered new school supplies to their home, Omar told us, "You lifted a heavy burden from my shoulders."
In recent weeks, our team held two events in Gaza to distribute supplies. We made sure the events were fun for the children, too. We had outdoor activities where they could enjoy being together, painting, singing, and dancing.
After the most recent Israeli attacks on Gaza, it meant a lot to have these community events. We were happy to see so many children smiling, laughing, and just being kids—as all children should.
We're grateful to supporters like you for making this possible. Your vital support has helped hundreds of families meet back-to-school needs—as we work together to end the blockade and build a more just, peaceful future for all.