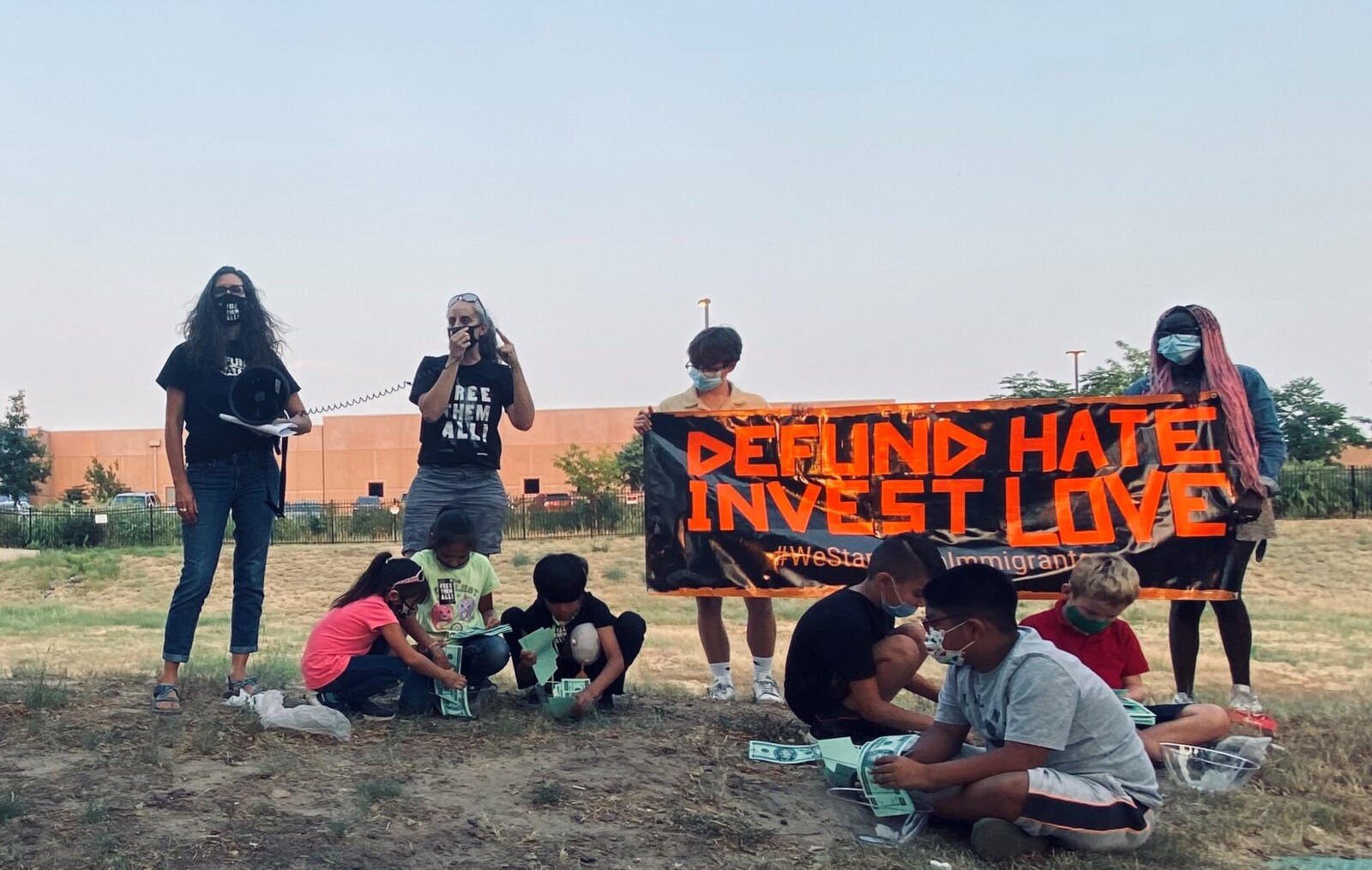 As part of the Defund Hate Campaign, communities across the country are pressuring Congress to cut funding to ICE (Immigration and Customs Enforcement) and Customs and Border Protection (CBP)—two agencies with long histories of human rights violations against immigrants. Since 2017, AFSC and partners have worked alongside communities organizing and advocating locally and in Washington, D.C.
Over the past four years, AFSC and partner organizations have mobilized hundreds of thousands of people nationwide to successfully block over $7 billion of funding for the nation's detention and deportation machine. 
Today, our efforts are as critical as ever. In recent months, the number of people jailed in immigration detention facilities has ballooned in past few months—despite hopes that the Biden administration would work to reduce detention. And just this week, news media circulated horrific photos and reports of Haitian migrants facing brutality by border agents on horseback in Del Rio, Texas.  
Here's what you need to know about the call to defund ICE and CBP—and how you can be a part of our efforts: 
Immigrant detention has risen sharply under the Biden administration. 
When President Joe Biden took office in January 2021, ICE was detaining an average of 15,100 people in every day. This was a significant decrease from the year before, and advocacy organizations were hopeful that Biden would make good on his campaign promises to reduce immigrant detention. 
The opposite has happened. As of August 2021, the average daily population in detention jails has grown to 25,772—a more than 70% increase since the start of the Biden administration.
The Biden administration has requested increases in funding to jail even more immigrants in detention centers.  
In its budget proposal for the upcoming year, the Biden administration asked for enough funding to keep 30,000 people in immigration jails per day and 2,500 more in family detention centers—where parents are held with their children, including babies. The president's budget also included $1.2 billion to further militarize the U.S.-Mexico border, including harmful surveillance technologies and increased funding for U.S. Border Patrol agents. That's despite the fact that for decades, Border Patrol has inflicted fear and violence on border communities and immigrants with impunity—contributing to the overpolicing of Black, Brown, and Indigenous communities.
In its budget, the Biden administration also encouraged "continued expansion of the 287(g) program," despite campaign promises to limit its use. The 287(g) program allows state and local law enforcement to enforce immigration law, turning agencies into a gateway to deportation, co-opting local resources for racially discriminatory purposes, and stripping immigrant communities of public safety.
Earlier this year, the Defund Hate Campaign joined advocates across the U.S. in denouncing the president's budget. We urged Congress to use their power of the purse to immediately divert billions in enforcement funding to humane, community-supported resources.
Unfortunately, the House Appropriations Committee did not do enough to mitigate the harms of enforcement funding. It passed a bill that provided funding to detain 28,500 people a day and also increased funding for ICE-run "alternatives to detention," including harmful methods like surveillance and ankle shackles. And it included $132 million for new harmful border and surveillance technology.
However, the bill did include several good provisions, including $15 million for a pilot case management program and $100 million for a community-based shelter grant program. These programs are a good but small first step toward investing in the welcoming immigration system we want to build.
The Defund Hate Campaign is keeping up the pressure on Congress. 
While this House Bill is a setback, it does not undermine the fact that we are gaining ground in our work to defund hate and protect our community members from detention and deportation. 
Earlier this year, our campaign hosted a series of trainings to help community members understand how Congress funds cruelty against immigrants and how to lobby representatives to defund ICE and CBP. On Aug. 18, over 150 community members and local partners across the country took part in our national day of advocacy. They met virtually with Congress and congressional staff members to demand dramatic cuts to funding to ICE and CBP. Throughout the day, Defund Hate led nearly 50 meetings across 20 states. 
And we continue to host actions in person and online—and send messages to our public officials by phone, email, and social media. 
You can help by joining our efforts. 
Congress is now approaching the deadline to pass funding bills, and we must keep the pressure up on Congress to defund immigration enforcement.
Take action: Tell your members of Congress to Defund Hate today!  
Note that since Congress could not agree on passing a funding bill by the Sept. 30 deadline, they have chosen to extend funding levels from this year for a few more months. This is called a "continuing resolution." It gives members more time to make a final decision on next year's budget. Unfortunately, the White House requested extra funds during within this continuing resolution for ICE and CBP's operations. The Defund Hate Campaign is urging Congress NOT to add any money for ICE and CBP in this stopgap measure.
Take action today to urge your members to: 
Cut funding for detention and deportation.
Cut funding for ICE and CBP agents.
Include NO money for border walls or invasive surveillance technologies.
Invest in support for immigrants, including legal and social services.
It's long past time for Congress to defund ICE and CBP and invest our tax dollars in education, health care, and other programs that strengthen—instead of tear apart—our communities.