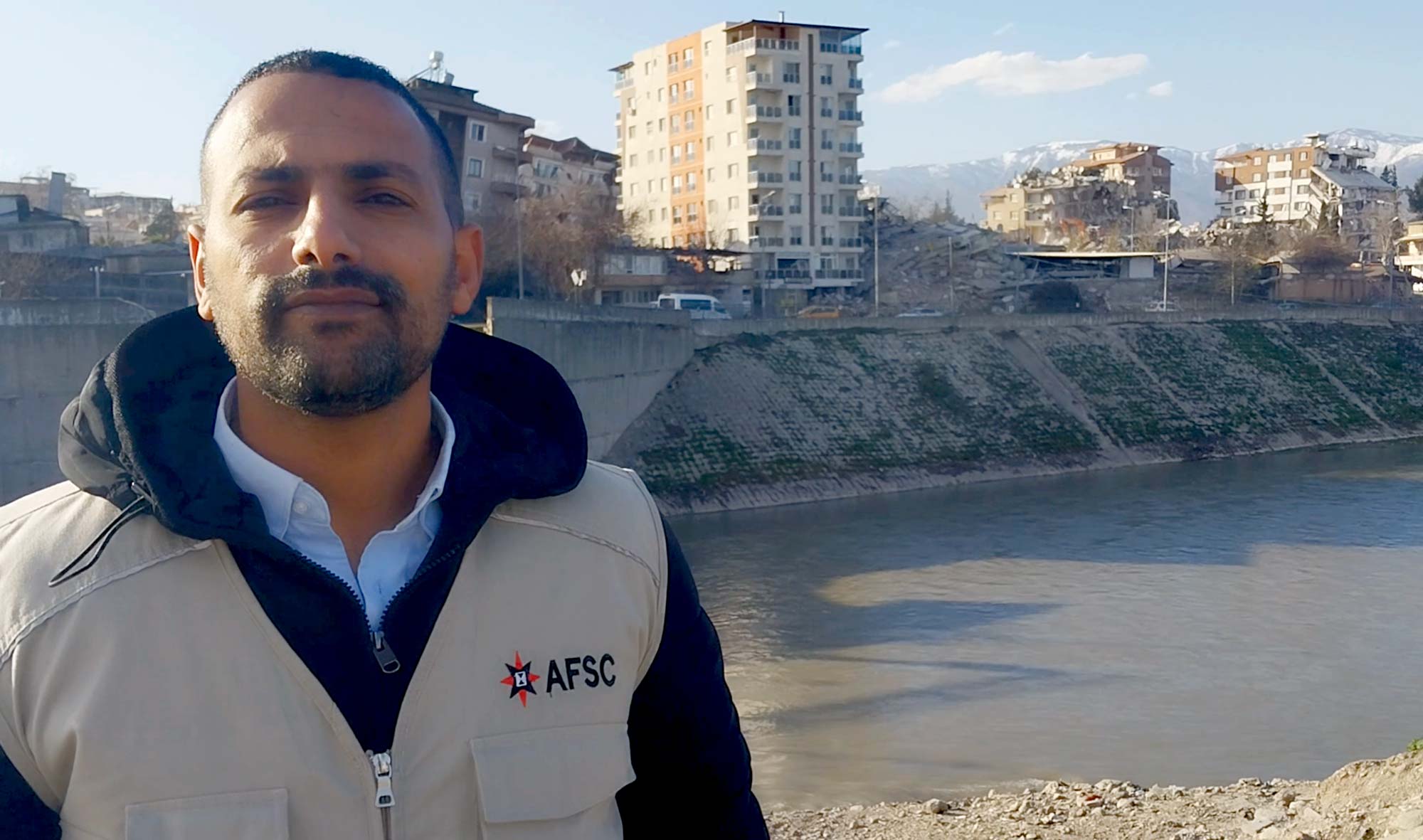 Over the past two weeks, many in the AFSC community have contributed to our emergency relief fund for earthquake survivors in Turkey and Syria. Supporters like you have helped us raise money to deliver essentials such as tents, blankets, diapers, and more—and sustain ongoing work with displaced people in the region.
Last week, our Middle East team traveled to southern Turkey to visit some of the country's most devastated areas. They met with local partners about how to make sure our assistance is of the most use to local communities.
With local partners, AFSC is meeting urgent needs in lesser-served areas. We will provide volunteers and critical supplies and services in southern Turkey and northwestern Syria, specifically the cities of Kahramanmaras, Adiyaman, Adana, Osmaniye, Gaziantep, Sanliurfa, Hatay, Kilis, Antakya in Turkey and Aleppo and Idlib in Syria.
Our efforts include providing:
• Tents in North Syria.
• Mobile kitchens to serve hot meals in Turkey.
• Water, bread, and other food items.
• Clothing and blankets.
• Hygiene kits and women's sanitary kits.
• Baby diapers and formula.
Needs may change as the situation unfolds and we are in touch with local partners to continue to adapt to meet the needs in the region.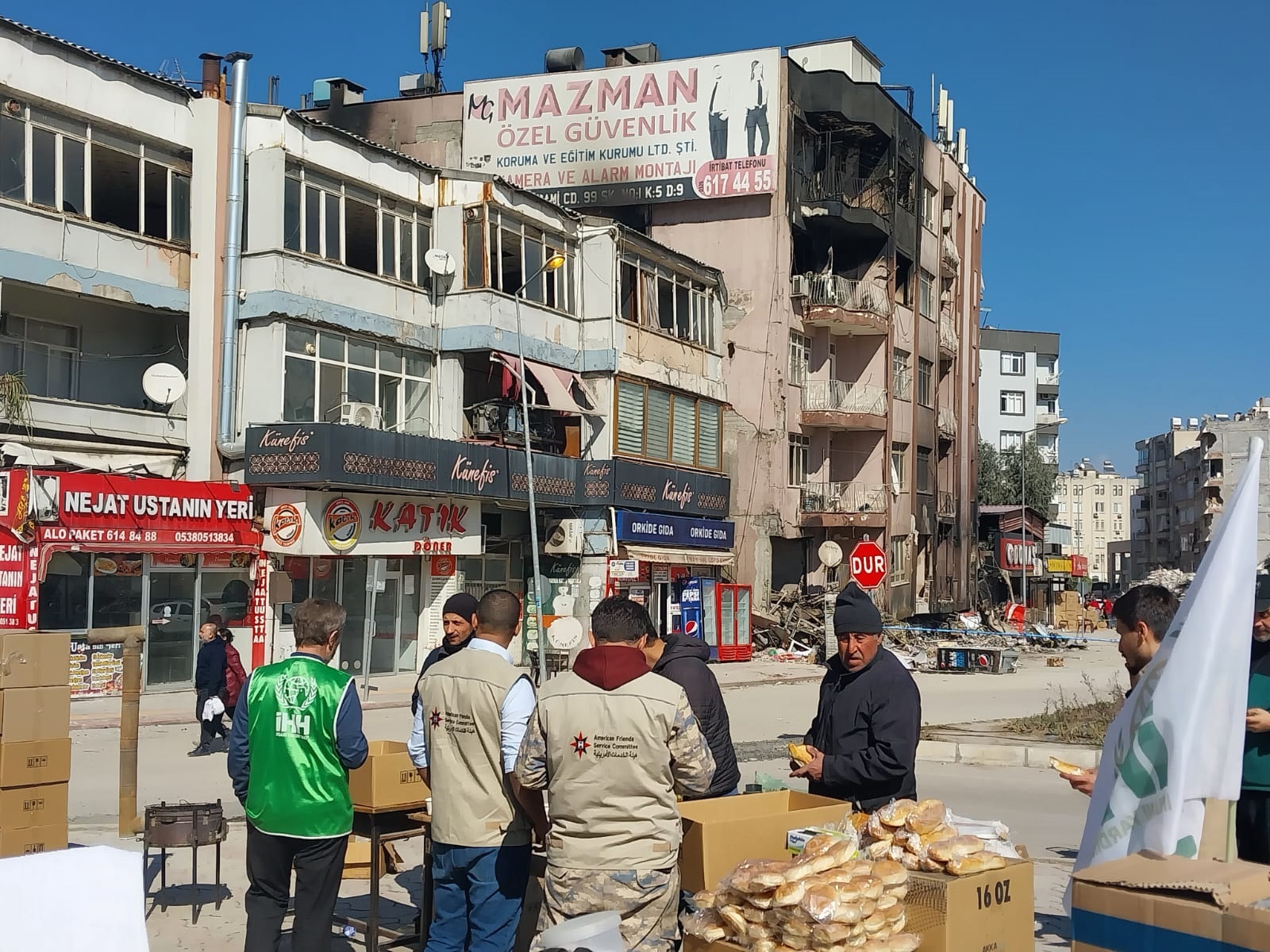 Here is an update from Program Manager Bilal Olimat:
"I am heartbroken by what we saw. I do not have any words to describe the scale of destruction and the pain of the people we met. The earthquake caused more destruction than the Syrian war has caused in its 12 years—but it took place in just one or two minutes. To date, the earthquake's death toll is 44,000, and rescue teams tell us the figure could cross 100,000.
We visited the cities of Adana, Osmaniye, Dörtyol, İskenderun, Belen, Antakya, and the closest city to the Syrian border, Reyhanlı. Those areas are almost destroyed. Some of the hardest hit areas are larger than entire countries in the region—much larger than all of Jordan and Lebanon's urban areas combined. In Antakya, which has a population of around 1.7 million, there is almost not a single building that is safe to live in. Several cities are also out of water, electricity, and gas.
We visited camps that Turkish organizations rapidly set up after the quake. Many people have moved to informal tent settlements, and others are sleeping in cars and vans. Throughout these cities, people are walking around, still looking for their families. One survivor told us he had lost 26 members in 90 seconds.
In this area of Turkey as well as in northwestern Syria, very few international organizations are providing humanitarian support. Many international organizations are focusing relief efforts in other parts of Syria, where they have already established work in response to the ongoing war.
We will keep you updated on these efforts and more in the months to come. In the aftermath of this devastating earthquake, we cannot express how much your care and support matter to the people of Turkey and Syria as they begin to recover. Thank you so much for your generous support. "