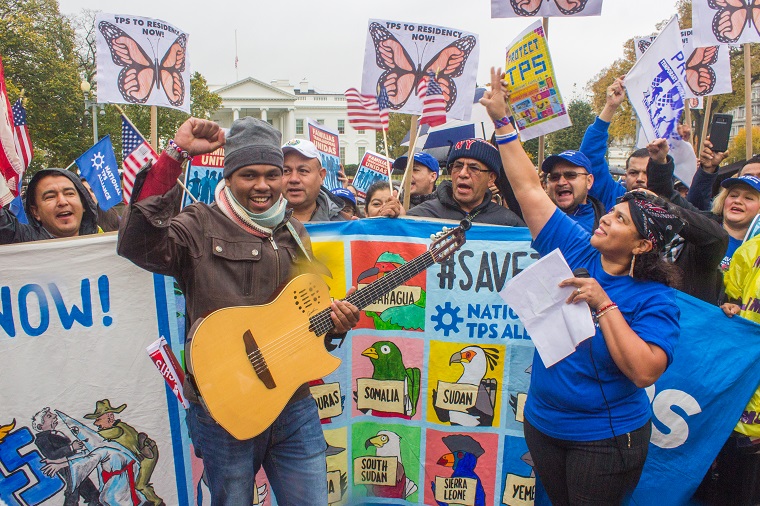 TPS holders and DACA recipients unite to demand action from Congress. 
Right now, hundreds of thousands of immigrants who were granted protection to stay in the U.S. – and have lived in the U.S. for decades – could face deportation, under President Trump's efforts to end the life-saving immigration programs known as Temporary Protected Status (TPS) and Deferred Enforced Departure (DED). Since their creation in the 1990s, these programs have allowed people to remain in the U.S. when war, natural disaster, or other catastrophe prevented their safe return to their countries of origin  – countries such as El Salvador, Haiti, and Sudan. 
At the same time, hundreds of thousands of young people who came to the U.S. as children also face uncertainty about their futures under Trump's decision to end Deferred Action for Childhood Arrivals (DACA).  
The administration's inhumane termination of TPS, DED, and DACA threatens the safety, well-being, and livelihoods of more than one million immigrants in the U.S. – as well as their families and communities.   
But these individuals have pushed back in big ways to defend their right to stay – advocating with elected officials in Washington, D.C. and local governments, speaking out in the media, and mobilizing allies to support their resistance to the administration's xenophobic agenda.  
The DACA and TPS movements are united in calling on Congress to pass legislation to allow more than one million recipients of these programs to stay in the U.S. and attain permanent lawful status. And on Feb 12, TPS and DED holders, DACA recipients, and their supporters will take to the streets of Washington D.C. for the  March for Justice – sending a strong and visible message that we will stop the Trump administration's cruel efforts to deport millions of immigrants who are vital parts of our communities.    
You can stand with them in solidarity by contacting Congress today. Urge them to protect the recipients of DACA, DED, and TPS from deportation and create a roadmap to citizenship for all immigrants. 
Here are six more things you show know about these three vital programs:  
1. The time for action is now.  
The Trump administration has stripped away protections for TPS holders from Haiti, El Salvador, Nicaragua, Nepal, Honduras, Sudan, Liberia, Guinea, and Sierra Leone, putting over 300,000 TPS and DED holders at risk of deportation over the next two years. Trump has also rescinded DACA for more than 600,000 recipients.  
Time is also running out for communities like DED holders from Liberia, who will lose their legal status on March 31st. 
Lawsuits to preserve TPS and DACA are making their way through the courts. In a few cases, federal judges have issues injunctions to halt deportation for certain groups. But many immigrant youth and TPS and DED holders are not covered by those decisions. And even those protected by the injunction have a temporary reprieve, not permanent protection. 
DACA, TPS, and DED recipients face the threat of deportation without a legislative solution. Congress must act. We can't wait for the courts to solve this problem – we need legislation that keeps families and communities together. 
2. We must stop Trump's racist and inhumane agenda.   
Targeting immigrants protected by DACA, TPS, and DED is part of the Trump administration's systematic attacks on communities of color — and it's critical that we continue to push back against this racist agenda from all sides. Communities of color have also been targeted by other Trump policies, including the Muslim ban, visa sanctions, and efforts to terminate the Diversity Visa Lottery program.   
Trump has stripped away these protections to exploit these communities as bargaining chips for his xenophobic agenda and to improve his negotiation position to extort funding for his divisive, ineffective border wall, a deadly deportation and detention system, and to militarize our border communities.  
3. DACA, DED and TPS — and their recipients — have a lot in common.  
Many people with TPS, DED, and DACA have called the United States home for decades. Although they have been allowed to live and work in the U.S., they have also suffered the uncertainty of whether those permissions would be renewed under this administration.  
There is also significant overlap in the largest nationality groups among DACA and TPS recipients —showing how people fleeing similar circumstances in the same nations arrived in the United States at different times and were granted temporary protections under different programs.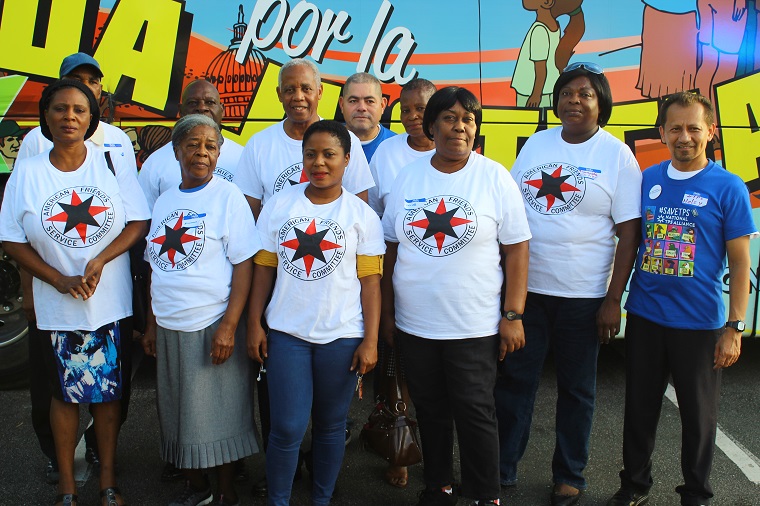 El Salvador, Honduras, and Nicaragua are in the top 15 countries with DACA recipients at over six percent of the DACA population. Collectively they account for 80 percent of TPS holders. About 22 percent of TPS holders from El Salvador, Honduras, and Haiti, arrived as children under age 16 — just like DACA recipients, according to the Center of Migration Studies.  
Whether escaping violence or natural disasters, or seeking to be reunited with family members, or searching for better economic opportunities, DACA, DED and TPS holders migrated to the U.S. because it was their best — and in some cases — only option.  
4. Ending TPS, DED, or DACA would devastate our communities.   
TPS, DED, and DACA recipients are deeply integrated into our communities. TPS recipients from El Salvador, Honduras, and Haiti have more than an estimated 273,000 children born in the United States while there are over 200,000 U.S. citizen children born to DACA recipients. Beneficiaries of both programs provide emotional and financial support to loved ones, play major roles in their communities, and are employed across a range of professions.    
An end to these programs would mean uprooting vital community members, family and loved ones left behind, businesses and careers abandoned, and disrupting the economy of their states and the U.S. at large.  
5. We need more pathways to citizenship for all immigrants in the U.S.  
No one should be deported. Today, we are calling on Congress to enact a permanent solution that creates a roadmap to citizenship for all TPS, DED, and DACA recipients and the millions of other immigrants in the country.   
This pathway should be established on a platform of shared values and humane treatment of all immigrants. As we advocate for the rights of the TPS, DED, and DACA members of our communities, we must continue to call for a pathway to citizenship for the 11 million members of our community who do not qualify for any form of relief. This includes opposing any policies that may protect DACA recipients but harm other community members by increasing immigration enforcement, for instance, or further militarizing border communities.   
Take action today to protect these programs and call for humane immigration policies respect the rights and dignity of all people.