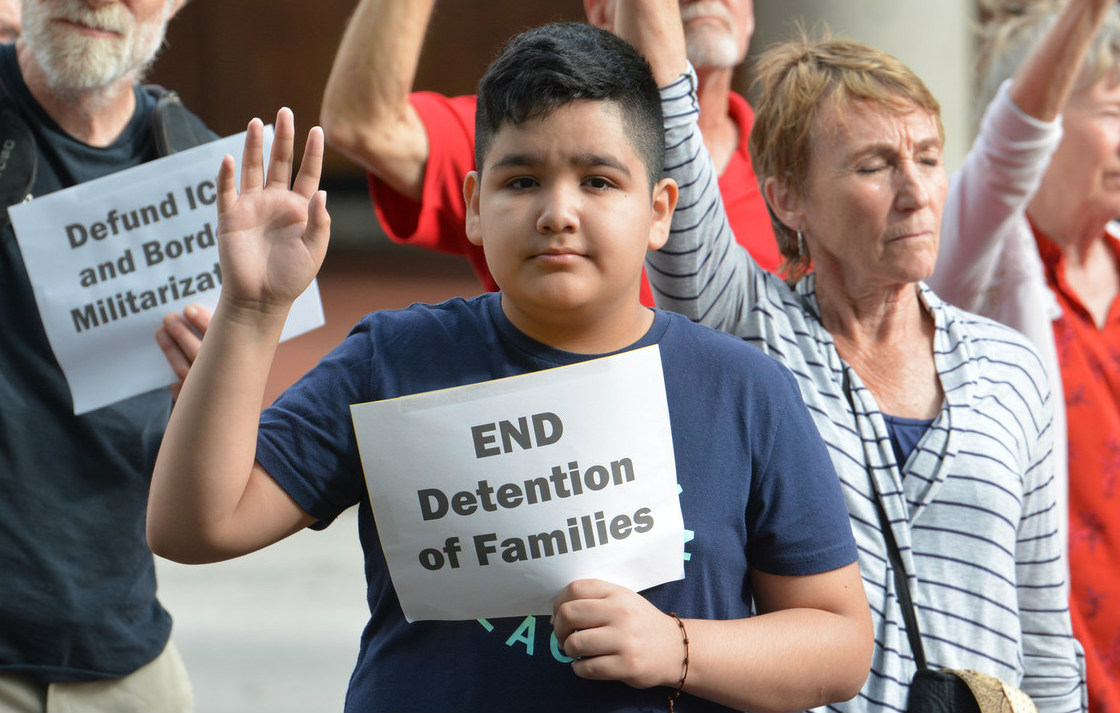 NOTE: In September 2019, the Trump administration's change to the Flores rule was blocked in court and will not be implemented.
This week, AFSC and other faith organizations denounced the Trump administration's latest attack on immigrants – a new rule that will allow the indefinite detention of immigrant children and families. The new rule would end the 22-year-old legal settlement known as the Flores agreement, which has offered limited protection to immigrant children in custody – further weakening these already insufficient protections.
The change is scheduled to go into effect after 60 days, although 19 states and Washington, D.C. have already sued the administration to stop that from happening.
As the Trump administration continues its sustained attack on immigrant children, we must do all that we can to stop detention and deportation.
Here's what you need to know:
What is the Flores agreement?
Since 1997, the Flores agreement has limited the amount of time the government can detain children (generally no more than 20 days) and required facilities that hold children and families to meet certain licensing and other standards.
The case has a 30-year history dating back to the 1980s, when the U.S. government was detaining unaccompanied children in substandard conditions and refusing to release them to relatives. AFSC submitted an amicus brief in the case in 1990, along with other religious and social services groups, asserting that the "cost of detention both to children and to society is incalculable." In 1997, the government finally settled with plaintiffs, creating the Flores settlement agreement, setting standards for the care of unaccompanied children in federal custody.
The Flores agreement is far from perfect, and the government has repeatedly failed to comply with its terms. After 9/11, the Bush administration established family detention centers, which resulted in new litigation and a new settlement setting standards of care for children in family detention. The Obama administration later expanded the detention of unaccompanied minors and tried to use family detention to deter asylum seekers.
There is no humane way to detain children and families, and in 2015 a judge ruled that Flores applies to children whether they arrive with or without their parents in the United States.
What does the new rule do?
If this rule goes into effect, it will end the Flores agreement and:
make it easier for the government to detain children with their families – indefinitely;
allow the government to hold families in facilities that haven't been licensed by state or local governments;
lower standards of care in facilities during broad "emergencies" that could deny families basic needs; and
make it easier for young people to lose certain legal protections.
These changes will help the Trump administration construct a system of immigrant family internment that could last forever.
Why is this new rule harmful?
Immigrant families belong together and not in jail – and this regulation undermines that principle.
There is no humane way to detain children and families. The facilities that have been used to detain families have been rife with psychological and physical abuse. Families and children belong at home and in our communities – not in cages.
Keeping children in detention causes lasting trauma – the costs to children, families, and our communities is incalculable. The American Association of Pediatrics has stated that no child should be held in a detention center or separated from their parents.
The proposed regulation is inconsistent with the spirit of the Flores settlement agreement, which compels the government to hold immigrant children in the least restrictive setting possible and decide their cases quickly.
Indefinite detention of immigrant families is expensive, impractical, violates human rights, fosters abuse and mistreatment, and is unnecessary. There are proven alternatives to detention that would not inflict severe trauma on children and families. The proposed regulation will do nothing to change the desperate situations asylum seekers are fleeing in their home countries and instead punish them for seeking haven here.
Protecting basic human rights is not a loophole. We should not make it easier for the Trump administration to construct a system of indefinite family detention. Treating immigrants as a threat is unnecessary, cruel, and does nothing to make us safer. Our policies should instead treat all people with dignity and respect.
What happens next?
Trump's plan to detain immigrant families indefinitely echoes the darkest events in history. And things will get worse if plans like this are allowed to flourish through bureaucratic rulemaking and public indifference.
These changes will allow abusive enforcement agencies like Immigration and Customs Enforcement (ICE) to indefinitely detain families. You can take action today by contacting your senators and representative and telling them to stop using our taxpayer dollars for ICE and Customs and Border Protection (CBP).
Last year, millions of people across the country were outraged as the administration ripped children from their parents' arms, expanded immigrant detention, and sped up deportations. Communities responded with protests, support for immigrant families, and calls to abolish ICE, calling on our leaders to create policies that respect the dignity and rights of all people. The public outcry surprised the administration, which apparently assumed that no one would care about the fates of immigrant children and families.
That's why it's important to keep the pressure up and resist. When we show that we care, we get results: reunited families and some limits on Trump's cruelty.