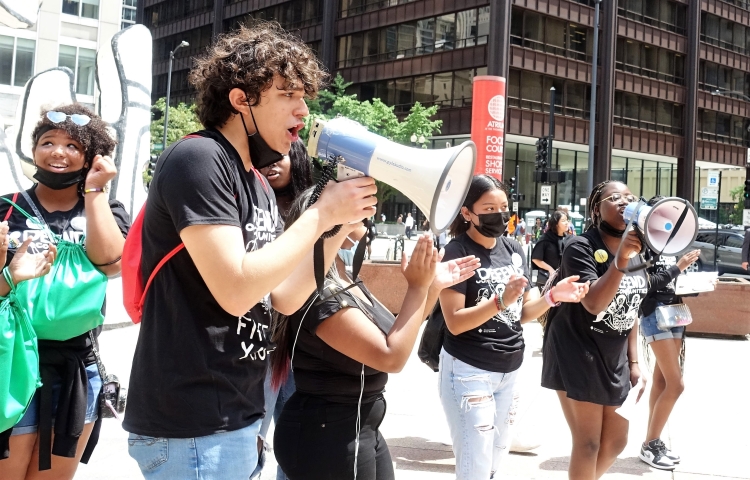 This past summer, I helped lead WILD (Wellington's Institute for Leadership Development), a four-weeklong program for youth ages 15-19 to learn about organizing for abolition. Organizing at that age introduces people to a whole new world. Most of the participants in the program were in high school. The program helped them to see they don't have to stand down if they feel mistreated and ignored in school or in the community—they can find ways to let their voices be heard. They also learned tactics for organizing and heard about the personal experiences of other young leaders in other organizations.
The WILD program is a collaboration with AFSC and Wellington United Church of Christ. Twenty-one young people participated in the institute, which four coordinating interns helped plan and run. We had a great team that worked on planning for WILD over several months. It included interns (Destiny Bell, Zyhier Justice, Rubi Mendez, snd Citlali Perez); Debbie Southorn, Chicago's Peacebuilding Program coordinator; and me as the Michael McConnell Peace with Justice Fellow of Chicago. For many of us, this was the first time coordinating something like this so we all learned from each other. The first day was approaching and mixed feelings such as excitement, nervousness, and anxiety were definitely in the air. 
The interns were super passionate about WILD, because they were young organizers themselves. These leadership team meetings started off with us getting to know each other, our styles of working, leadership, and strengths and weaknesses. We also had training from Benji Hart, a well-known organizer in Chicago on strategies for facilitation. Page May, who is also a well-known organizer in Chicago, dropped in a couple days to mentor us on community organizing and how to engage youth.
On the first day of the institute, July 5, we were definitely prepared, but everyone had jitters. My first instinct was to go by the door and greet young folks coming in and their parents. I, myself, am a parent and can imagine what's it like to be in their position, curious and nervous at the same time. I'm glad I was able to provide that support to the parents to feel a little more at ease. I started off with an icebreaker to warm the group up. It felt great to bring the energy to kick off a great summer.
Over the next four weeks, we met three times a week with the WILD crew. We always started with a check-in and icebreaker to warm everyone up and get the feel of the room. Some of our days would include workshops on topics including restorative justice, what a "people's budget" would look like, and organizing direct actions. We also had guest speakers, including from the Stop General Iron campaign in Chicago who successfully shut down a polluting plant in their neighborhood. Every day was so impactful. 
Every intern was involved in an active organizing campaign for several months before WILD started. During the institute, they had time to teach us what they had learned in their organizing experience. Those campaigns were:
Rubi and I spoke about our efforts with Final Five, a campaign which I co-founded two years ago and she was matched with during her internship. We first showed a video on an action Final 5 did a while ago at one of the youth prisons, St. Charles. We then had big cards about each prison to inform everybody and each group had to report back about what they learned about each prison to the bigger group. 
Sherrif Polk, who is also a part of Final 5, spoke with us, as well. Sherrif had once been incarcerated in the Illinois Department of Juvenile Justice and explained firsthand the harm of these prisons and why they all should be closed down.
This is what led WILD participants to work with Final 5 to coordinate an action at the Thompson Center against the new prison being built in Lincoln, Illinois. We chose this spot because our governor, J.B. Pritzker, has the power to shut the youth prisons down. With the construction of Lincoln, the Illinois Department of Juvenile Justice is now planning to open a new prison, so there will be six youth prisons in the state.
Instead of building facilities to lock up even more young people, the state should be investing this money in our communities. That's why we are now doing actions to raise attention. The WILD youth worked on chants, train takeovers, and practiced how to block the street from oncoming traffic for six minutes in protest of the sixth prison being built. This would disrupt business as usual in front of the governor's office.
We also prepared for a press conference to explain what we are doing and why we are doing it so we were ready to speak with the media and share speeches from incarcerated youth and impacted youth. We created art with youth from the Brighton Park Neighborhood Council ahead of time and they joined us for the protest. The Chicago Sun Times reported on the protest, with a piece titled, "Activists want Priztker to shut down youth detention centers in Illinois."
Qyla Livous, a participant of WILD, wrote a moving speech about investing in communities like where she grew up instead of prisons. Another participant, Emani, also read a speech from youth that's currently incarcerated. WILD showed up and showed out and we made noise!! Everyone was so hyped after!
Here's an excerpt from Qyla's speech:
"I'm tired of saying the same thing over and over. Why do we have to fight for you to fund our kids? 60 years ago, we were fighting for equal rights, we fought to go to school, now we have to fight for you to put money into our schools. New books, computers, nice classrooms, clean water. They put liquor stores and gas stations with toxic food around us, setting us up for failure.
We are fighting a system that took us, slaved us and broke us down. Put drugs in our community. ... killed our father, mother, sister, brother. Fund our kids that need therapy, that need help with math, reading and writing. Educate them in trades like coding, truck driving, welding and more for free. Let them have a future!"
Our training and experiences at WILD helped make it clear: Young people have the power to make a change. If we continue to do actions and invite young people to every action to keep supporting this issue even after WILD ends, we can continue the fight. If we raise pressure, if we continue to do research about things we don't like in the community and get people to organize around this, we KNOW it can make a difference. Somebody will listen to us.