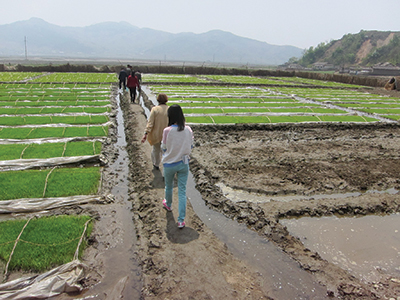 With North Korea in the news lately, we are seeing media coverage focus on high-level officials and diplomacy. But there is a whole side to the country that we often don't see, even now: Ordinary people leading their lives.
Learning about North Korea and how to talk about its history, its people, and its place in the world is a critical step in building peace and undoing the fear that many in the U.S. feel about this unknown and not well-understood country--and a way that anyone can help drive our countries toward dialogue.
Not sure where to begin? Here are five ways to learn about North Korea that show you the people who live there, what life is like, and how our countries got to where we are today, along with tips about what to do with the information you learn.
1. If you like photography...
Follow @EverydayDPRK on Instagram or check out David Guttenfelder's Illuminating North Korea gallery in The New York Times. Both feeds tell compelling visual stories about daily life in North Korea in ways that highlight how  people live their lives, without relying on racist stereotypes or repetitive narratives that stoke our fears. Share posts that you find interesting.
2. If you like sports...
Read about "sports diplomacy" with North Korea, including this story about the women's table tennis teams from North and South Korea competing together in 2018. While sports diplomacy may have a mixed track record, North Korea's participation in the 2018 Winter Olympic Games may have provided an opening for greater engagement. 
3. If you like history...
Check out books by Bruce Cumings, a leading historian of the Korean War and the DPRK. Historical context is essential for understanding the situation today. In "North of the DMZ," Andrei Lankov writes about daily life in North Korea, while Daniel Tutor and James Pearson provide a snappy and readable introduction to the country in "North Korea Confidential." You can also read about what motivates AFSC's Linda Lewis who has worked in the Korean peninsula for most of her life. 
4. If you like politics...
Read about the many possible diplomatic and humanitarian interventions that affect people in the U.S. and North Korea. For example, learn about the families of U.S. servicemen that are still searching for their loved ones left in North Korea after the war, or about efforts to reunite Korean and Korean American families separated by the border. Follow The Korea Peace Network on Facebook for updates on diplomacy and humanitarianism in action.
5. If you like food...
Learn about some of the dishes common in North Korea. Like food everywhere, a dish in North Korea can promote understanding, or it can just look really delicious. 
What are you reading about North Korea these days? Are you seeing stories that focus on the everyday lives of people in North Korea? Tell us about it on Facebook or Twitter.