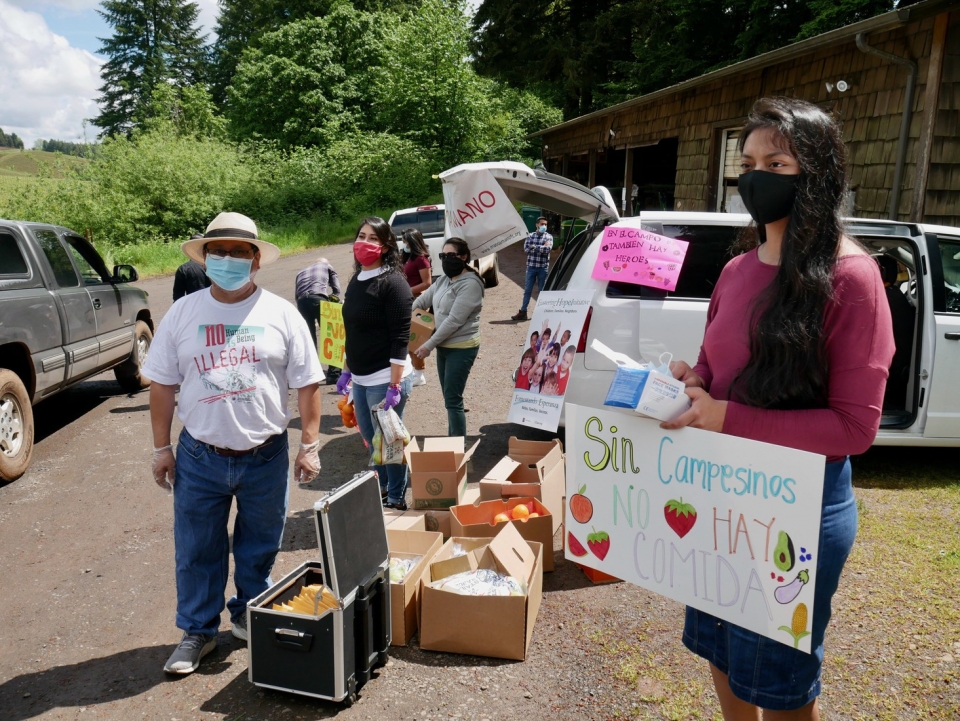 Pedro Sosa is the director of AFSC's Project Voice Immigrant Rights Program in Oregon and Washington, where AFSC works with immigrant communities in organizing and advocating for policies that respect their rights and dignity. We talked with Pedro about supporting communities affected by wildfires in Oregon as they continue to struggle with the impacts of COVID-19 and immigration enforcement.
Q: How have the recent wildfires affected the communities you work with?
A: Obviously we didn't expect this, and it has been very hard. Many of the farmworkers and other immigrant communities we work with were already dealing with the impacts of COVID-19, especially since they have not been able to get any government relief. We have also seen increased Immigration and Customs Enforcement (ICE) presence in some communities. The wildfires were another blow to immigrant community members who were already struggling with so many hardships.
Q: For years, AFSC has worked with many partner organizations in Oregon to support immigrant communities. What kind of support has been provided in response to the pandemic?
A: With the pandemic, many of the immigrants we work with had lost their jobs and had no income. Many got sick, including many who were continuing to work on farms. Their employers weren't providing them with adequate personal protective equipment (PPE) or proper working conditions.
At the start of the pandemic, we helped our partners—Willamette Valley rapid response collective, Albany rapid response coalition, Multnomah Friends Meeting, and Eugene Friends—mobilize with local communities to make masks for farmworkers. In partnership with our sister organizations, Mano a Mano family center and Fostering Hope Initiative, we began delivering food to the community—including food that had been donated from restaurants as well as food boxes of nonperishable items and popular educational materials about how laborers could protect themselves again COVID-19.
We visited five farms, distributing food boxes and more than 1,500 masks.
Q: How has AFSC responded to immigration enforcement in these times?
A: For a long time, we have done Know Your Rights trainings for thousands of immigrants and community members in Oregon and Washington every year. Now I do those trainings through Zoom.
Over the years, we have helped communities establish rapid response teams made up of communities in different counties, with faith communities and other allies that are trained and ready to respond in case of ICE presence in a community. In Portland, we've had a rapid response team since 2006, and we have helped create 12 more since 2017.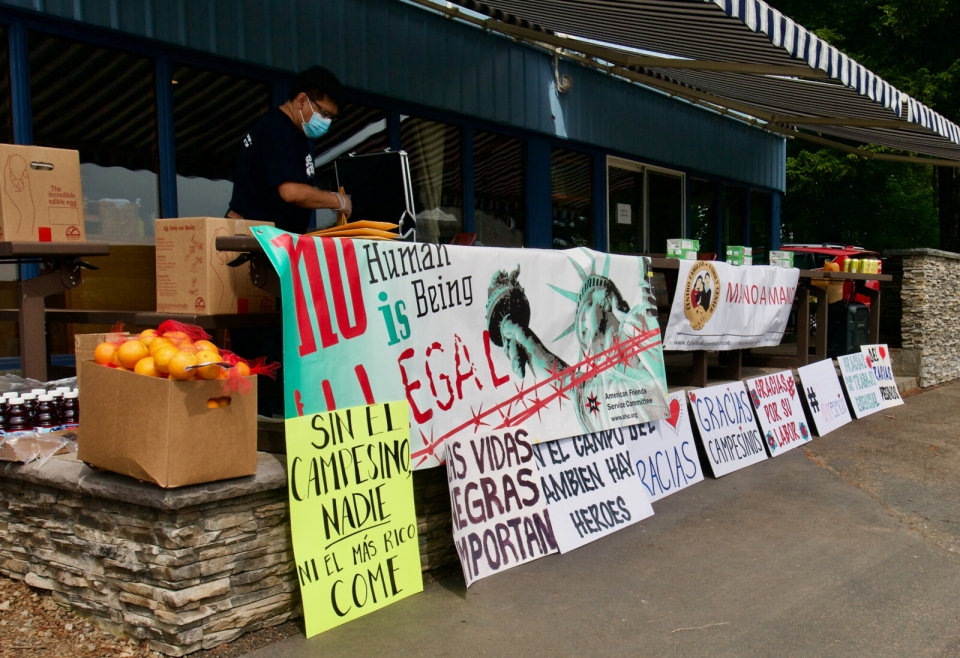 Like many places around the country, community members in Portland mobilized in support of Black Lives after the police murder of George Floyd in Minneapolis. The Trump administration sent National Guard troops and Border Patrol and ICE agents to end the rallies and marches, which led to weeks of chaos and violence, while Gov. Kate Brown and Mayor Ted Wheeler asked them to leave Portland. We have heard that may be one reason why we have seen an increased ICE presence in some communities in the past few months.
In Bend, Oregon, ICE arrested two community members last month and put them on a bus to take to a detention center in Tacoma, Washington. Residents put out a call on Facebook, and members of our rapid response teams in Portland and Salem drove to Bend to participate in civil disobedience to block the bus. Hundreds of protesters came out and blocked the bus for 12 hours until Border Patrol agents arrived.
Q: How have AFSC and partners mobilized to support community members affected by the wildfires in Oregon?
A: In partnership with other organizations, we created a Mutual Help Caravan, collecting donations from individuals, organizations, and businesses in Portland and Salem to bring to farmworkers and others impacted by the fires. We collected food, bottled water, new clothing, hygiene items, masks, diapers, blankets, and other goods and drove them to Clackamas county, an area where many people lost their homes or were displaced by the fires. Many people were camping in their cars in the parking lot of Clackamas Town Center.
We set up a distribution site at New Life Christian Center in the town of Milwaukie, Oregon. On the first day, dozens of volunteers showed up to help. We organized a drive-through so everyone could social distance. Items were placed at different stations in the parking lot. When someone arrived, they told us what they needed, and volunteers would guide them to each station, and volunteers helped put things in their cars.
In just the first two weeks, we helped hundreds of families, mostly immigrants. In some of these places, it's not easy to access help, especially for the immigrant community.
We also organized a group of interpreters to assist people who speak Spanish and Indigenous languages in shelters.
Fortunately, some of the fires have been contained, and more people have been able to return home. But there are still many people who need help. We are continuing to accept donations and distribute aid to people who still need assistance in Clackamas County.