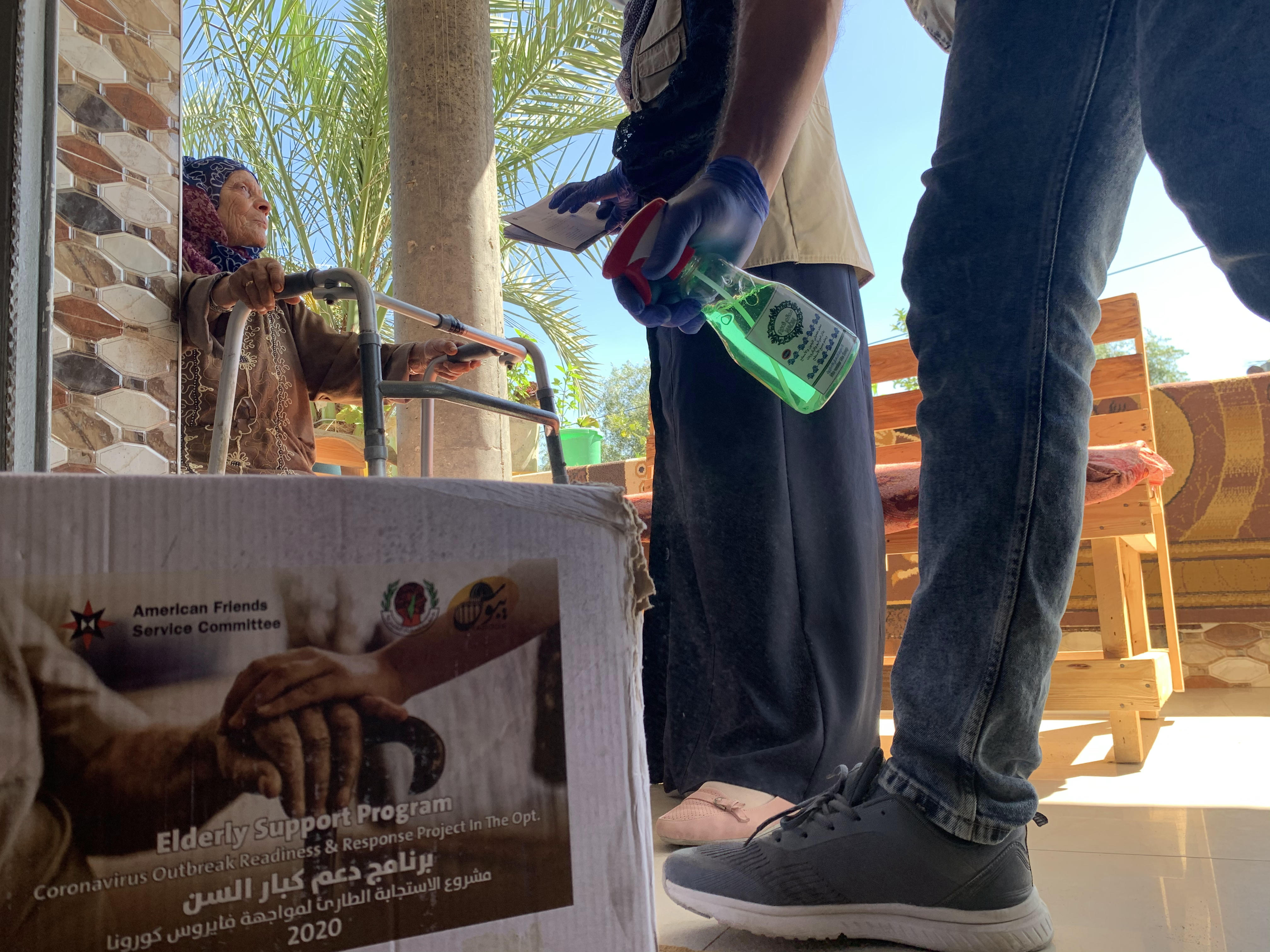 In just the past few weeks, the number of COVID-19 cases have surged in Gaza —one of the most densely populated places in the world, where social distancing is impossible and the health system is already critically overburdened.
More than 20,000 people in Gaza have tested positive for the virus, and over 100 have died. And with two-thirds of Gaza's 150 intensive care beds already filled, fear is growing that the outbreak will devastate the population.
Everyone should be able to obtain essential supplies, especially in a pandemic—but for elderly Palestinians who have lived under occupation for more than 50 years—or faced 13 years of blockade in Gaza—the obstacles to meeting basic needs can seem insurmountable.
With the generous support of the AFSC community and our long-standing partnerships in the region, we launched a humanitarian response in April—working to provide seniors in Gaza and the West Bank with kits containing face masks, soap, hand sanitizer, cleaning supplies, and other essential items to protect themselves from COVID-19.
So far, AFSC staff have delivered aid kits to more than 734 seniors in the northern Gaza community of Beit Hanoun and in Rafah in the south of Gaza as well as 187 seniors in the West Bank. With your help, we plan to continue assist elders in need—while moving forward in our longstanding advocacy to end the Gaza blockade and demand human rights for all Palestinians.
Here is what we heard from a few of the seniors who have received assistance from AFSC.
Here is what we heard from a few of the seniors who have received kits. 
Watfah Albea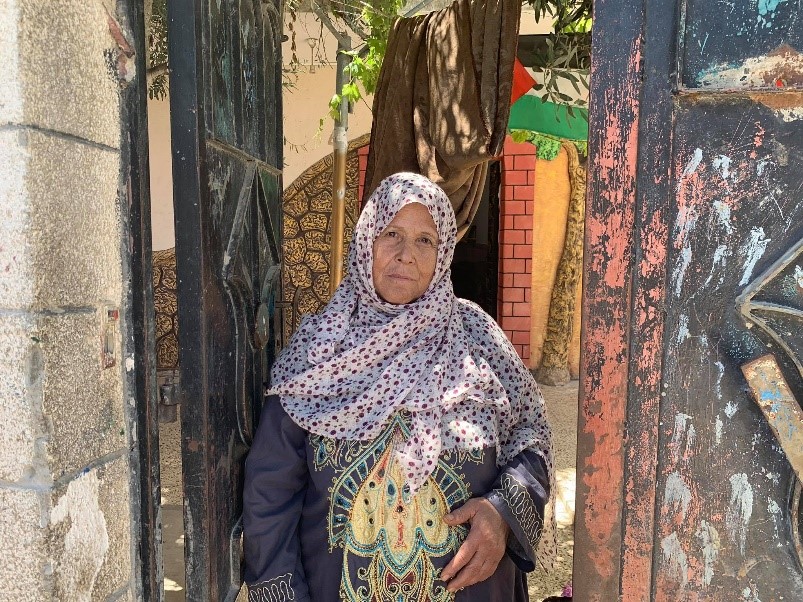 Watfah Albea is a Palestinian refugee who currently lives in Beit Hanoun village. Like many Palestinians in Gaza, she is profoundly impacted by the Israeli blockade.  
"I do not have the basic things to live as a human," she says. "My house has no electricity. … Moreover, I have cancer inside my body and cannot go out of Gaza to get my treatment. I find it difficult to buy proper food that suits my health. It is no surprise that I cannot find my medicine here because the Israeli blockade restricts the medicine of the Gazans. … All aspects of our life are paralyzed." 
When Watfah received supplies from AFSC, she told us, "Thank you so much for remembering us. We are almost forgotten. Your help will enable us to survive this deadly virus along with our children and families." 
Hamad Hamad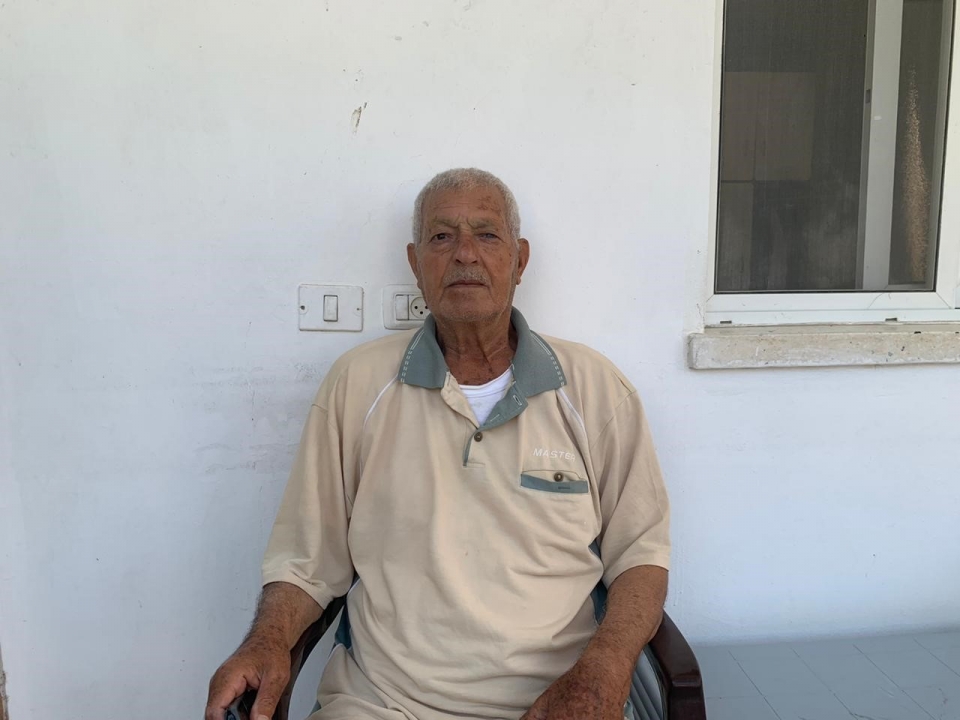 Hamad Hamad is a 78-year-old Palestinian man who lives in Beit Hanoun in the northern part of the Gaza Strip. He does not have any income. One of his daughters lives in Egypt, but and he hasn't been able to see her for 20 years. Because of movement restrictions and the blockade, she has not been allowed to return to Gaza—nor has Hamad been permitted to leave. His other daughter, Soha, was killed during the 2014 Israeli attack on Gaza, when a bomb hit her home. She left behind a daughter, Lamees.  
When our staff visited, Lamees, now 7, expressed that she misses her mother, does not wish to see the death of any mother—and hopes the world will help save mothers' lives. 
Hamad put his hand on his granddaughter's shoulder and said, "That's right, we want mercy, peace, and justice for all. I don't want any child to undergo what Lamees is undergoing these days. I am so happy to see the Quakers working in these horrible days, to see that some people still care about you us and appreciate your our life. Thank you so much." 
Sabraa Alkafarna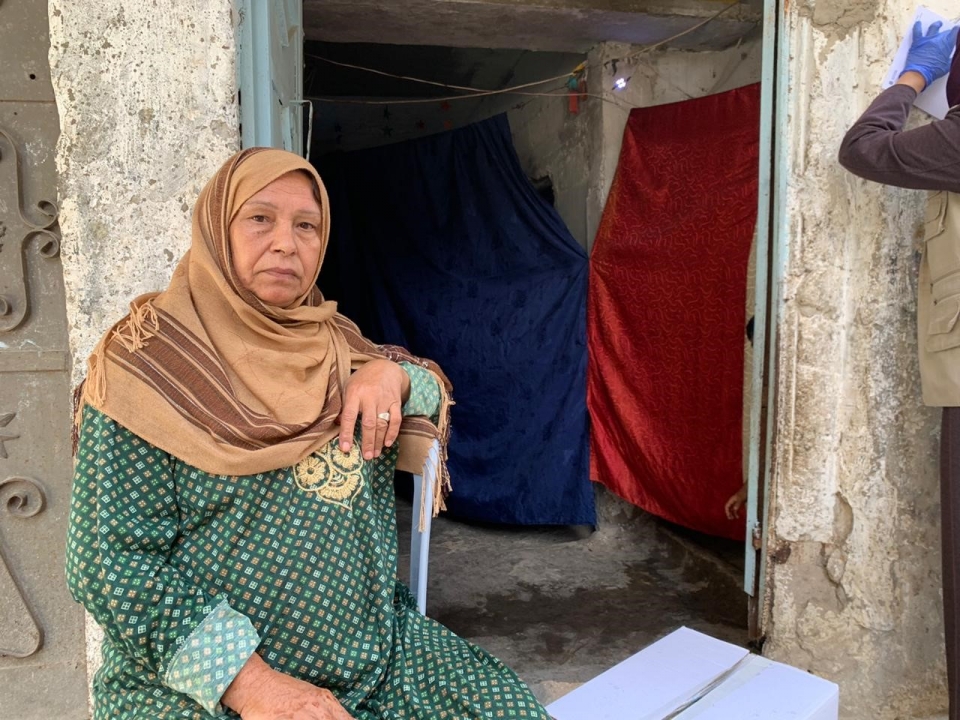 Sabraa Alkafarna is well known in Beit Hanoun for her patience and positivity. When AFSC staff delivered supplies to Sabraa, she was surrounded by all her grandsons and granddaughters. She told us that she worries about their lack of access to healthy food and clean water to drink, the deteriorating condition of their house, and what their futures will look like.  
"They are my soul, but they are dying slowly here in Gaza," Sabraa told AFSC staff. "They do not have any job opportunity, nor do they have any proper life system."  
"Your help came in the right time. My health is not strong enough to face this lethal virus. This will enable me to take protective measures against this virus. I hope that no one gets this virus in the world. I do not want death for my children or any child anywhere on the earth." 
Mariam Al-Mashwakhi 
Mariam Al-Mashwakhi lives In Rafah. She has lost most of her sight and hearing and has extreme difficulty moving without assistance. She remembers the work of AFSC and Quakers from when she was a child in 1948, when AFSC we responded to an urgent request from the United Nations to support displaced Palestinians in Gaza. Like most of the elderly in Gaza, Mariam is among those first refugees—some of whom benefited from the food aid and schools AFSC provided back then.  
When our team delivered her assistance kit, Mariam told us, "I consider your help to be a form of solidarity. I am happy that there are still people who think of us. Thank you again from the bottom of my heart."