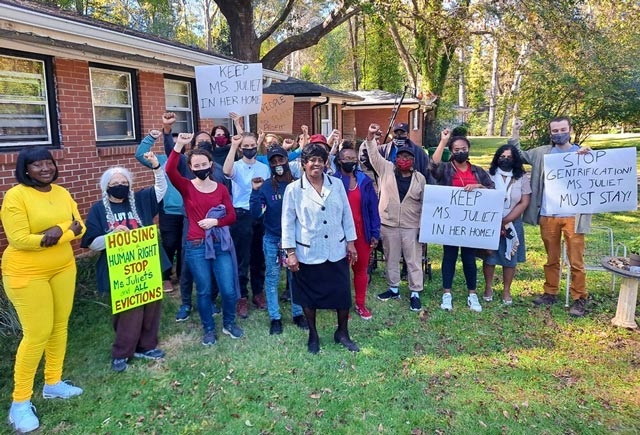 For nearly 30 years, Juliet Brown has lived in the same house in Decatur in Metro Atlanta. She has worked at a local public school serving food for the past 15 years. And she has paid what the house is worth in rent at least two times over.
But today, Ms. Juliet faces eviction from her home so her landlord can sell it for a profit. This is happening despite her landlord telling her when he bought the home three years ago that he wanted her to stay.
"I am really blessed to know that I have people to stand with me on behalf of what I have been going through," Ms. Juliet told the press at a protest in October. "I paid my rent on time, and this is the way I am being treated. I would love to stay in my home because I don't have anywhere to stay."
Ms. Juliet is one of millions of people in Georgia and across the United States who could be forced from their homes in the months ahead. Both the federal government and DeKalb County—where Ms. Juliet lives—had issued moratoria on evictions during the pandemic. But in August, the U.S. Supreme Court struck down the federal ban as unconstitutional. And in October, DeKalb County allowed its moratorium to expire.
Though many of the people at risk of eviction are still reeling from the economic crisis brought on by the COVID-19 pandemic, the housing crisis in Metro Atlanta began well before 2020. COVID-19 only made it worse. For years, low-income residents have seen their rents skyrocket as neighborhoods gentrify, putting affordable housing out of reach. Other tenants have been displaced by landlords eager to sell properties in this booming real estate market. Across the metro area, corporate landlords have bought up homes like Ms. Juliet's. And research has shown that they are more likely than other property owners to evict tenants.
No one should ever have to go through what Ms. Juliet is facing today. For nearly a decade, the AFSC Atlanta Economic Justice Program has worked with renters and homeowners to organize and protect their right to remain in their homes—from defending against evictions to preserving affordable housing to opposing gentrification.
Today Ms. Juliet is standing up for her right to stay in her home where she belongs. And community members and local organizations, including AFSC, have organized to support her efforts.
In February 2021, Ms. Juliet called our Tenant Power Hotline, operated by AFSC and our longtime partner Housing Justice League. We launched the hotline at the start of the pandemic to help people stay in their homes. We provide organizing support for tenants and referrals to financial aid and legal resources. Since March 2020, staff and volunteers have received more than 1,000 calls.
Like many people who call our hotline, Ms. Juliet has nowhere else to go if she is forced from her home. She is a low-income widow with chronic health issues and does not have the funds to move. But as of November 2021, Ms. Juliet's landlord has refused to cancel the eviction and sell the house to someone who will let her stay.
Our team has helped Ms. Juliet:
Start a petition on our online platform, which has so far garnered more than 3,000 signatures in support of her case.
Organize a protest to generate media attention. When we learned Ms. Juliet's landlord had a business partnership with a local restaurateur, we protested in front of one his restaurants on a busy Saturday morning. Camera crews came out. And the business partner agreed to support Ms. Juliet's efforts to remain in her home. He even contributed to a GoFundMe campaign to raise money for Ms. Juliet to buy the house.
Coordinate a press conference in front of her home on the day of her eviction hearing. Because of the backlog in eviction filings, her hearing was postponed for another month. That allows her to stay in her home for now as we keep up our efforts to help her remain there for good.
Housing is a human right. Through our Tenant Power Hotline, we're not only assisting people facing a housing emergency right now. We're supporting community members in calling out landlords who jeopardize the health and safety of our community—and organizing and advocating for real change to a system where injustices have become magnified in this pandemic.
With her new eviction hearing coming up in less than a month, Ms. Juliet still needs help to remain in her home. If you would like to support Ms. Juliet's fight, you can sign her petition, or donate to her fundraising efforts through her GoFundMe page.