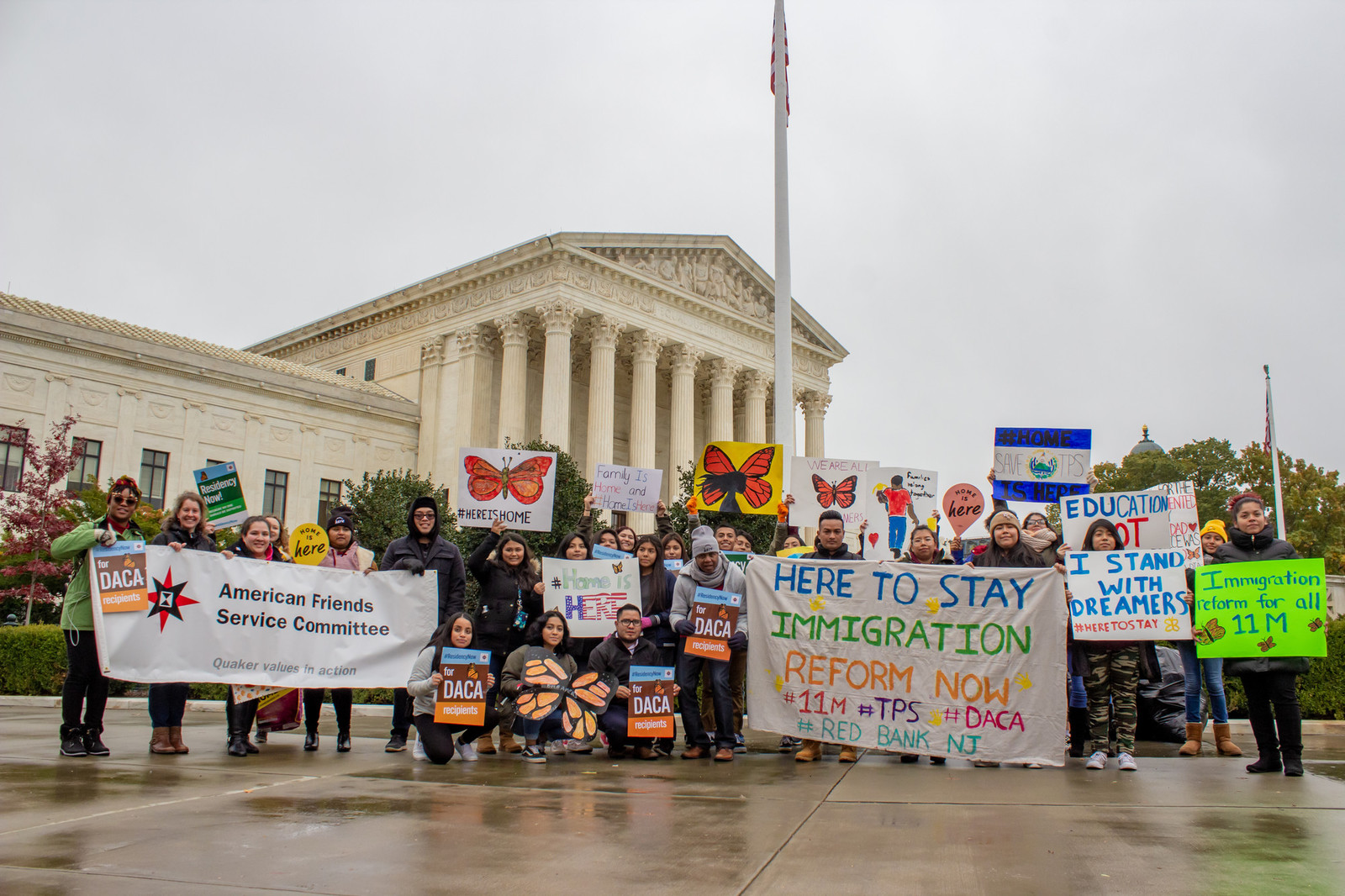 On Nov. 12, the Supreme Court heard arguments on the Trump administration's unlawful termination of DACA (Deferred Action for Childhood Arrivals), which protects from deportation more than 700,000 people who came to the U.S. as children.Thousands of DACA recipients and supporters rallied outside the Supreme Court on that cold Tuesday morning—and many more stood in solidarity at actions across the U.S.
Tell Congress: Protect DACA and provide a roadmap to citizenship for all immigrants!
The massive rallies in front of the Supreme Court and across the country demonstrated the power and will of the people—and reaffirmed our collective commitment to support all immigrants and call for humane immigration policies that respect the rights and dignity of all.
Here are some photos from communities across the country:
Washington, D.C.
Moments after the oral arguments in the DACA case were over, the plaintiffs—DACA recipients and their families—emerged hand in hand from the Supreme Court on to the marble steps, chanting "Home is Here." They were met by the sea of supporters waving signs, beating drums and cheering them on.
Among the crowd were DACA recipients and other immigrant leaders who traveled with AFSC from Red Bank, New Jersey; Miami, Florida; and Fresno, California to join staff in D.C.
"Together we are stronger, and it is important for us to be present anywhere that our community needs us to be in solidarity with them," says Paul Mondesir, from AFSC Miami immigrant rights program (center, pictured with youth from United We Dream Florida, WeCount Florida, and youth from Homestead, Florida). There are at least 25,000 DACA recipients from Florida.
Itzel Hernandez (left, pictured with Gloria Rodriguez), a DACA recipient and AFSC organizer in New Jersey, says: "I sometimes think back on my experience learning I was undocumented. … It took me a while to … understand that the reason my parents kept it from me was only out of love. My mom told me, 'If we had told you, you would never have dared to dream what you dream.' She was right. My parents let me dream beyond my wildest dreams by not letting me know my limitations. Every person should have the same opportunity."
"Despite being in constant state of limbo, one thing is certain and is that the fighting spirit for the rights of everyone is still alive," says Juan Santiago (left, pictured with Diego Ortega) of AFSC Pan Valley Institute in Fresno, California, state that about 200,000 DACA recipients call home.
A number of DACA recipients had arrived in D.C. after marching 230 miles from New York City for 18 days as part of an effort to engage the public in the campaign for DACA, TPS, and a roadmap to citizenship for all. They were with organizations including NAKASEC, Korean Resource Center, HANA, Make the Road NY, CASA, FIRM, and CHIRLA.
Des Moines, Iowa
AFSC joined dozens of supporters at the Iowa Judicial Branch Building in Des Moines at a rally organized by DACA recipient and former AFSC staffer Kenia Calderon (pictured, holding megaphone) and Iowa Dream Coalition.
Kenia and her family, who are originally from El Salvador, have lived in Iowa for nearly 15 years. The state is home to nearly 3,000 DACA recipients—about 1,400 of whom are now parents of U.S.-born children.
Kenia told the crowd: "Our lives don't begin and end with DACA. Our lives will continue whether we have the program, or we don't. We're here as a community to defend what's given us a little piece of mind, for such a long time, for almost seven years. We're here today to let every DACA recipient know they are welcome, and they are here to stay. This is their home; this is their space.
"It does not matter what economic contribution we bring to this country. What matters is that we are human beings, and this is our home. … We're here to defend DACA, and at the same time acknowledge that that is not the solution we need today. The solution we need is citizenship for all tomorrow."
Denver, Colorado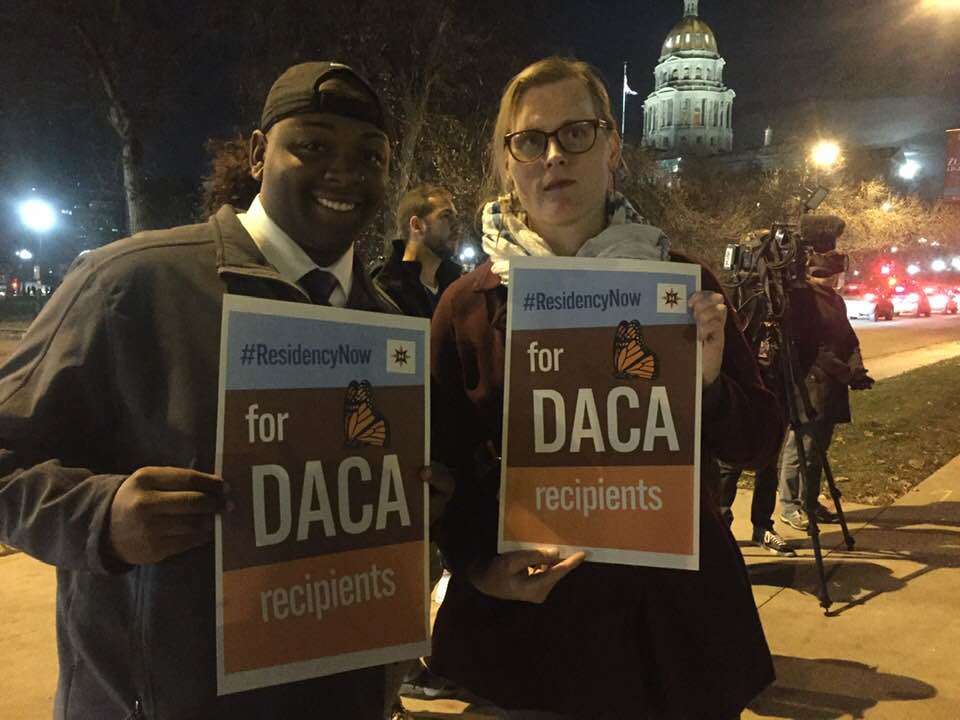 Dozens of Coloradans stood with DACA recipients at the Ralph L. Carr Judicial Center in Downtown Denver Tuesday evening. An estimated 17,000 DACA recipients now live in Colorado.
"It was a beautiful sight to see so many people come out to support DACAmented individuals who lead our movements for justice, who often hold families together, and who deserve better than just DACA!" says Jordan Garcia, AFSC Colorado immigrant ally organizing director.
In Colorado, AFSC provides support and coordinates the Not1More Table, an immigrant-led community group. Renato Fierro, a Not1More table leader, recently wrote about his experience as a DACA recipient and called on Congress to pass the Dream and Promise Act.
He wrote: "This is not just good for immigrants, it is good for all of us who want healthy, stable communities, a strong economy, and a country that values keeping families together rather than tearing them apart."
Cambridge, Massachusetts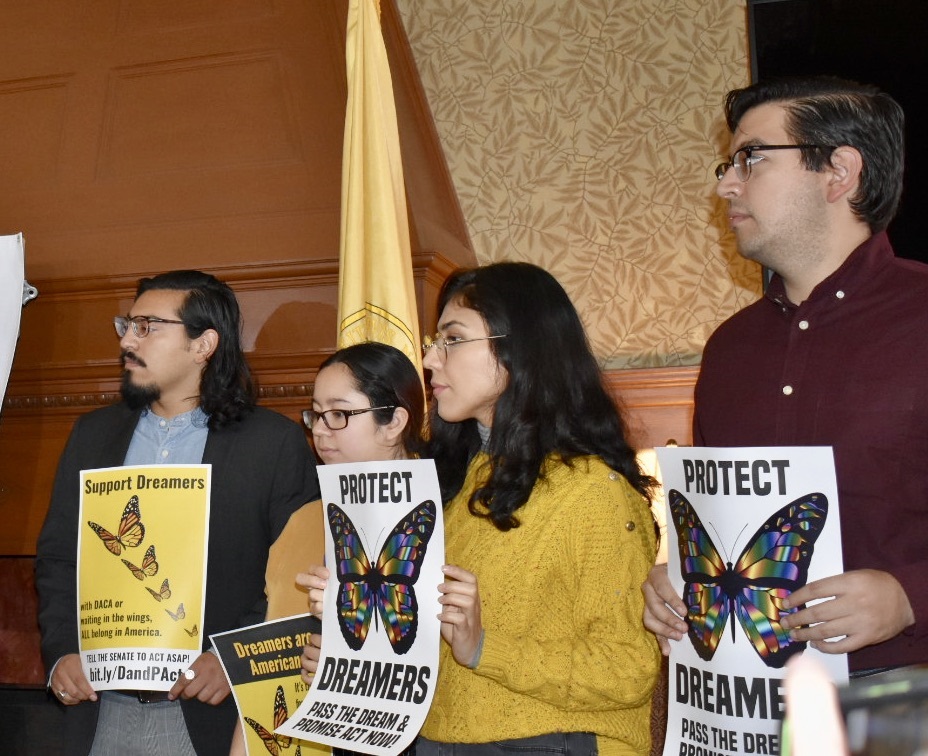 In Massachusetts, more than 5,600 immigrants are enrolled in DACA. At a press conference in Cambridge, local DACA recipients spoke about DACA and the implications of the Supreme Court decision on their lives. The event was supported by U.S. Rep. Katherine Clark, Cambridge Mayor Marc C. McGovern, and the MIRA Coalition.
"Not only is the high court decision going to affect the future of these Dreamers but the future of this nation," says AFSC's Gabriel Camacho.
Salem, Oregon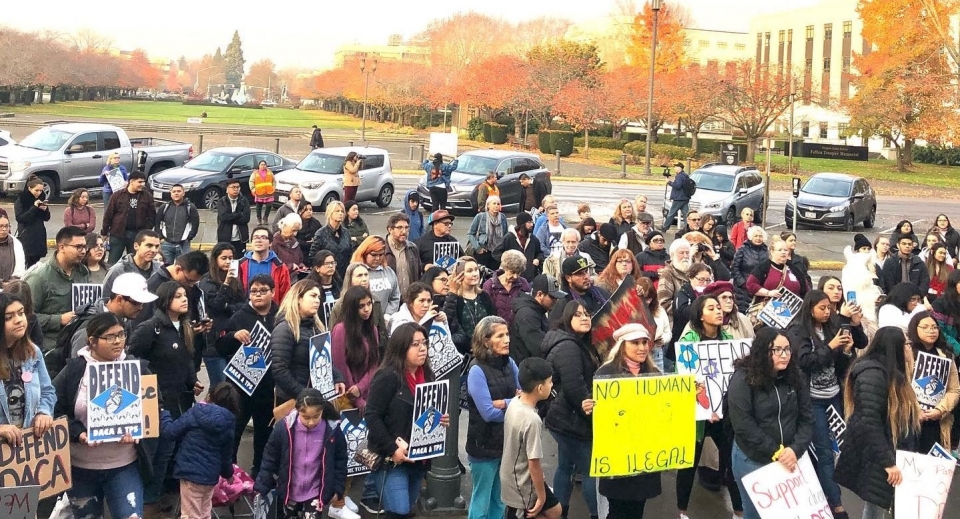 "No nos vamos," chanted the crowd that had shown up at the Oregon State Capitol to show support for DACA recipients and TPS holders: We're not going.
There are nearly 10,000 DACA recipients in Oregon.
Pedro Sosa, director of AFSC's Project Voice Immigrant Rights Program in Oregon and Washington state, says: "I see the power of youth organizing themselves to defend DACA and save TPS. We are one community. Our future is now, and we will not leave our struggle to our children. Now is the time!"
Take action today! Tell Congress to protect DACA and call for humane immigration policies that respect the rights and dignity of all.