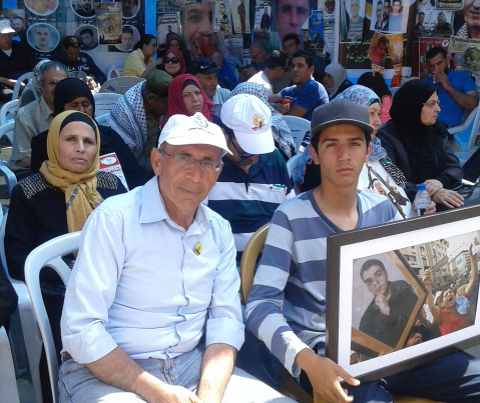 The Palestinian hunger strike, which was launched on April 17, has now entered its second month with over 1,600 prisoners joining the strike. By way of comparison, Gandhi's longest hunger strike lasted for 21 days.
This strike was launched to protest the abusive conditions that exist in the Israeli military prison system, including the use of solitary confinement, restrictions on family visits, and the continued use of administrative detention where Palestinians are held without charge or trial.
One of the prisoners on hunger strike is Majd Ziadeh. In early 2000, shortly after I first moved to Ramallah, I met Majd's father Mahmoud at a conference.  I was looking for a volunteer position and Mahmoud, a longtime labor rights activist, was trying to start a new labor rights nongovernmental organization. Despite my lack of experience, he offered me a position at his organization, helping with the drafting of proposals to donors. 
In addition to offering me my first volunteer position in Palestine, Mahmoud and his wife, Lutfiyeh, opened their home to me during those early months in Palestine. Lutfiyeh taught me to make the traditional Palestinian dish makhloubi, and their home remains the only place where I have ever eaten stuffed carrots. I remember them as a close family, and I especially remember Mahmoud's pride in and love for his children. 
In 2002, Mahmoud's son Majd, then 19, was arrested during Israel's invasion of Ramallah. He was later accused of being a member of the Fateh-linked Tanzim militia and of participating in several attacks on Israelis in the West Bank. He was eventually convicted of being in a car when shots were fired at an Israeli car near a settlement.
Majd was sentenced to 30 years in prison, despite the fact that those convicted of firing the shots were only sentenced to 15 years in prison. His lawyers argued for years that his harsh sentence was the result of abuses by the court as well as statements that Majd made in court against the occupation. And earlier this year, in an unusual move, the courts ruled that Majd had been sentenced using false information and reduced his sentence to 20 years. 
During his time in prison Majd lost most of his hearing in one ear as a result of illness that remained untreated. Medical care is a constant battle for Palestinian prisoners.
Visits by family have also been severely restricted. For years, Majd's parents were banned from visiting him, and Majd's mother only received permission to visit him in prison as she was dying from cancer. She had to be transported to the prison in an ambulance for their final visit. 
Up until the start of the current hunger strike, Majd was the cellmate of Marwan Barghouthi, who is heading the hunger strike. After the hunger strike began, Majd and other hunger strikers were moved to new locations, and Majd's family no longer knows where he is being held. 
Today, Mahmoud now spends up to eight hours per day sitting under a tent in downtown Ramallah, joining together with family members of other prisoners who are taking part in the hunger strike. I visited with him briefly while in Ramallah and heard his call for international pressure to ensure change in the Israeli prison system--before those in prison lose their lives. 
Loss of life is a real possibility. Over 100 hunger striking prisoners have now been moved to medical facilities due to deteriorating health conditions. 
One way for those outside of Palestine and Israel to show solidarity and share information about this strike is to take the #SaltWaterChallenge. The #SaltWaterChallenge involves drinking a glass of salt water, which is what prisoners are currently subsisting on, and sharing a short video of yourself taking the challenge over social media while asking others to take the challenge. 
Even if you can't take this challenge, share information with others about the ongoing hunger strike and call for change.    
For the last several years AFSC has been highlighting the abuses suffered by Palestinian children held in Israeli military detention through the No Way to Treat a Child campaign, but it isn't only children who are subject to abuses. Support these prisoners calls for dignity and their rights.