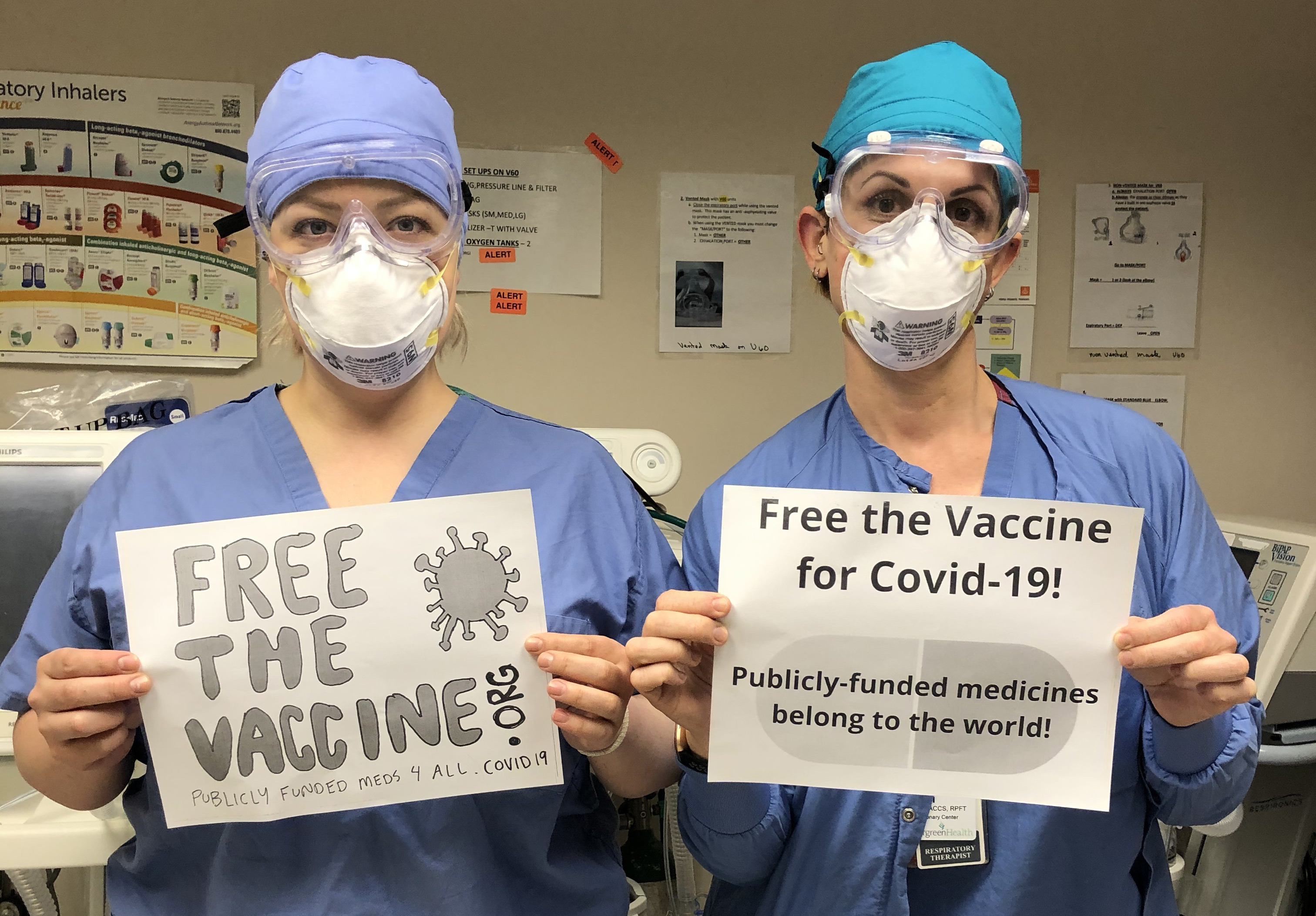 In the United States, anyone age 16 or over can now schedule an appointment to get vaccinated against COVID-19. But in most places around the world, residents are waiting to have access to this life-saving protection. That includes my mother, who is over 90 years old and has no idea when she'll have her shot at the vaccine.
One of the most important lessons of the pandemic is that we are all interconnected—and that our health and well-being are dependent on how we care for each other. But today, only one in 500 citizens of poorer countries have been vaccinated—compared with one in four in richer countries, according to Oxfam.
On May 5, after massive public pressure from organizations and community groups, the Biden administration took an important step towards closing that gap. President Biden and his top trade negotiator said they would support a temporary waiver on certain intellectual property rights to allow countries around the world to mass manufacture the vaccine locally.
Thank you, President Biden, for listening to the cries of the people around the world and taking this important step! And thank you to all our partners, allies, and supporters who worked tirelessly to make this happen.
In October 2020, South Africa, India, and more than 100 countries proposed a temporary waiver to what's known as the Trade-Related Aspects of Intellectual Property Rights (TRIPS) at the World Trade Organization. The waiver would compel companies such as Pfizer, Moderna, and Johnson & Johnson to share technology with other countries to produce the vaccine. Big Pharma has opposed the waiver, and the United States—along with a few other high-income countries—has for months withheld support.
That changed after over a year of constant advocacy from various groups, including the faith community, humanitarian agencies and governments from around the world. In the last few weeks alone, protests in Washington, DC and across the country put massive amounts of pressure on the Biden administration. Most people in the U.S.—60%—support the sharing of vaccines globally, according to a survey by Progressive Data. In late April, AFSC and other organizations joined members of Congress—including Sens. Bernie Sanders and Tammy Baldwin—to deliver a petition signed by over 2 million people, urging the administration to support the waiver. Sen Sanders stated: "If the question is more profit for the drug companies, or saving God knows how many lives, then the answer is pretty simple."
On May 5, the date of another round of protests that marked the beginning of the WTO meeting, the Biden administration announced they would allow the negotiations about the waiver to move forward.
But we still have a long way to go before this means more vaccines are actually available. First, the WTO – which operates by consensus – has to adopt the waiver. This means the Biden administration must remain steadfast in their support, and also exert pressure on the other wealthy countries who have opposed the waiver to change their position. Even if it is approved, implementation of the waiver could take months or even years.
The U.S. and the G7 countries must immediately fast track the process and avoid unnecessary bureaucracy so as many lives as possible can be saved. We are also calling on the Biden administration to provide financial resources to support global vaccine production, and are asking Members of Congress to support the Robust International Response to the Pandemic Act (H.R. 986).
We saw a similar situation happen during the AIDS epidemic, when TRIPS protections were waived for anti-viral therapies that helped save millions of lives. But the delay in expanding access to those treatments undoubtedly contributed to the deaths of more than 30 million people worldwide—70% of whom lived in Africa. We cannot repeat this grave mistake.
This glaring disparity is a human rights issue—threatening lives, livelihoods, and the public health of the entire world population. This pandemic will not end until the vaccine is free and accessible to all. And as long as the vaccine remains out of reach for much of the world's population, many more people will die and economies will continue to shrink, making more people susceptible to hunger and other disease.
The gap in access between low and high-income countries has amounted to vaccine apartheid. Most nations where a majority of citizens cannot access vaccines—including African countries, India, and Brazil—are largely home to people of color. In Africa, COVID-19 has rolled back 25 years of economic gains, and humanitarian organizations warn of impending hunger and increased poverty in the region. Many countries in Asia, the Caribbean, South, and Central America have also been devastated economically—and experts don't know how long these countries will trudge in this quagmire.
Ensuring that everyone has access to the vaccine is not only the right thing to do, it's in everyone's best interest. In communities that AFSC serves around the globe, we have witnessed the devastating impacts of the pandemic on people, families, communities, and economies. We assert that Black lives matter globally and call on President Biden and other world leaders to help end vaccine apartheid today. And we stand in solidarity with our sisters, brothers, and all our siblings globally and demand that saving lives is prioritized over profit for the pharmaceutical industries.