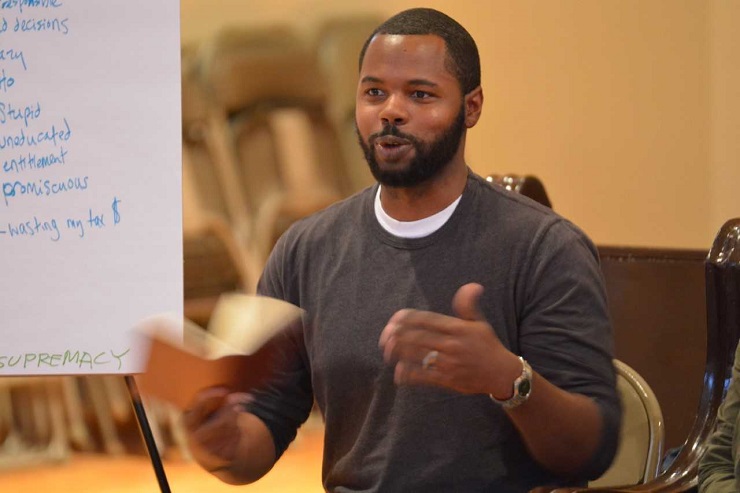 Joshua Saleem is the program director of the AFSC Peace Building program in St. Louis. All programming is centered around helping young people understand their own power to change systems. He provides sanctuary by partnering with schools to help students build peace and go deeper into social justice issues at their school, understanding internalized racism and how it affects schooling.
The program also holds AFSC Freedom Schools twice a year with two to four-day workshops where young people get a deeper and clearer understanding of what racism is and how it impacts their community today. In this interview, Joshua talks about how sanctuary is created through groups like Youth Undoing Institutional Racism (YUIR), who understand racism, how it manifests itself, and how it can help in changing systems and policies that create a more racially just environment.
Note: YUIR in St. Louis has currently produced a documentary called "Pipe Dreams," which focuses on the school-to-prison pipeline. Through interviews with students, teachers, and administrators, the documentary focuses on implicit bias, the effects of internalized racial oppression, and how it plays out in schools.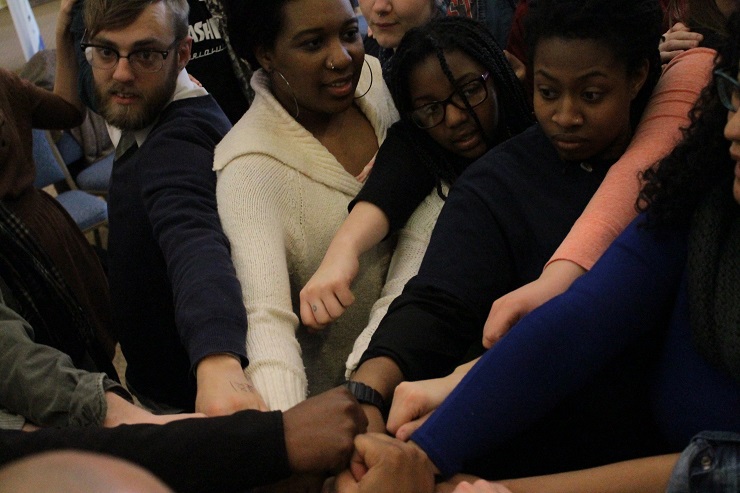 Christina: Do you consider this a sanctuary space? If so, how?
Joshua: When I think of sanctuary I think of security, safety, and refuge from hostile forces. If we considered that, when all of the institutions in this country were created, this country would feel more like a safe space. However, institutions were created to work for the benefit and protection of one group of people and the oppression of others. In some ways, every system and institution is a hostile force against people of color. As a result of this, Black and brown people absolutely need sanctuary everywhere.
What we're doing with youth in schools and outside of schools through YUIR is building sanctuary. Where students, particularly students of color, are currently faced with overt and covert acts of racism, hostile school-resource officers, and punitive discipline policies. We want to establish policies and practices that create an environment where all students have the opportunity to thrive and reach their fullest human potential. We say that racism seeks to limit people of color from doing that.
Outside of school YUIR is intended to be a safe and protected space for young people from the institutional racism they experience in their schools and communities. Our goal is to be a space where young people can have their voices heard when coping with the trauma of dealing with racist institutions. It is because we are addressing heavy issues that YUIR seeks to be a healing space as well.
Christina: How do you work to dismantle the oppressive systems against you?
Joshua: We organize. We understand that there is no quick fix to racist systems that have been at work for much longer than we've been alive. Fighting them is a marathon relay. We've got the baton now, and we recognize the work that came before us while acknowledging we'll pass the baton to someone else in the future. We organize from a place that learns from history. We also organize by acknowledging how internalized racial oppression works. This is a concept from the People's Institute for Survival and Beyond that we use in our work.
We have all internalized messages about what it means to be white, Black, or brown in this country. The system works when we believe in and act out that messaging in our engagement with one another. We have to organize from a place that strives to name and undo that internalized racial oppression. There's no other way to tackle the systemic forces if we're not dealing with the forces internally.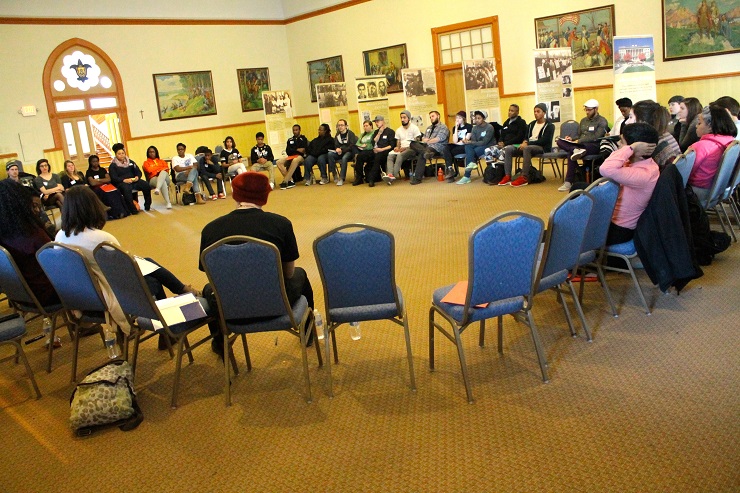 We also dismantle by healing. These racist systems would see us confused, damaged, and broken mentally, physically, and spiritually. In this condition we're ill-equipped to fight anything, let alone systemic racism. White or Black, we all have to take the time to heal from that damage. That can be yoga, working out, meditation, a religious/spiritual practice, laughing, dancing, etc. We have to get healing.
Christina: What advice would you give for others who want to create their own safe spaces of sanctuary?
Joshua: I would start with finding out who needs sanctuary in this moment. Who is othered in your school or community to the point that it takes courage just to be their most authentic self publicly. I think about the trans, Muslim, and undocumented communities especially in this era.
I would recognize my own privilege and ask how I am leveraging that privilege to benefit oppressed communities. While living as a young-ish Black man in this country definitely comes with its challenges, I still realize my very real privileges as a straight, male, cis, college-educated, Christ-follower in this country.
Finally, I would be in relationship with and follow the lead of those folks I seek to provide sanctuary for. What is the ask of the groups I mentioned above? What are they saying they need to feel safe and secure?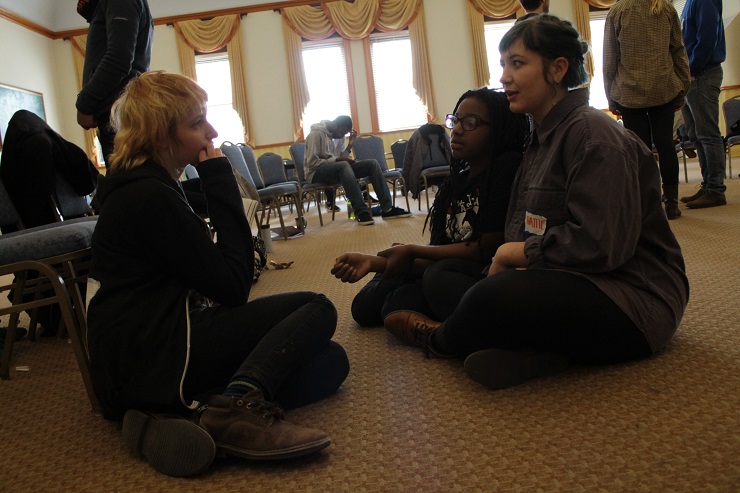 Christina: How do I create Sanctuary Everywhere?
Joshua: The day after Trump's election, a student walked into my office. He asked, "Are we going back to Africa?" I didn't know what to say. That question speaks to the level of fear and uncertainty that we are currently living with.
I think it's vital to make sure people know that you are available and that you do see them. We have peer mediation workshops which is a youth-led intervention that provides a space for students to build peace by resolving conflict in school. Mediators are trained at the beginning of the school year to be active listeners and practice empathy in order to help their peers find solutions to problems that would otherwise go unresolved. We see it as a practical interruption to the school-to-prison pipeline as it provides an alternative to suspension and expulsion. In these workshops we talk about sympathy vs. empathy. With empathy, you're in there with me. Connecting to our common humanity. With sympathy, you're looking down on me, seeing that I'm hurting and acknowledging it, but not connecting. Empathy means I'm going to get down there with you, that I not only see you, but I care, and I understand. When you let them know you're not the only person, it helps them feel connect to a larger network of people who are doing this work.
You can feel alone, and isolated, and these systems want you to feel that way. But there are other people who want to see people protected and do so by building that network. One of my mentors talks about building a "net" that "works". If we're going to create Sanctuary Everywhere we to have a build a net that works so that no one falls through.
Read more about how communities have taken steps to create Sanctuary Spaces here.
Related posts
Sanctuary Spaces: An introduction 
Sanctuary Spaces: A place for healing from incarceration - part 1
Sanctuary Spaces: A place for healing from incarceration – part 2
Sanctuary Spaces: Pushing back oppressive systems from the inside out - part 1
Sanctuary Spaces: Pushing back oppressive systems from the inside out - part 2
A sanctuary atmosphere: creating safe, emotional and mental space for people in solitary