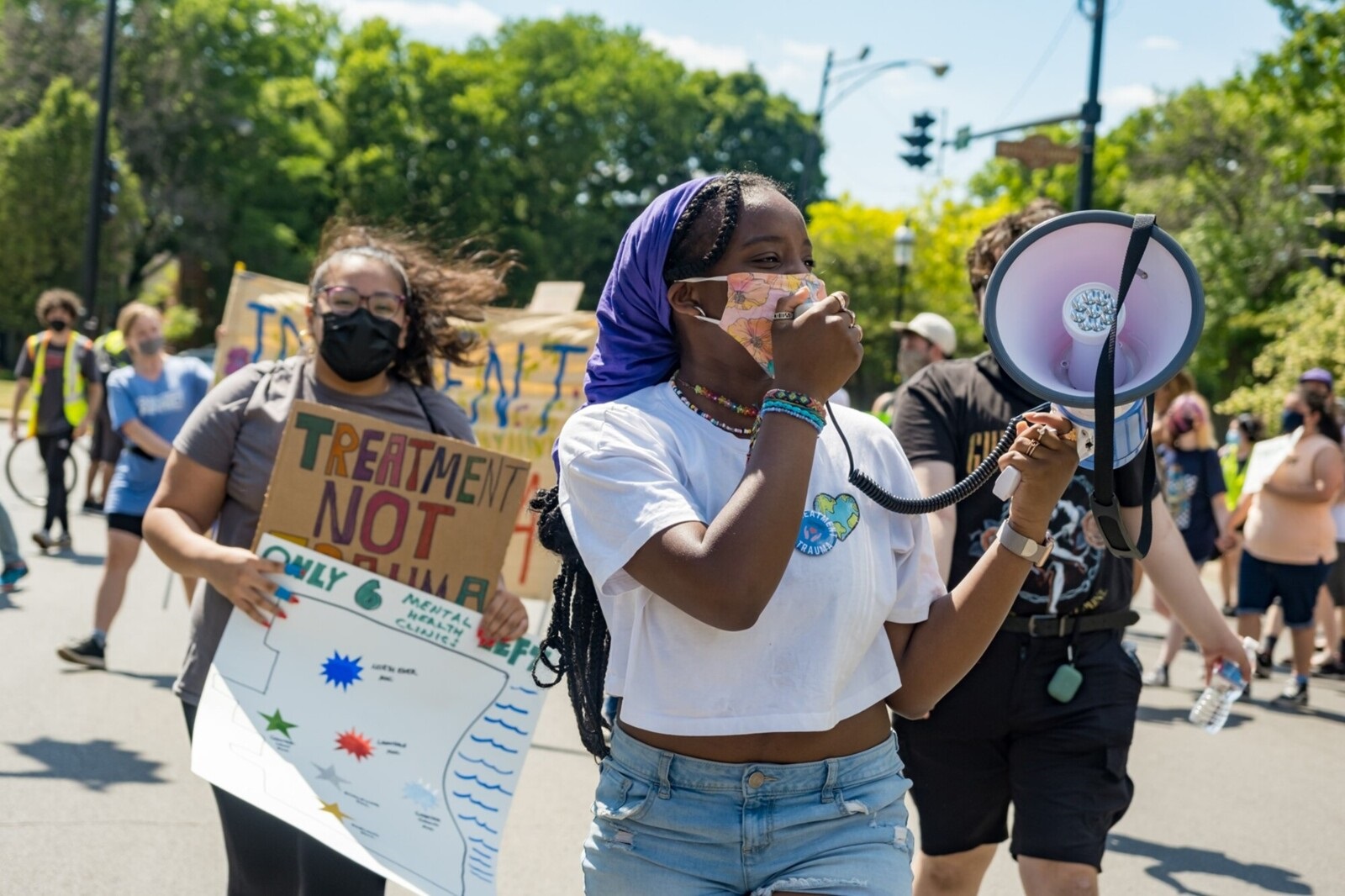 Last summer, the streets across the United States were filled with millions of people marching for Black lives and calling for defunding the police. In Chicago, it was a summer of protest—and also a clear reckoning with the failed policies of a city that spends $4.7 million per day on policing but has closed 54 public schools and half of the city's mental health clinics in the last nine years. And despite runaway spending on police, the city is still grappling with a record number of gun-related homicides—more proof that policing doesn't make us safer.
Chicagoans have made clear our budget priorities. A citywide budget survey showed that 87% of the respondents support reallocating city resources away from the police. "All city areas ranked community services, including violence prevention, homeless support services, youth services as the highest priority with police services as the lowest," said Budget Director Susie Park.
Nevertheless, Mayor Lori Lightfoot has shown no inclination toward heeding the call for reduced reliance on policing. Instead, she diverted $281 million from federal COVID-19 relief funding under the CARES Act to the police. The city is also moving forward with funding for the unpopular $95 million new cop academy.
Community members and groups are continuing to advocate for divestment from police and investment in our programs that meet community needs through our #DefundCPD campaign. And we're implementing our own community-based solutions to help all Chicagoans reduce reliance on police and ensure community safety for all. 
Here are two examples of how we're making progress.
Developing alternatives to calling police during mental health crises
Even when calls are placed to 911 for medical emergencies, including mental health crises, it is often police who respond. At least one in four people who are shot and killed by police officers suffer from acute mental illness at the time of their death.  
One experiment to address this issue is the Treatment Not Trauma (TNT) program. TNT was inspired by a decades-long program called CAHOOTS in Eugene, Oregon, and is now being replicated in Denver and other cities.
While CAHOOTS has served as a national model alternative to calling 911, there are two major issues with how the city of Chicago is implementing its own version. First, the city has failed to adequately fund the pilot project. Second, the pilot project created two teams of responders—one composed only of mental health professionals and another that includes police as a co-responder.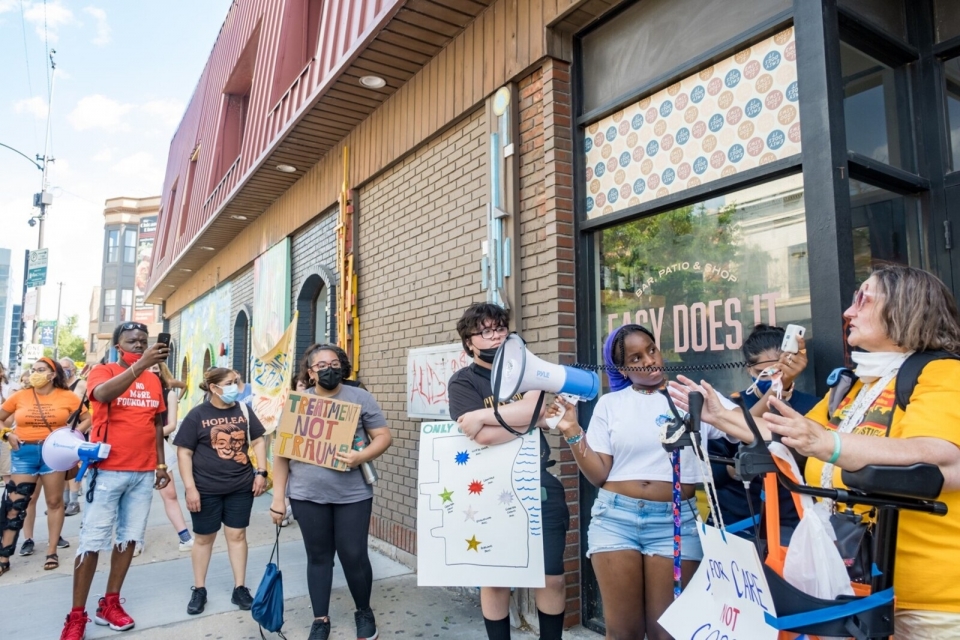 AFSC and local partners are demanding that the city drop the co-responder with police model and expand the program to more neighborhoods. Recently, we supported young leaders in organizing a rally in the Logan Square neighborhood where Mayor Lightfoot resides. Their message was that no one should have to suffer in silence simply because the mayor does not prioritize mental health. They are also calling for the city to invest $25 million dollars into public mental health clinics and a non-police crisis response program, which would be run by these clinics. 
During the rally, youth shut down the street in front of what used to be the Logan Square Public Mental Health Clinic, one of the six clinics closed by former Mayor Rahm Emmanuel in 2012 (the site is now a liquor store). 
"Closing schools, playgrounds, and defunding youth programs to fund the police will not result in safety," says 17-year-old activist Baraa Mohammad. "Instead, it will result in corruption. It is escalating tensions between the public and the police."  
Zainab Nadeem, 17, adds, "Allowing the usage of social workers and EMTs to show up on the scene can be very significant to the individual that is having a panic attack or manic episode by de-escalating the situation and creating a calm environment for the person."  
Establishing abolitionist safety practices for mutual aid
AFSC and partners have also been organizing for an expansion of the TNT program in the far north side neighborhood of Rogers Park, where more than 80 languages are spoken, a rare spot of diversity in a very segregated city.   
The community is also home to the Rogers Park Free Store, a mutual aid hub that has provided tens of thousands of dollars of food, toiletries, cleaning supplies, diapers, and clothing to hundreds of area families. Volunteers at the Free Store sign community agreements, which include a commitment to not call the police while working on site.  
I've been working with the Free Store and partners PO Box Collective, Rogers Park Food Not Bombs, and Rogers Park Community Response Team to develop abolitionist safety protocols. We have trained nearly 100 volunteers in multiple monthly trainings.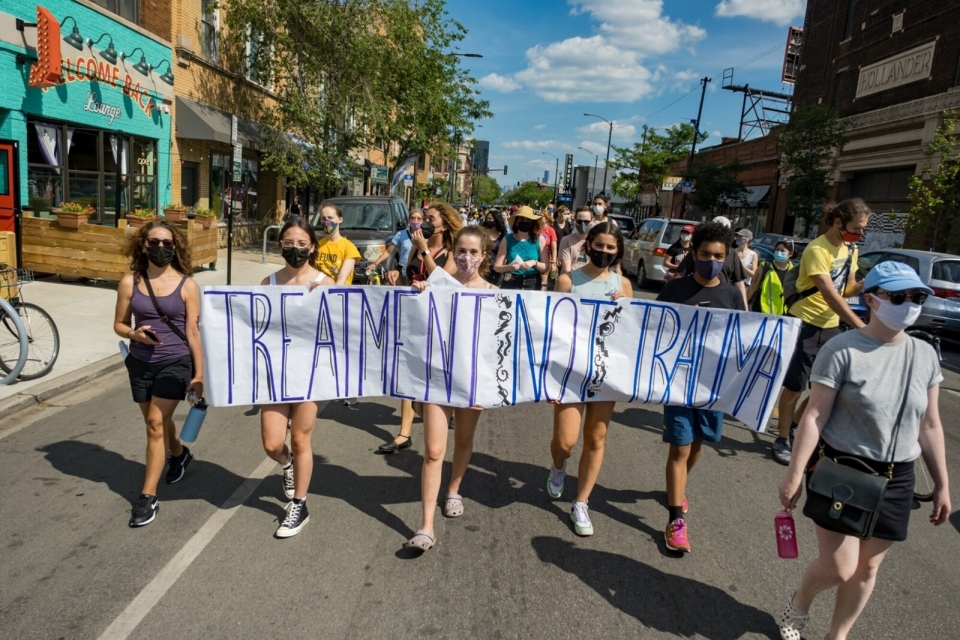 Volunteer trainings include discussions of their lived experiences with police encounters. We also walk volunteers through an analysis of the prison industrial complex, which includes prisons, policing, and surveillance. And we discuss concrete ideas about what to do instead of calling police while keeping all community members safe.  
Because there are so few alternatives to 911, we must experiment and create new ways of responding to emergencies.  In many situations, people call the police simply because they don't know who to call or how to respond to certain situations. We train volunteers to:
First, ask themselves if the situation is just an inconvenience or if they need to respond. 
If they do need to respond, use verbal de-escalation and try to talk it out.
If they need more support, contact our Free Store safety team. The team is made up of 12 people who live near the store and who can be reached quickly via Signal, an encrypted app.  
Refer to our safety binder full of community-based emergency hotlines that do not call the police. However, none of those groups are equipped to respond to emergencies on site—illustrating why a program like TNT is truly needed. 
We also make sure that Free Store volunteers have information about what to do in a medical emergency, how to administer naloxone in a drug emergency, what to do if immigration or other law enforcement shows up at the Free Store, and how to keep each other safe from COVID-19. Deeper skill-building in many of these areas is planned for the fall.   
"The trainings help our volunteers understand and imagine how we collectively enact our values by choosing not to feed into the systems that hurt our communities," says Laurie Merrell, who helps to coordinate volunteers. "It gives our volunteers a shared understanding and preparation to choose and build alternatives in our work together. I think it's a vital part of making the Free Store a truly values-based project.'" 
We all deserve to live in a society where we can live in safety and peace and have our human rights respected. Through the work of mutual aid and training so many people in our neighborhood, we are building new social connections that can help us to build toward a future where we can care for each other and our neighbors without police.