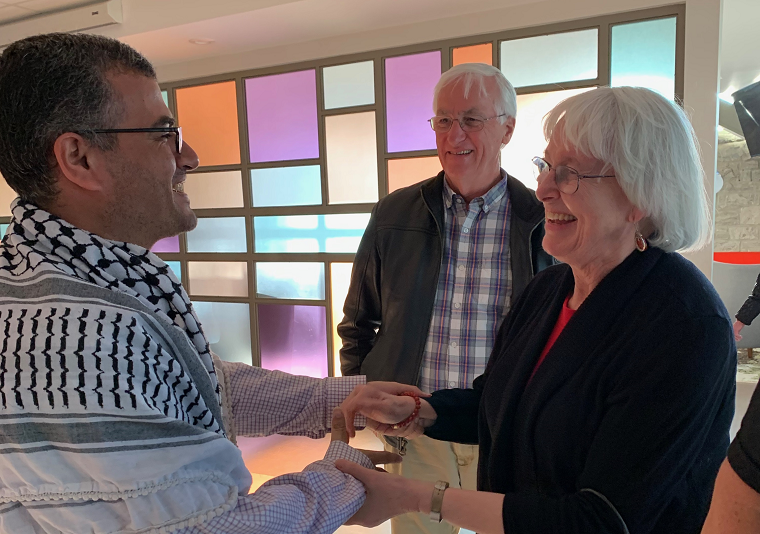 During our monthlong U.S. tour with Gaza nonviolence activist Ahmed Abu Artema, I was reminded how many people stand with Palestinians – and are struggling for freedom for all.
One of the last things Ahmed Abu Artema told me before he boarded his Chicago flight back to the Middle East was that his tour in the United States restored his "faith in humanity." AFSC had brought Ahmed to speak to audiences for our "Hashtags to Headlines: the Great March of Return" tour, which reached thousands of people in cities across the U.S. and many, many more online.  
In these challenging times, when it can be hard to see the good in a country and a world so full of oppression and division, being on tour with Ahmed restored my faith, as well.
Ahmed is the visionary Palestinian writer whose words inspired the Great March of Return in Gaza. He has lived his whole life under military occupation, a refugee in his own land. His family came from the Ramle district in present-day Israel, resettling in Rafah, Gaza in 1948 when 750,000 Palestinians were displaced due to the war. Ahmed's family suffered dislocation again after the Camp David accords, when Egypt and Israel divided the town of Rafah by a new border fence. His mother's family resides on one side of the fence, his father's family on the other.

This was Ahmed's first visit outside of the Middle East and only the second time in his life that he traveled outside of Gaza. Ahmed had never flown on an airplane or interacted with people from other cultural backgrounds. He saw airplanes as instruments of death and destruction due to the frequent Israeli military assaults on Gaza, not as a vehicle for carrying civilians eager to explore the world. Ahmed often watched birds in Rafah flying over the fence, wishing that he could move freely like a bird over borders. But decades of isolation and blockade have made it nearly impossible for 2.2 million Palestinians in Gaza to travel outside their narrow 25-mile territory to the outside world. 
In Ahmed's words, the Great March of Return in 2018 was a "knock on the prison gates" from the people in Gaza, sending a message to political leaders and the outside world to pay attention to their lives. For too long, Palestinians in Gaza have been living in conditions of an open-air prison. The United Nations has stated that by 2020 Gaza will be "unlivable" due to the collapse of human services. 
Palestinians in Gaza desire a life of dignity, not to live with limited access to electricity, clean water, health care, and jobs. "We do not accept the continuation of a slow death," Ahmed states. People in Gaza answered the call for peaceful protests a year ago, "because our desire for life was stronger than despair."
Ahmed accepted the invitation from AFSC to come to the U.S. to speak to audiences in the hopes that people would better understand the cruel reality of life under occupation and the dreams of Palestinians for a better future. But even as we made plans for his visit, we knew that people may not be receptive to his message, given how the mainstream media portrays Gaza in a negative light. Similarly, Ahmed was unclear how he might be treated in the U.S. under the Trump regime that demonizes Muslims and people from the Middle East.      
Ever since Ahmed arrived in the U.S. on a cold winter's evening in January, people in America mobilized to make him feel welcome.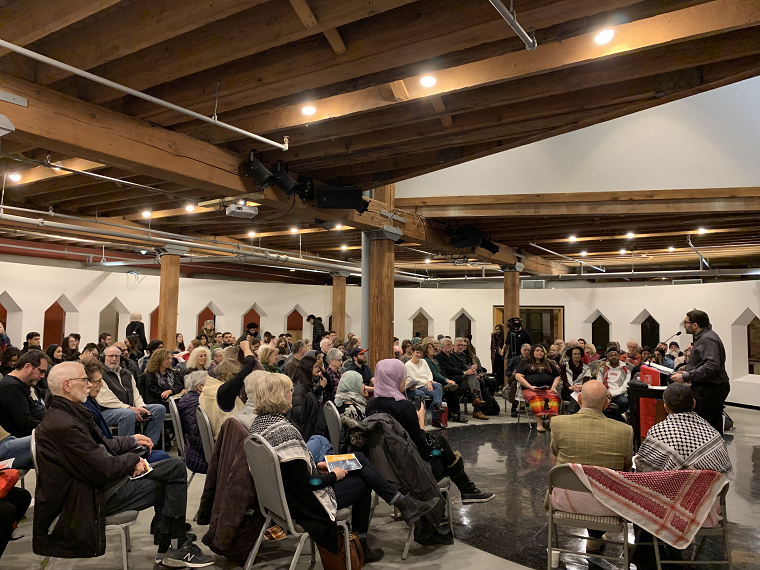 Volunteers in Chicago opened their homes to Ahmed from day one. They found him proper "polar vortex ready" warm clothing, learned his favorite foods, found him books to read and quiet places to pray, and helped him practice his English. A dentist provided a pro-bono emergency root canal. Activists took him to political events and showed him Chicago's many neighborhoods while teaching him a vocabulary of intersectional activism. He visited a synagogue and a Holocaust museum with new Jewish friends, worshipped with new Muslim friends in mosques, and joined Christian activists who work for civil rights in Chicago neighborhoods.  
By the end of his six weeks orientation to the U.S., Ahmed was calling Chicago a "home like Rafah" and the extended network of volunteers his "new family."
But it wasn't only friendly Midwesterners who welcomed Ahmed. At the end of February, Ahmed gave his first public talk in a Harvard Law School lecture hall to an overflow crowd. Contrary to expectations that Ahmed's talk would be met with hostility that often accompanies public events on Palestinian rights, not a single protest or meanspirited question was asked. Many in the room were moved to tears by Ahmed's poetic narrative on the reasons why Palestinians in Gaza are marching for their rights. Ahmed received his first standing ovation – a pattern that would follow every public talk he gave in 10 cities across the U.S.  
At every stop along his monthlong tour Ahmed witnessed an outpouring of love. We collected endless photos of Ahmed standing with groups of smiling people from every age and background, often with gifts presented to him from other inspired authors.
Ahmed shared his message that Palestinians desire a life of dignity. A life of freedom. A return to their ancestral homes. He spoke of the desire to move freely like the birds, not caged by walls and borders. A wish to live in equality with Israelis under a justice system that protects the rights of all people. A commitment to nonviolent action, even in conditions where the price of resistance can be deadly.
Ahmed stayed in people's homes across the country, walked with new friends in the redwoods, learned people's history through painted murals, witnessed the pain of families separated at the U.S.-Mexico border, ate fry-bread from the pueblo while talking with young Red Nation activists, sailed to the Statue of Liberty with recent immigrants, sang songs to Palestine in an African American church, worshiped with Quakers in silence, listened to testimonies about the impact of prisons and racism from those working to change these systems, and reflected on the power of nonviolence at the King Center. People at every stop of the tour took time to listen to Ahmed's story and share their own stories of resistance and remaining steadfast during a time when so many freedoms are under assault in U.S. communities. 
No nationwide tour is exempt from logistical challenges. Here, too, the commitment of people to make Ahmed's visit a positive one was exemplary. One colleague drove through the middle of the night to help him make a flight that was rescheduled due to weather. New York volunteers found him a last-minute space to refresh after unexpected all-night travel before Ahmed appeared in a public event with Democracy Now! host Amy Goodman.
As Ahmed prepared for his return to Gaza, he reflected to me how grateful he was for the generosity of all the people he met coast to coast in America. People who may have disagreements with his philosophy or vision were open to listening to his message and treated him with respect.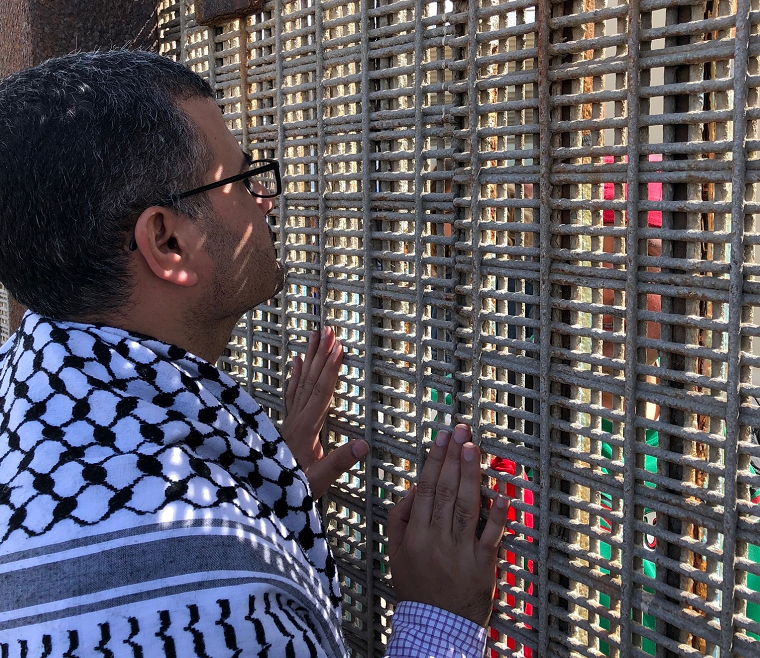 "I saw and met many wonderful people that are in solidarity with Palestinians and that feel like Palestine lives in their hearts. This has rejuvenated my spirit," Ahmed told Viewpoint Magazine during his tour. "We see and experience every person who loves and fights for freedom as a partner of ours. We are in the same struggle, fighting the same fight. The struggle is connected because it is about ending oppression, and ending oppression is a goal that will benefit humanity in its entirety."
"I have enough love to last more than a lifetime," he said to me as we shared our last group meal together in Chicago.
I have organized around Palestine issues for nearly three decades and experienced both improvements in the U.S. public discourse as well as the continued misinformation and misguided U.S. policies that do not address the root causes of violence and suffering. As I traveled with Ahmed and planned his visit this year, I witnessed the power of his story reaching the hearts of people from a variety of communities. I saw Americans – from the server at the lunch counter in Atlanta, to the immigrant activist at the border wall in California, to the Midwest member of Congress – embrace Ahmed and his people's desire for a dignified life of freedom.  And from this experience, my faith is restored for the work ahead.