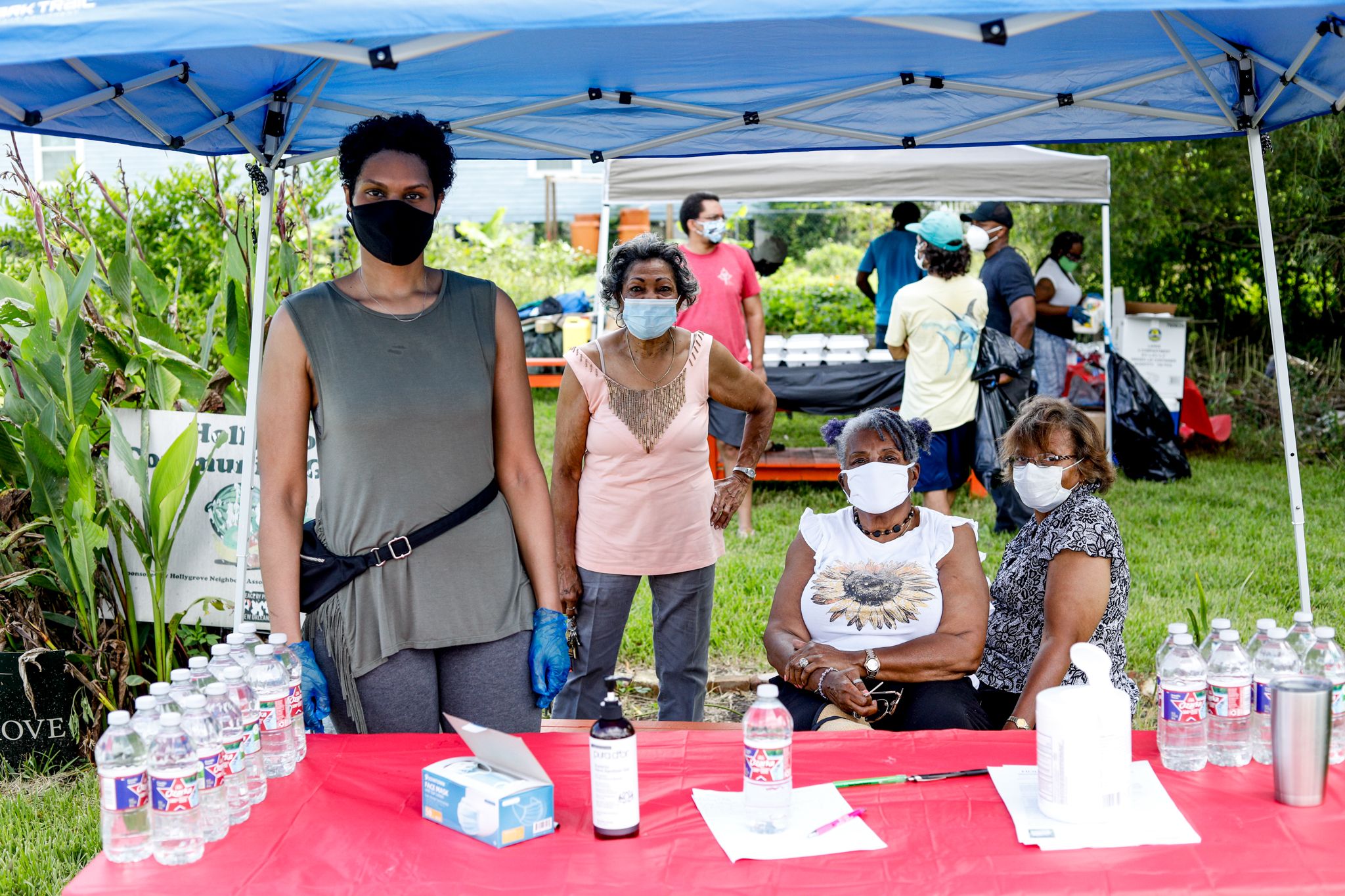 The spread of COVID-19 has had a devastating impact all over the world—and hardest hit are communities that are historically and contemporarily afflicted by racism and poverty. Here in Louisiana, Black people account for 32% of the state's population. But by early April, 70% of COVID-related deaths were among Black residents.
The pandemic, like other social and economic inequities, has disproportionately impacted Black folks. Much like the murders of Black people by law enforcement shines a bright light on systemic racism in this country, the pandemic serves to highlight the ongoing race and class disparities in our health care system.
For five years, AFSC's Peace by Piece New Orleans Program has worked with community members in Hollygrove, a traditional New Orleans neighborhood in Orleans Parish. Once an epicenter for the coronavirus, Orleans Parish has so far reported 11,104 confirmed cases and 569 deaths. Persistent health disparities, job loss, housing, and food insecurities have been exacerbated as a result of the pandemic. The area struggles with high unemployment, which has doubled to 9.4% since last year.
Thanks to supporters like you, Peace by Piece has maintained its commitment to fresh food access in Hollygrove, where we partner with the Hollygrove Neighbors Association and St. Peter A.M.E. Church to maintain a community garden on a 3,600-square-foot parcel. There, young people learn to grow their own food that they harvest and share with families and neighbors. It's one way Peace by Piece New Orleans Program supports Black youth and young adults in becoming leaders as they work with Hollygrove residents to build an alternative food system that nourishes the local community and promotes economic development.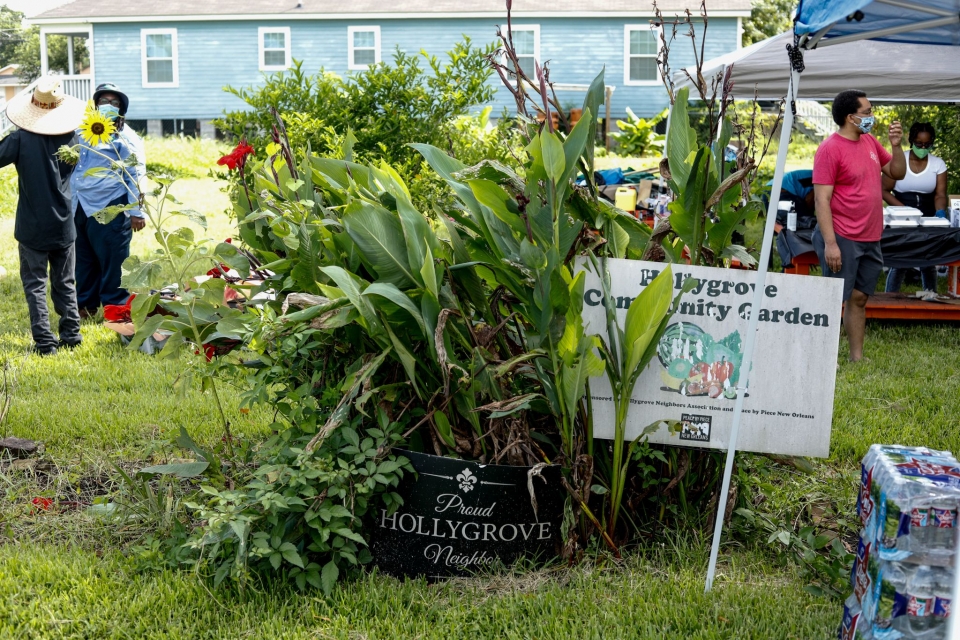 Since the start of the pandemic, the program has shared more than 100 pounds of produce from the community garden. Ms. Mary, a longtime resident of Hollygrove and owner of an in-home day care in the community, is a neighbor that regularly receives the garden's harvest. Adhering to standard social distancing guidelines, Peace by Piece staff provided Ms. Mary with some of the garden's spring yield that included cucumbers, tomatoes, okra, and squash. While under state restrictions, Ms. Mary prepared to-go meals for children who are typically in her care. She explained, "This virus is teaching us that we need to get back to growing our own food. It's a blessing to have fresh vegetables from a garden in my own neighborhood. We need to teach children how to grow food so that they will be self-sufficient. This is something God wants us to do."
Support from AFSC donors also helped us provide $3,000 in direct assistance to 12 local families experiencing major hardships particularly, families headed by single mothers caring for children and grandchildren. The funds also went to seniors—a demographic disproportionately impacted by COVID-related deaths—who identified food and medicine as immediate needs that would go unmet without some measure of relief. Many of these seniors are providing care for chronically ill parents or adult children. Direct assistance also went to residents who were not eligible to receive the stimulus checks as part of the coronavirus relief package passed by Congress in April.
Peace by Piece, in partnership with Hollygrove Neighbors and Oko Vue Produce Company, hosted a food giveaway for the neighborhood in July to benefit 273 individuals. A Hollygrove Neighbors Board Member secured a sponsor who purchased 4,000 pounds of produce from local Black farmers. Distancing socially at the Hollygrove Community Garden, volunteers from each of the organizations handed out personal protective equipment; fresh produce, including squash, cucumbers, and watermelon; and hot fish plates provided by Peace by Piece and neighbors who offered to prepare sides for the meals. Staff and volunteers delivered produce and meals to seniors in the neighborhood and large households who placed orders during the giveaway. We're planning to host at least two more food giveaways before the end of the year.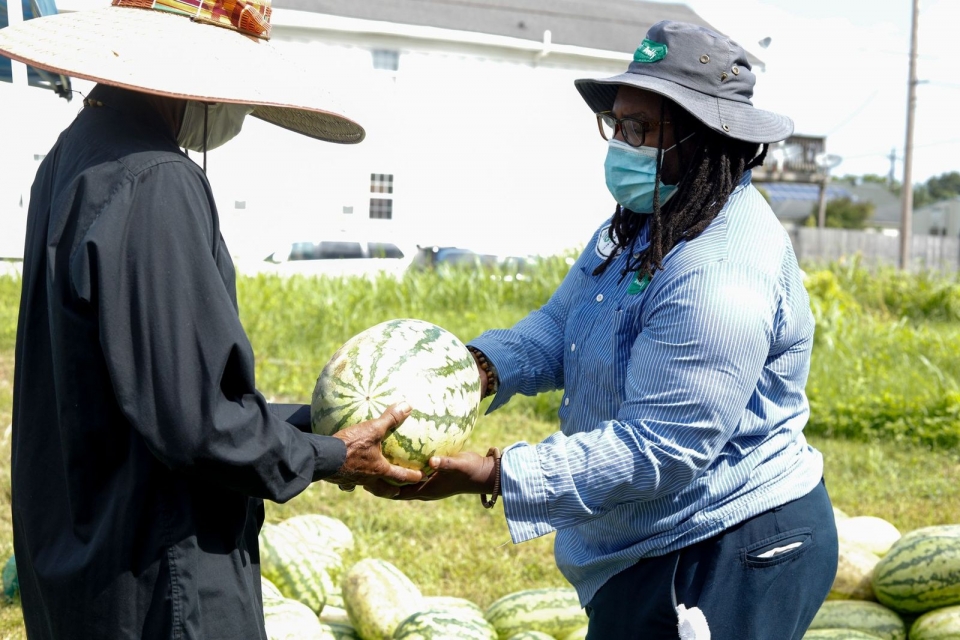 As New Orleans prepares to commemorate the 15th anniversary of Hurricane Katrina at the end of August, the coronavirus and its impact are harsh reminders that poor, Black, and people of color communities are dealt the biggest blow in the wake of a global pandemic and climate events (natural or otherwise). In a time when disaster response and recovery are not so rapid for some and the inequities in access to quality health care continue to render our communities vulnerable, Peace by Piece New Orleans is working to address scarcity with a strategy for community access and food security. We envision a future where we give the planet the type of care it needs to continue to care for us. A future where we fully embrace alternative ways of learning, creative ways of relating in an age of social distancing, and community-led solutions to safe and healthy neighborhoods.
Thank you for your support of our work toward this vision in these difficult times.