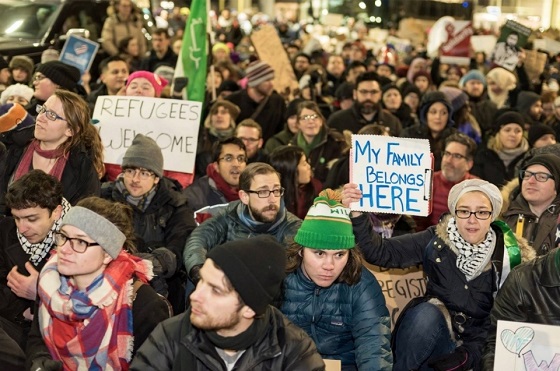 As we counter Trump's white nationalist agenda, it's important that we never accept this racist policy. Here's what you can do.
Since the Supreme Court ruling upheld Trump's Muslim ban last June, the issue has largely faded from national headlines. And public outcry over the racist policy has taken a backseat to pushing back against family separation and other attacks by Trump on our communities.  
As we work to counter Trump's white nationalist agenda in all its forms, it's important that we never accept the Muslim ban. The Supreme Court ruling ultimately institutionalized legalized discrimination against Muslims, blocking any First Amendment challenge to the ban. And the painful repercussions of the decision continue to be felt. People fleeing violence, hoping to reunite with their families, pursue their careers, and many more are still banned from entering the United States. Muslims continue to feel fear and displacement. And advocates struggle with a sense of loss and the difficulty of paving a new path forward to challenge the ban.   
The Muslim ban follows a long and shameful history of legalized oppression within the U.S. Deliberate acts by the U.S. government to violently rip apart our families pervade U.S. past and present — from enslaving millions of Africans; to racist policies that profile and kill Black people; to torturing Muslims incarcerated in Guantanamo. Just as slavery was once legal, segregation was once legal, and internment of Japanese Americans was once legal, Muslim exclusion is now legal, too.  
Since taking office, Trump has worked to dramatically reduce immigration to the United States, particularly of people of color – by keeping Muslims and other people out, deporting people who are here, and creating an atmosphere of nativism and fear. Just last week, the administration announced it would limit the number of refugees to the United States next year to 30,000, a record low. This new number would reportedly halve the number of people coming from countries in the Middle East and Africa – exacerbating the horrific impacts of the Muslim ban, which has already barred millions of residents from five majority Muslim countries from entering the U.S.  
As the Trump administration continues to advance its white nationalist agenda, we must continue to aggressively resist it.  
Communities across the country are still mobilizing to end the Muslim ban. Earlier this month, advocates organized a national Digital Day of Action to urge Congress to take action against the Muslim Ban. The #RepealTheBan campaign – led by a coalition of advocacy organizations including MPower Change and the National Immigration Law Center and supported by allies including AFSC – was created to reignite the urgency to repeal the Muslim Ban among members of the public and Congress.  
More than 43,000 people signed the petition urging Congress to repeal the ban, and many joined in the Day of Action by making their voices heard through social media.  
Our message is clear: Public funds should not be used to fund a racist, discriminatory, and immoral policy. And Congress has the power to repeal the Muslim ban by defunding it. Two bills (Senate Bill 1979 and House Resolution 4271) would declare the ban illegal and unconstitutional and prevent taxpayer dollars from being used to implement it, and Congress should vote YES to pass them. 
The Muslim ban was one of Trump's first of many racist acts as U.S. president. As we continue to face his administration's ongoing attacks on our communities, we must never accept the Muslim ban and continue to work for a true path toward justice for Muslims. 
Here's what you can do:  
Sign the petition urging Congress to repeal the Muslim ban by voting YES on Senate Bill 1979 and House Resolution 4271.