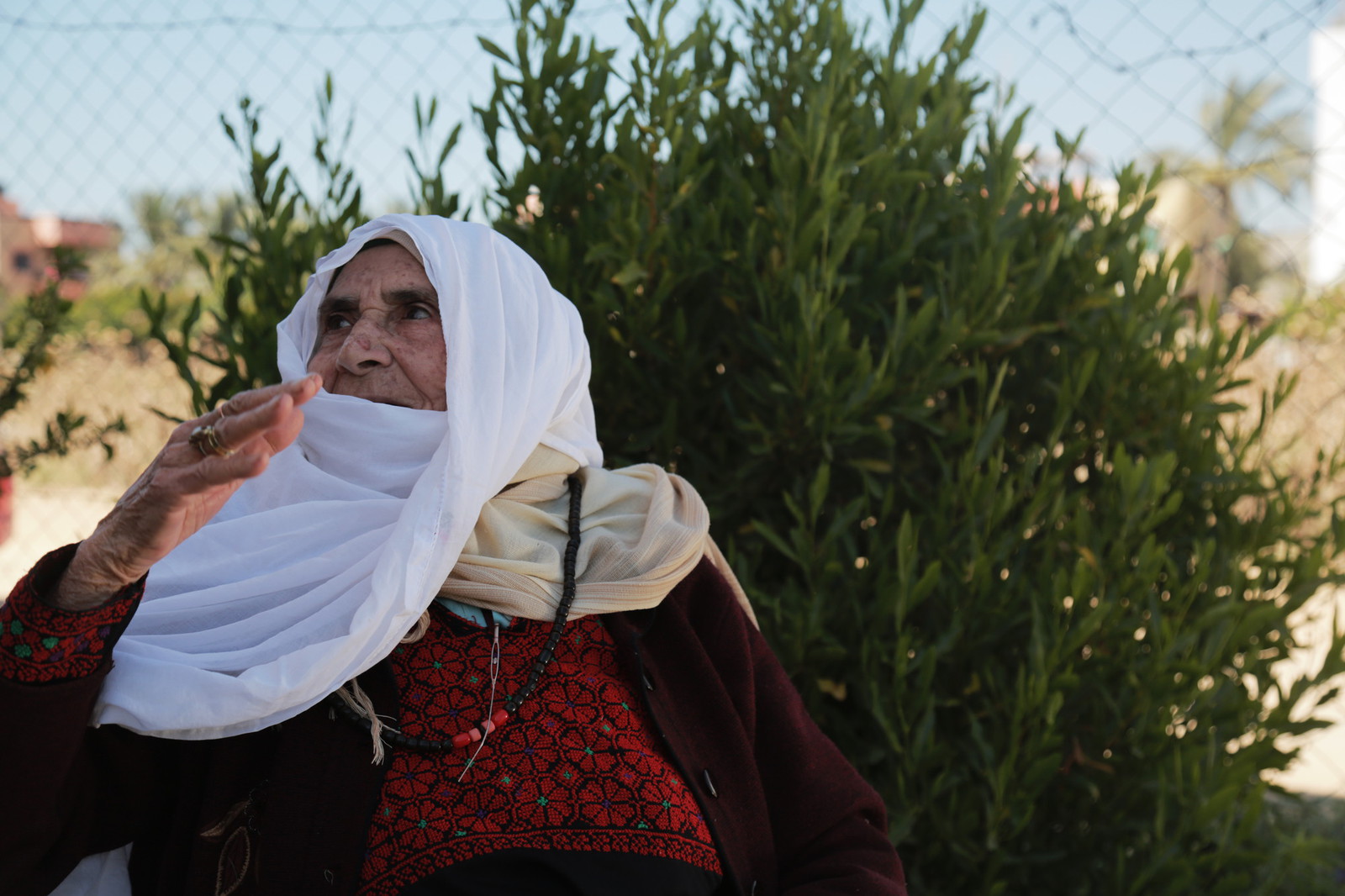 Aisha, 90, is one of the seniors in Gaza who receive medicine and other assistance, thanks to a campaign organized by AFSC with funding from our supporters.  
After more than a decade under an Israeli-imposed blockade, more than 80 percent of Palestinians in Gaza depend on aid to survive – and the elderly are especially vulnerable. (Learn more about efforts to provide medicine, hygiene items, and other products seniors need to maintain their dignity).  
Like many of the seniors AFSC is working with, Aisha is a survivor of the "Nakba," or catastrophe in 1948, when more than 750,000 Palestinians were driven from their homes and over 500 Palestinian villages were destroyed. 
Dressed in her traditional Palestinian thobe, she told her story to AFSC's staff and volunteers during their visit to her home in Beit Hanoun, a small Palestinian village in northern part of Gaza. Aisha, who was 18 years during the Zionist conquest of Palestinian lands in 1948, recalled the memories of expulsion and how her family sought refuge. 
As the war intensified, Zionist forces reached the village of Beit Hanoun where Aisha lived. "We were scattered," Aisha said about what happened to her extended family as they were escaping the invasion of her village 1948. 
The journey of escaping the horrors of Zionist ethnic cleansing was an exhausting one. Aisha recalled how she and her family moved from one part of Gaza in pursuit of safety and basic needs. They first sought refuge in the neighboring town of Beit Lahya, but when the fighting intensified, they moved to Deir El-Balah in the middle of Gaza where they lived for six months. 
Following their stay in Deir El-Balah, they moved further north again to the Nusayrat area, on the bank of the Gaza Valley, close to a former British military base.
That's when Aisha and her family connected with AFSC, which began working in Gaza in 1948 in response to an urgent request from the United Nations to support displaced Palestinians in Gaza. At the time, AFSC provided food aid and schools for refugees. 
"After this long time, we were disenfranchised and lost most of our food and resources, then we heard about the Quakers (AFSC), who support refugees with food, tents and other stuff," Aisha recalls. "Quakers were using an old base as their operation center. My mother and my brother didn't sign up [for receiving aid]. Their pride made them refuse to accept becoming vulnerable," but Aisha signed up, and they depended on the assistance from AFSC and later from the United Nations Relief and Works Agency (UNRWA).
It was a distressing situation for them to suddenly become in need for such assistance. Shortly before they were expelled from their lands and homes, they had lived off the bounties of their lands.
Beit Hanoun residents were partially lucky. After the war ended, most of them returned to their town. Yet for some residents, chunks of their village lands were cut up by the fence in what became Israel. Aisha and her family were among those who lost their land. Although Aisha's family's land is within a stone's through right beyond the fence, Aisha is only able to see her land and is never able to reach it.
For Aisha, although she stressed the need to urgently address Gaza's ongoing crisis through humanitarian initiatives, she emphasized that return is central to ending her plight as a refugee. 
"I own 60 donums beyond the fence," she said. (A donum is 1,000 square meters). Her memories of the village are of prosperity and connection to the land. The fact that Aisha is recipient of aid once again show that like in 1948, the inability to arrive at a political solution is the key reason behind the failures leading to Gaza's deterioration. 
Aisha now is a mother of five -- three sons and two daughters. Most of them never left Beit Hanoun, and all of them facing a deteriorated economic situation with limited work opportunities. 
Aisha's children and grandchildren, like the entire population of Gaza, live under harsh siege still imposed by the Israeli occupation, with no real political solutions in the horizon. The situation is a cause and loss of hope for many, but Aisha hasn't lost hope. She believes she will be able to return to her home one day and has plans and dreams for what to do after going back. 
She said: "I will build a kindergarten and school for the children of the village, with special attention for orphans."