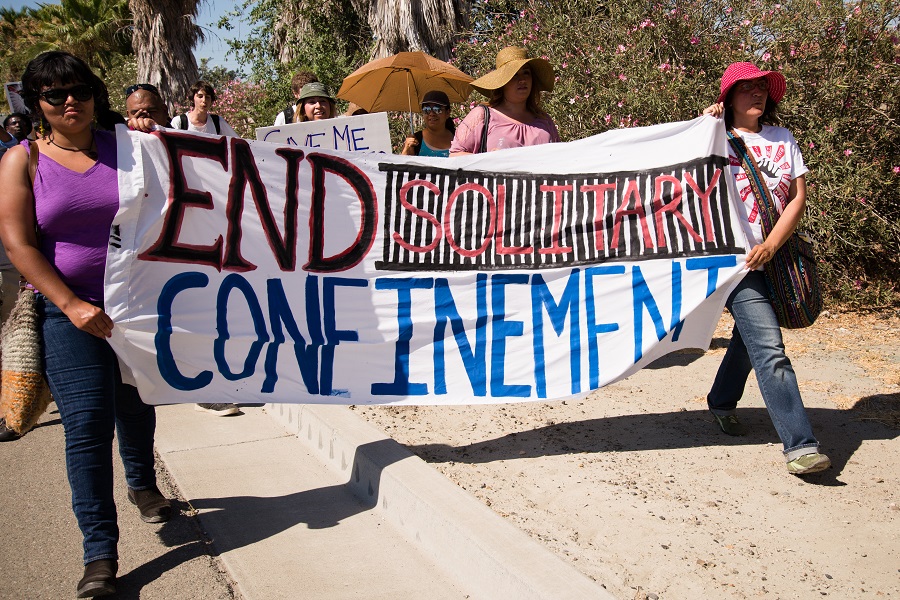 On Sept. 30, I retired from my position as AFSC's California Healing Justice Program director after 30 years on staff. I was originally hired in 1990 to research the history of the penitentiary and Quaker involvement in its creation, since the year marked the 200th anniversary of this "experiment." The result was the book "America's First Penitentiary: A Two Hundred Year Old Failure."
At the time, we also had Don Anthony White, a person who was formerly on death row in Washington state, working full time against the death penalty, in the Oakland office. In my time at AFSC, we always had directly impacted people on staff, on committees, and as interns. Involving directly impacted people in shaping our work has been central to our methodology and has enabled us to stay ahead of our time, long before such involvement was popular.
Concluding my time with AFSC has given me space to reflect on our history in the penal abolition movement. I think it is fair to say AFSC has been on a "penal abolition" trajectory since the 1960s. Quaker engagement with penal systems started centuries ago, and did not go well in its early years, imagining that isolation would bring revelations of repentance and healing. Thus began a long learning process that peeled back the layers of systemic rot of a broken institution and its enabling laws and practices rooted in racism, class bias, money, power, and elected office. This learning curve for the AFSC over the last 60 years is well worth recounting—and remembering as we continue this vital work. 
Lessons learned in advocating for sentencing reform 
A key person was  Jan Marinissen, "secretary" of AFSC's criminal justice program in San Francisco beginning in the 1950s. He was an eccentric and charismatic Dutchman, who always wore a beret and had a tendency to huff and puff around the office, making connections, analyzing, and being a true visionary. For many in AFSC, the 1971 murder of Black Panther Party member George Jackson and the Attica, NY, prison uprising and tragic ending helped frame our deeper engagement. 
In 1971 Jan put together a national AFSC working group, which issued the publication "Struggle for Justice." It took on the indeterminate sentence system, concepts of "rehabilitation," and problems with conflating "therapy" and punishment. At the time, people were typically sentenced to two years to life, leaving their actual fate to a parole board. The result was often a high degree of discrimination, uncertainty, and racism. "Struggle for Justice" directly contributed to the national debate on sentencing reform, which left more discretion in sentencing (with ranges) to judges and parole boards. At the same time, sentencing policy was being hijacked by advocates of mandatory sentencing, so this "reform" was quickly de-formed into much longer sentences, especially for drug offenses. This became one of many lessons in how, and how not, to advocate change in the criminal legal system. Today, these lessons keep rearing their heads as proposals to replace cash bail and to "defund police" move to center stage.
In advocating for change, we must continually discern whether we are truly transforming systems—or creating new colonial power structures.
On the forefront in calling for prison abolition
By 1978 the AFSC Board adopted a prison abolition position. That position was ahead of its time, and while the ideas lay dormant for decades while scores of new prisons were built and the entire country moved into mass incarceration, prison populations increasing sixfold in many places. Still AFSC's involvement with the International Conference on Penal Abolition, when it began in 1983, kept the candles burning. Jan attended every conference, around the world, for the rest of his life, and in 2018 Fatimeh Khan, AFSC's new California Healing Justice Program Coordinator, represented us at the London conference.
Looking back and identifying what candles we were able to keep burning in the penal abolition movement, I would name three areas that may not look revolutionary, but definitely fall into the category of what Quakers would call "well led" pieces of work: 1) using art, both generated by people in prison and coming from artists on the outside who helped re-image what justice could look like; 2) publishing "Beyond Prisons" in 2006; and 3) amplifying prisoner hunger strikers at Pelican Bay who went on strike to protest their conditions of solitary confinement.
These efforts represent three different aspects of AFSC's methodology in working for healing justice—appealing to people's hearts and creative sensibilities through art, contributing comprehensive analysis about the existing system and a new vision, and centering the voices of the people directly impacted by the system.
Reaching hearts through artwork
Art has consistently been a way to shift the narrative about the criminal legal system and touch people's hearts. AFSC had frequently mounted art shows of works from the inside of penal institutions. That is how I originally became aware of Jay Siripongs, who was on death row at San Quentin. He was a self-taught and prolific artist who painted life affirming pictures of people of all races, animals, and other complex compositions. Unfortunately, his execution date was set in 1999. 
I remembered his work and began putting out feelers to see if we could borrow enough to mount a one-person show and found myself inundated with offers from friends, attorneys, and from Jay himself. The show was installed at the YWCA building where our offices were in Oakland, called Visions of Life: The Art of Jay Siripongs, on display from January 20 – February 10, 1999. The exhibit did not save his life, but it attracted positive interest from all over the world—and most of the coverage focused on the man and his talents, and less on what he had been accused of. 
Publishing "Beyond Prisons"
Toward the end of the '90s, a donor approached AFSC about writing a new "Struggle for Justice," which resulted in a lot of discernment by staff and committees. Do people read books anymore? What do we need to say? How can we get it done? 
I worked with co-writer Harmon Wray for many months on what became "Beyond Prisons: A New Interfaith Paradigm for Our Failed Prisons System," published in 2006. Clearly an abolition book and a robust critique of the prison system, the book also explores restorative justice principles, both from the cautionary side and the potential for a new understanding of justice. Tragically Harmon died suddenly about a year after the book was published, cutting short our ability to do joint presentations. Nevertheless, the book is still in print and still used in classrooms and with students in many settings.
Working with a prisoner-led movement to end solitary confinement
AFSC had been working for decades to abolish the use of solitary confinement, ever since the introduction of super max prisons that kept people in isolation, often for decades. People incarcerated at Pelican Bay State Prison, one such "security housing unit" in California, announced that they would adopt a venerable nonviolent strategy—a hunger strike—to call attention to their plight. They sent word to groups on the outside that we needed to organize on the outside to amplify their voices (read more). 
The hunger strikess asked that we form a mediation team to facilitate communication between the strikers and the corrections officials. Service with the mediation team became a big part of my work from 2011-2018. Our team consisted of family members, formerly incarcerated people, lawyers, and activists.
There were a number of transformational learnings along the way. Both sides would get frustrated with each other and, in effect, stomp away from the table, only to rediscover that we had to keep talking if we were going to accomplish anything. At one point the officials refused to meet with family members because they saw them as having a "conflict of interest." The rest of us were ready to refuse to talk under those circumstances, but the families said "no, please, we need you to keep meeting." 
Then we found a way to bring one or two family members onto a call (as opposed to an in-person meeting), so that the officials could see them as assets to the process, with more to gain than any of us in resolving differences. After that, we were all at the table. Today, the head of the Department of Corrections responds to the families and bypasses the rest of us, which might be an actual victory.
During the third hunger strike in 2013, which went on for 60 days, we requested a call with the men inside about 30 days into the strike to see if we could help find common ground. The department allowed this call, but when we "failed" to convince the men to suspend their strike, the department stopped talking to us or allowing us to talk to the men. 
Finally, we suggested that a call be set up with us, the strikers, and the department officials. It was now close to 60 days of strikers refusing meals. The head of the department at that time continued to "refuse to negotiate with prisoners," but his deputy director on the call could see the men as human beings and were being treated as human beings themselves by all of us. This, combined with chairs of the State Senate and Assembly Public Safety Committees announcing they would be holding joint hearings on conditions in isolation, paved a way for a resolution to be found. The deputy director on the call with us told me that this exchange was a highlight of his career.
The legislative hearings were not enough to significantly release people from solitary, but the subsequent lawsuit, Ashker v. Brown, did result in a settlement that moved thousands of people out of solitary and prohibited the practices that had been keeping them there.
The struggle to end solitary confinement in California is not over, but significant progress is being made. For a more complete version of this story, read here.
Today, I can now look back at my time with AFSC and see the positive changes that have taken place over the years. Not only are terms like "mass incarceration," "prison abolition," and "defund the police" central to the narrative, they are no longer pipe dreams. We are beginning to talk about what redirecting funding to life-affirming programs, rather than law enforcement and responses that focus on punishment, instead of healing. Money bail is being reconsidered across the country.  Youth prisons are being closed. Adult prison populations are shrinking. And this movement to work for world without incarceration is being led by people directly impacted by this unjust system.
There is still a long way to go and intense entrenched interests pushing back. And AFSC remains at the forefront in working for the change we sorely need.