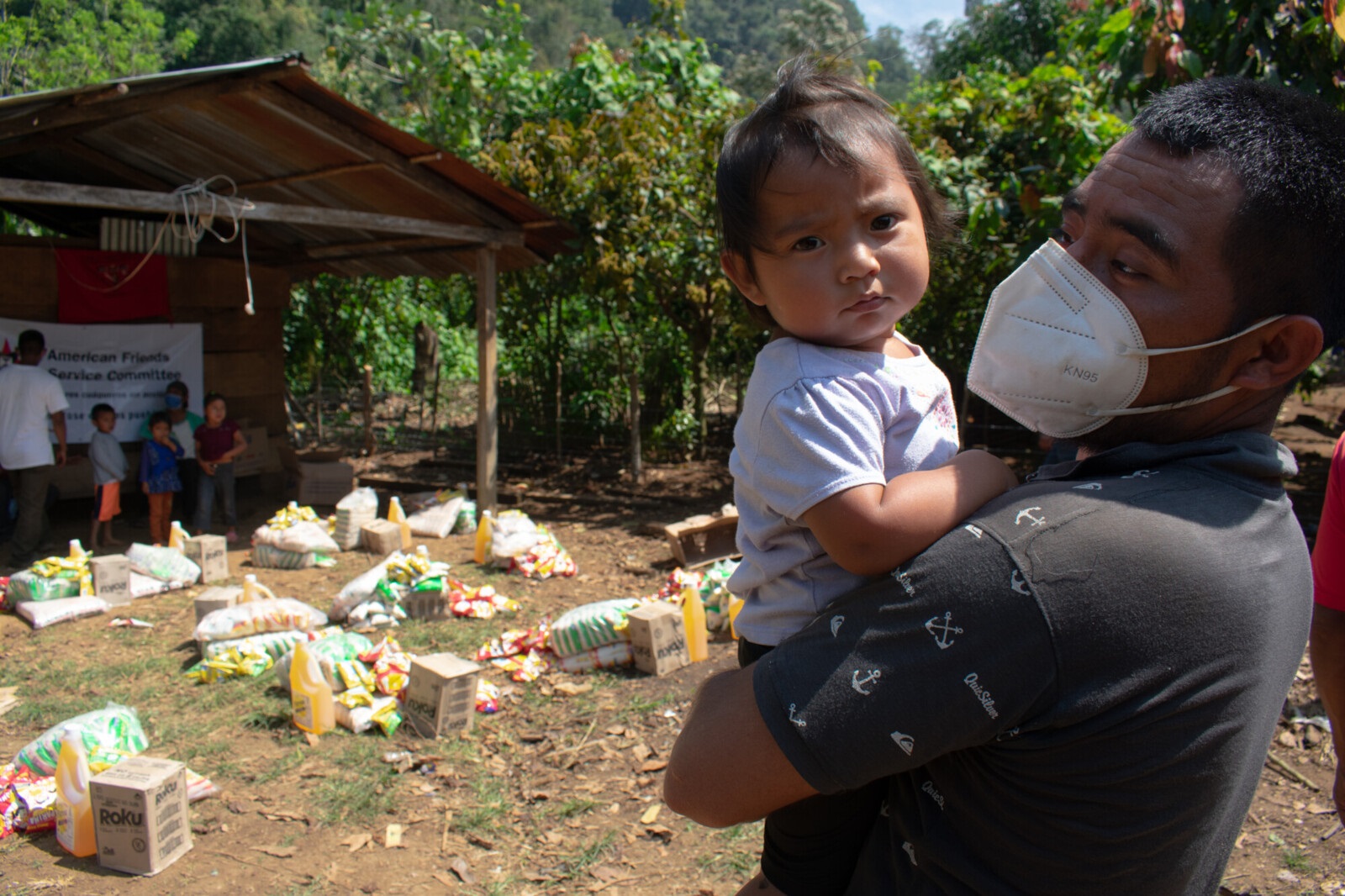 Note: This blog has been updated with reports on how AFSC is now working with local partners to provide aid to benefit community members in the long term.
In November, Hurricane Eta devastated Guatemala, causing thousands of people to lose their homes and crops to catastrophic flooding. We reached out to the AFSC community for help, and generous supporters like you responded with compassion, raising more than $35,000 to provide humanitarian relief.
Just two weeks later, a second storm, Hurricane Iota, made landfall in the same area—and our efforts gained even greater urgency.
As the regional director for AFSC in Latin America and the Caribbean, I want to thank everyone who made it possible for us to help hundreds of people in Northeast and East Guatemala through this crisis with food, water, safety kits, clothing, and other necessities. With your support, we are continuing to stand with communities as they build toward a safer, more sustainable future.
For years, AFSC has worked in communities in Guatemala, supporting local efforts to build peace and uphold the rights of people migrating to safety. Last year's storms compounded the tremendous difficulties facing communities, which were already struggling with the dangers posed by armed groups in the area as well as COVID-19. AFSC's partnerships with local grassroots positioned us to mobilize quickly to provide emergency aid—and our global community of supporters made sure we had the resources we needed to respond.
Our emergency efforts focused on the regions of Alta Verapaz and Quiché, which were among the most affected and because few other grassroots and international groups work there.
In Alta Verapaz, we assisted 200 Q'eqchi Indigenous families in five communities and two temporary shelters that housed more than 200 people, providing them with basic food, hygiene kits, biosecurity kits, and materials to rebuild their homes.
We are now working with community-based organizations and local partners to support three communities where we see the most need—San José el Tesoro, La Cumbre, and San Pascual—as they continue to recover and rebuild. This stage of rehabilitation consists of support that will bring medium- and long-term benefits for communities, such as the delivery of 1,100-liter water containers to take advantage of rainwater for cleaning and food preparation; the purchase of pigs for breeding and compost production; and the delivery of 40,000 seedlings—cabbage, onion, broccoli. and celery—that can be sown and eventually harvested.
In Quiché, we have supported 200 Ixil indigenous families in the Trapichitos, Vi'uk'al Vitz, Xe 'uk' al 'Vitz and Vatz Chola' communities. In addition to providing food assistance, we worked in close partnership with a community group, the Ixil Youth Network Chemol Txumb'al, to deliver water containers to guarantee access to safe drinking water in the four communities, after their water catchment systems were destroyed by storms Eta and Iota
One community member, Irma Pá, told us, "I feel very happy because of the water tank we received. Now we can store water and we can also wash our clothes in our new sink. We also receive food, which we are going to prepare to feed our children. We are very happy to receive this support from AFSC."
In recent months we have helped communities meet their immediate needs—while supporting local partners and community members to meet long-term needs and resist systemic injustices. Without this kind of assistance, many would be forced to migrate. But as the country recovers, we hope our efforts will help make it possible and sustainable for community members who wish to do so to remain in their communities.
Generous supporters like you make it possible for AFSC and our partners to provide humanitarian aid in the short term while standing with communities for the long haul. Thank you for helping us work together toward a more just, peaceful future where everyone has the resources they need to thrive.