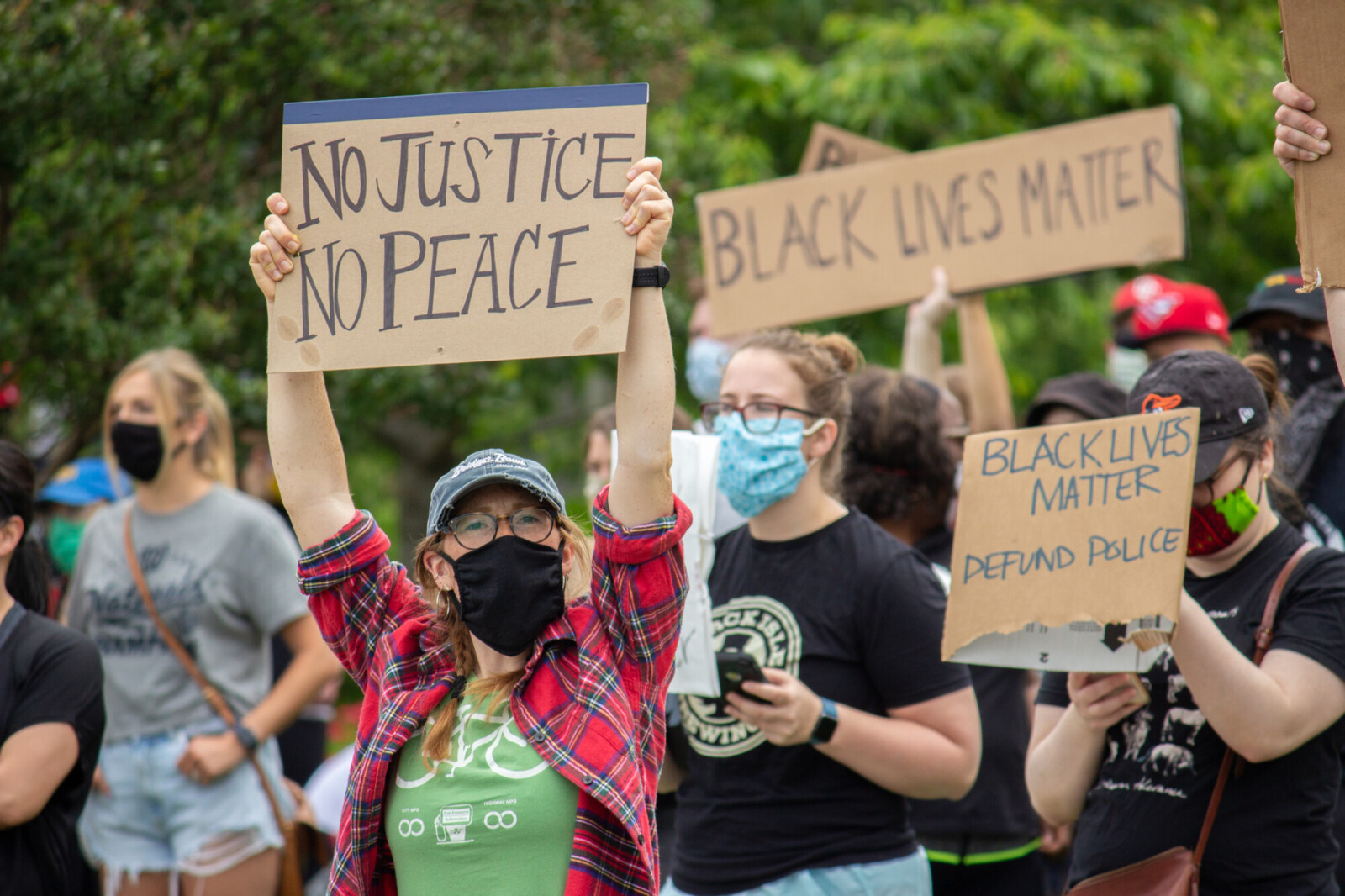 Recently I have heard several Quakers say they prefer softer language like "demilitarize the police" to "defund the police." While the call to demilitarize is certainly important, I feel the language in the current demand is a portal to deeper change—and I hope Quakers will widely support it. Here's why.
Defunding the police is a demand from the Black Lives Matter movement. 
At this point we need to follow and support the calls and demands from the Black people and grassroots organizations offering profound leadership. It is not for us to mute or critique the demands that Black folks are making right now. 
As a white person who strives to practice anti-racism, it is imperative that I listen, step back, and support right now. It has been incredibly moving to watch as the demand has fueled deep conversations on our collective priorities. To me, the insistence on using alternative, non-abolitionist language to "defund the police" is anti-Black. It also constrains political imagination.
As Quakers, we cannot support institutions that perpetuate violence and uphold white supremacy.  
I am bewildered when Quakers express support for an institution based in state violence, like the police. The police arose from slave patrols and have never ceased playing that role of racial control. It's not enough to call for demilitarizing the police considering its role as an occupying force in a settler colonial system. The only way to fully demilitarize the police is to defund or disband them. 
Policing is also a system arising out of patriarchy. Support for (particularly Black) queer and trans visions is also essential.
The demand to defund the police is deeply strategic. 
It's a demand that presses for true accountability and shifting resources to health care, schools, and other vital services as well as to transformative forms of justice that truly create community safety. 
Efforts to reform the police have clearly not resulted in needed change. Defunding the police holds police—and elected officials who fund and support the police—accountable for their systemic abuse in a meaningful way while shifting community priorities toward functions and services that foster life. 
As author and activist Rinku Sen writes in "Why #DefundThePolice is genius strategy," "The entire society is now debating what it means to defund the police, a clear indicator of rhetorical power. It doesn't get much better than having your opponents repeat your message again and again. At the height of public support, this demand lives between reform and abolition, providing a place to land for those who know that 'reform' is problematic but who aren't yet ready for abolition. History, being made right now, will prove that [Movement for Black Lives] changed the context forever with their visionary, yet pragmatic demand, enabling the ultimate goal—that we all #DefendBlackLife."
In Minneapolis, a veto-proof majority of the Minneapolis City Council announced in June that it would dismantle Minneapolis Police Department, pledging to create a new system of public safety. What's happening in Minneapolis, though in no ways perfect, is a powerful example of the power of the demand. After striving to reform the police for years, community members have seen that it is not possible, that the institution as a whole is deeply flawed in its conception, and real transformation is needed. How that's done, in a spirit of true abolition—to truly abolish slavery and the carceral systems that supplanted it—will take enormous creativity, innovation, healing, and political will.
Reconceptualizing community safety when we have been programmed deeply to equate safety with policing and the military takes self-reflection, imagination, and courage. As my wise co-workers in Minneapolis have said, defunding the police as a quick policy shift without a recognition of all the interlinking work needed will not likely succeed. We need truth and reparations; community reprogramming; forming authentic relationships; and a plan to stop, contain, and maybe even redirect white vigilantes while centering Black (and Queer Indigenous People of Color). It will take white people getting really uncomfortable and working to dismantle the ways we have benefitted from the oppression of Black folks (and QIPOC).
It's important to remember that the system of white supremacy is agile and adapts well. The issues that were not addressed when slavery was abolished need to be addressed in that process: economic equity, reparations, trauma healing, and a completely transformed political vision not based on racial capitalism. 
As Quakers working to upend white supremacy, I hope we can stand together in this profound moment to do the deeper work for a world that is truly transformed. The social and political systems we have are killing the planet and resulting in the death now of way too many QBIPOC, but we who are white risk and collude with annihilation of all of us if we cannot push into this work. 
The demand to defund the police is one part of a much deeper vision of a world beyond white supremacy, beyond carceral systems, beyond racialized capital. I have seen so many glimmers of that possible world in these past few weeks, boldly put forward by Black visionaries. Angela Davis says she has never seen a moment like this in her lifetime.
I hope we can lean back as white folks and stand up for a vision that is being forged in the breaking dawn of these days. A first step is to support the bold demands put forward and believe they are possible and to labor with our white kin about this work. The vision Black folks are putting forward is imaginal and perhaps something we have not seen before, but one that so many grassroots geniuses have been experimenting with for so long.
May we (as white Quakers in particular) engage our bodies, souls, and hearts in understanding that our liberation from the soft and deluding mind cage of our privileged social location is bound up with Black liberation. May we walk daily and consistently in that understanding.