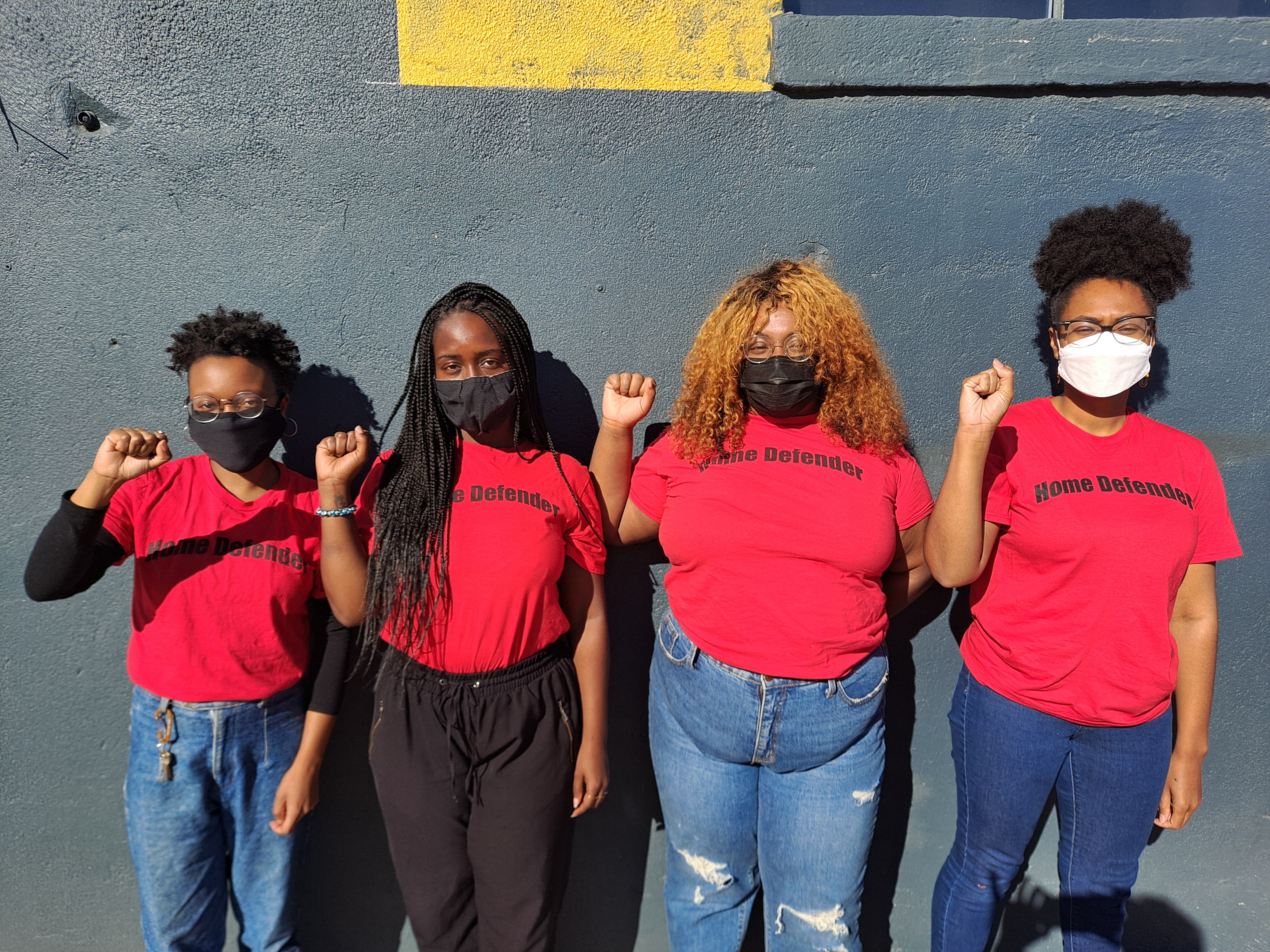 In July, the AFSC Atlanta Economic Justice Program launched the Home Defender Project to protect people from eviction during the coronavirus pandemic. While the CDC has thankfully issued a nationwide moratorium on evictions, Home Defenders continue to help people facing housing insecurity. That includes providing organizing support to tenant associations, and assisting callers who contact the Tenant Power Hotline, operated by our partner the Housing Justice League (HJL).
This is a reflection from one of our Home Defenders, Ashia Gallo.
Stable housing is intimately tied with public health, and many deaths due to COVID-19 may be directly linked to eviction and housing insecurity. Here in Georgia, COVID-19 has killed more than 10,000 people and left tens of thousands of out of work. As cases continue to rise, the state's lack of protections for tenants has worsened the health and economic crisis in the state. Since the pandemic began, neither Georgia nor Atlanta has established a legally binding moratorium on evictions, which has resulted in limited protections for tenants during this public health and economic crisis.
HJL and the Home Defenders are working to inform tenants of their protections and support their efforts to form tenants' associations to help them stay in their homes and demand fair treatment from their landlords.
I came onto the Home Defender team as a first-time organizer. I am 28 and originally from Georgia, raised mostly in Lawrenceville, Georgia in Gwinnett County. As a journalism student at Georgia State University, I immersed myself in the beat of downtown Atlanta. After graduating, I joined the Peace Corps as a health outreach volunteer in Mozambique from 2016-2018, then headed to the northeast to earn a Master of Public Administration from the University of Vermont.
I had done much volunteer work in various communities over the years, but being surrounded by experienced grassroots activists in Atlanta felt a little intimidating at first—I wasn't sure how I would be able to best contribute my skills. But HJL and my fellow Home Defenders embraced me wholeheartedly and we gelled as a team instantly. After a two-week training—which included learning the experiences and skills that we each brought to the table, understanding the functions of the COVID-19 response hotline, and exploring the types of campaigns we would assist with—we hit the streets!
The first community we worked with were residents of Trestletree Village Apartments, a low-income community of mostly Black, single mothers who were being constantly harassed and threatened by property management and whose grievances were being essentially ignored by the owners, Monroe Group, and the U.S. Department of Housing and Urban Development (HUD). I felt angry for these women who reminded me of many of my own family members and close friends.
During the first tenants' meeting we joined, we introduced ourselves as the Home Defenders team and listened to the needs and anguish of Trestletree's residents, who were experiencing faulty plumbing, unjust lease violations, and threats of eviction for rightfully organizing against ignored maintenance requests and violations of basic humane living conditions. After experiencing written and verbal harassment, delayed and/or completely ignored repair and maintenance requests, legal threats, unjust and mismanaged notice distributions, and incorrect rent calculations, the residents at Trestletree were fed up. They established the Trestletree United Tenants Association (TUTA) which is made up of an organized group of tenants choosing to resist management's harassment.
At first, I had a hard time understanding where I fit in this fight. The Home Defender team began drafting agendas and even co-leading the tenant meetings. This was the wrong approach, since our role was to support, not take over, their burgeoning tenant's association. I decided to do less talking and a lot more listening.
I realized that to gain local support, Trestletree was going to need to get their story out there. With a background in media, I decided to start doing interviews with tenants.
Miracle Fletcher, a mother of two living at Trestletree Village Apartments, told me, "I have anxiety attacks every time I see a slip of paper on my door." While living in a downstairs apartment unit in 2019, Miracle documented horrific plumbing issues, ranging from instances of fecal matter and sewage water coming up through the bathtub drain while her children bathed, to their entire apartment being flooded and every piece of furniture having to be thrown out. Miracle, already immunocompromised in the middle of a pandemic, contracted a bacterial infection from exposure to the contaminated water.
"We are treated in an inhumane manner, no regard for the health and safety of myself or my children," said Miracle. "There's no protection for us residents. It feels like it's us against them."
Drawing from the experiences of Miracle and other tenants, we published TUTA's online petition, "Trestletree Village Apartments Residents Fight Back Against Property Mismanagement and Harassment," on a petition site operated by AFSC and the Housing Justice League. Since launching in September, the petition has reached 96% of its signature target, and set the foundation for the demands voiced at a rally later that month.
As a result of the petition, community rally, and relentless correspondence, TUTA has finally received a response from the HUD regional director, who has confirmed receipt of Trestletree's complaints and is reviewing all supporting materials. The acknowledgement was important for the Tenants Association—though we know their fight for visibility is far from over. And will continue to put pressure on HUD to ensure a proper investigation of Trestletree's management is completed.
Over the past few months, TUTA has continued to flourish over these past months and now operates mostly independently. The biggest lesson I learned while being a Home Defender is that leadership can be understanding, quiet, and simply supportive. Trestletree's tenants are impassioned, intelligent, and creative—the Home Defenders simply offered some support to help them achieve their goals. I am proud of my role and have really enjoyed serving the community of Atlanta in this way.
In addition to working to help communities develop tenant's associations, the Home Defender team also helped with Housing Justice League's Tenant Power Hotline. That included answering calls from local tenants who were having a hard time paying rent, and providing referrals to resources, from rent assistance to legal aid. Our main goal was to encourage them to organize with their neighbors who were also experiencing financial insecurity and the threat of eviction. There is power in numbers, and in many housing situations, if a group of tenants comes together to negotiate with a landlord, they may be more likely to reach a compromise.
Being able to assist tenants facing difficult situations has been a deeply meaningful experience for me as an organizer. Housing is a human right—and it's critical we do all that we can to ensure all people have the resources they need to keep their homes in this pandemic and beyond.
If you would like to support the AFSC Atlanta Economic Justice Program in working with tenants and responding to housing crises, please consider making a donation.