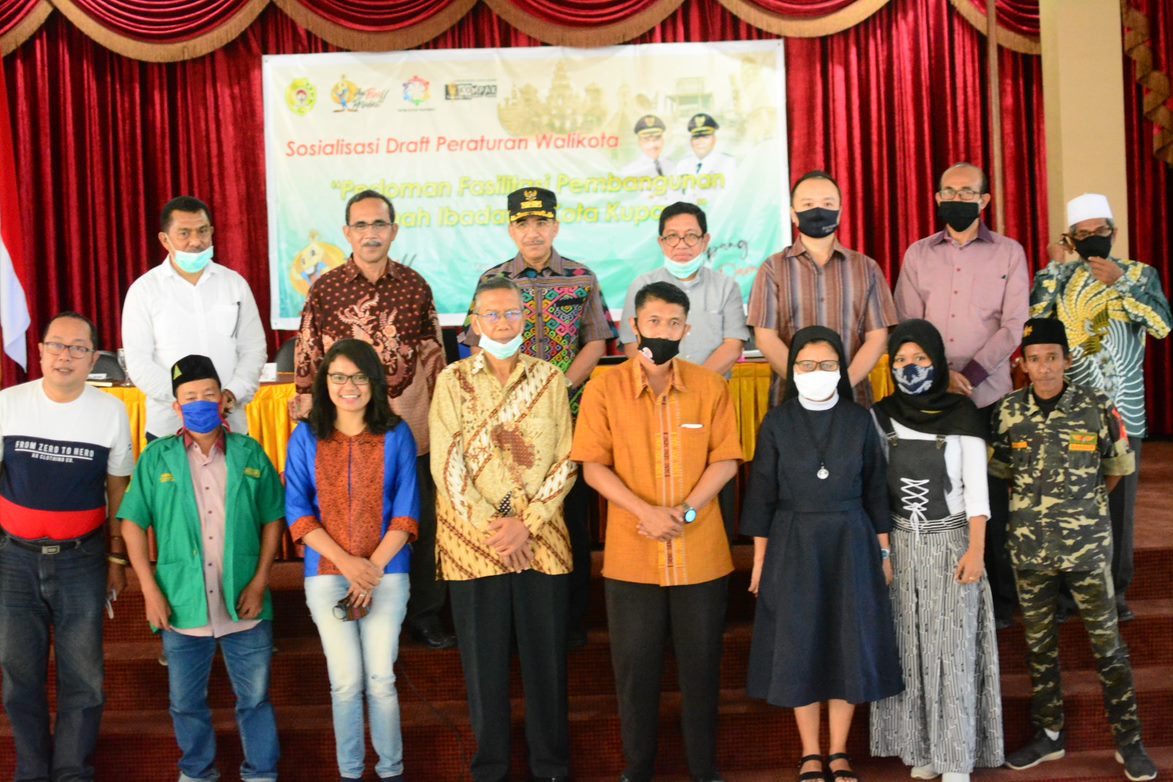 We all deserve to live and pray in safety and peace. But today, in places around the world, many people face discrimination—and even violence—based on their religion and beliefs.
As the country representative for AFSC in Indonesia, I am strengthened and made hopeful by our work with young people who are committed to building peace and promoting diversity, inclusion, and religious pluralism in this country.
Indonesia is one of the most diverse countries in the world, with 250 million people representing over 300 ethnic groups. But today, this diversity faces serious threats from extremism and vigilante groups, which have spurred communal conflict and intolerant public policies. Places of worship across our archipelagic nation have become frequent targets for extremists, who have used violence and intimidation to close down spaces belonging to minority communities. This was the case in Kupang, the capital of East Nusa Tenggara, a province with a predominantly Protestant Christian population.
For years, AFSC has partnered with an interfaith youth group known as Kupang Peacemakers (KOMPAK) working to oppose religious division and foster inclusion. When Christian residents protested the construction of a mosque in nearby Batuplat in 2011, young leaders with KOMPAK quietly organized and advocated for years to build understanding among community members and change their minds. Volunteers with KOMPAK went door to door to talk with community members of all backgrounds and met with public officials, eventually facilitating an agreement that brought an end to the standoff between Christians and Muslims. The issuing of the building permit and official groundbreaking for the mosque was in 2016.
Since then, KOMPAK has strengthened this growing movement in support of interfaith harmony in Kupang.
Among KOMPAK's young leaders are people like Carningsi "Ningsi" Bunga, a 29-year-old interfaith activist. The issue of religious intolerance is deeply personal for her. As a Catholic, she knows she could face discrimination in other parts of Indonesia, which is a Muslim majority country. "Religious minorities face harassment, intimidation, and violence from Sunni militants, government officials, and security forces," reports Human Rights Watch.
"In other places, like Jakarta or Java, my Christian brothers and sisters cannot pray safely in their places of worship—and I would want people to stand up for them," says Ningsi. "Here in East Nusa Tenggara, I am standing up to protect people from another religion. I want Kupang to be an example so all people—not only Catholic, but Hindu, Buddhist, Muslim, and all people—have the right and freedom to worship."
Ningsi and other KOMPAK members have worked to build on the success of the mosque in Batuplat, urging the mayor of Kupang to issue a decree to remove barriers to constructing houses of worship—and intervene to resolve conflicts when needed.
KOMPAK drafted a decree to propose to the mayor and, in 2019—before the start of the pandemic—they brought together and built consensus among local religious leaders of all faiths. KOMPAK also consulted with and drew inspiration from another AFSC partner organization that was instrumental in protecting houses of worship in Yogyakarta.
The work of KOMPAK and partners has had a tremendous impact—and the mayor of Kupang pledged his commitment and full support. Earlier this fall, the mayor issued the consent decree that is now considered one of the most progressive regulations in Indonesia governing freedom of religion or belief—the culmination of a three-year campaign.
I am inspired every day by the courage and strength of young leaders like Ningsi who demonstrate the power of nonviolence—and open us all up to the possibility of a world free from violence and oppression.
As Ningsi says, "It can be hard young people, especially women, to do this work, but it is very important. In working with my community, I've learned so many things—about advocacy, patience, to stand up, and not to give up. I want Kupang to be an example for other places in Indonesia and other countries. If we can understand other religions and other cultures, we can share it with others and have more love, more kindness, and peace."