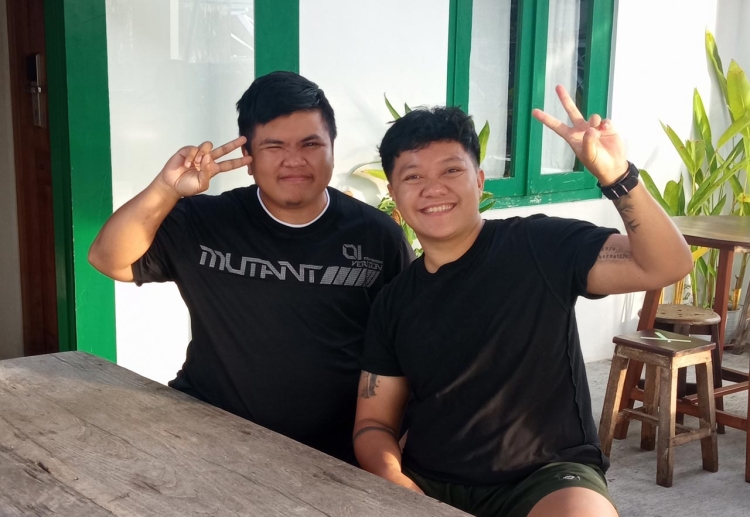 In Indonesia, parliament is now debating an overhaul to the country's criminal code. For many, the process has raised concerns that these changes will undermine basic human rights for communities that have historically faced discrimination, including LGBTQI+ people.
Since the 1970s, AFSC has worked closely with local partners in Indonesia to bridge conflict divides and promote inclusion. Our work was first carried out from a Singapore office, then through the AFSC Indonesia country office from 2004 to 2019, and currently through a partnership with the Indonesian Justice and Peace Foundation (YKPI). Today consultants for YKPI Mario Prajna Patama and Raiz Rizqy are working to address issues around sexual orientation, gender identity, gender expression, and sex characteristics (SOGIESC).
Together we are working to create safer, more inclusive workplaces for all. In this interview, Mario and Raiz discuss some of their recent efforts.
Q. Could you describe your recent work to promote inclusivity in workplaces in Indonesia?
Mario: In the past, I have developed and facilitated a series of learning sessions about SOGIESC, the oppression faced by people with diverse SOGIESC, and how people can make things better for the LGBTQI+ community around them. I have developed a training in consultation with fellow Indonesian YKPI staff and LGBTQI+ community members. The training is a YKPI-specific SOGIESC module for our staff, partners, and community members and includes examples of best practices, tips, dos, and don'ts, etc.
We initially organized two focus group discussions with 25 people from YKPI's LGBTIQ+ partner organizations and communities to share our plans for the training and the planned curriculum and module. We wanted to hear and incorporate any feedback. The training itself consisted of four online sessions covering the basics of SOGIESC; how this relates to the personal and work contexts of staff, and partners for a total of 40 participants; and how participants can share and activate their new knowledge for individual and organizational change. The approach was intersectional looking at how SOGIESC meets and interacts with race/ethnicity, social class, religion, culture, economics, and politics.
Raiz: I was an internship program coordinator tasked with also mainstreaming SOGIESC into the internship program. My work starts with simple things such as encouraging individuals to start asking and using each other's preferred pronouns. Small things like these are important to respect one's identity and build a safe and comfortable workplace environment.
Q: Why should learning about SOGIESC be an integral part of staff training at any organization?
Mario: As an organization that works to build peace and security, YKPI recognizes the complexities of LGBTQI+ experiences, especially the violence, inequality, and oppression which the community faces daily. Integrating SOGIESC issues into staff training is an integral part of understanding those narratives of oppression and working better toward a just and peaceful world.
Raiz: An inclusive learning process is an important part of understanding the intricacies of SOGIESC. Intolerance stems from ignorance and an unwillingness to learn about new aspects of gender and sexuality. While it still might be difficult to accept concepts which are not in accordance with one's personal values, learning about SOGIESC can help one understand other human beings on a humane level.
Q: How can employees and partners benefit from learning about inclusive identities?
Mario: We often tend to forget that every individual has their own sexual orientation, gender identity, gender expression, and sex characteristics. Thus, learning about SOGIESC means understanding oneself better and exploring parts of ourselves that society might expect us to repress.
At the workplace, it helps employees and partners work better in implementing the spirit of inclusivity, peace, and justice. Beyond work, this can help them to better understand and interact with their loved ones, especially those with diverse SOGIESC.
Raiz: I believe that it is human nature to question and not believe things that we are not exposed to. As a result, there is often an increase in insecurity. Learning about inclusive identities in a safe environment can help in reducing some of these insecurities. There are myriad ways in which people benefit from these trainings, depending on how they perceive them.
For example, a religious person can start seeing the diversity in SOGIESC as a creation of their God. Another person who observes these trainings from a human rights perspective can view it as a way to enrich their knowledge of addressing some of the intersections between SOGIESC and the issues they work towards.
Q: What have you found to be some of the major challenges in these efforts?
Mario: Due to various reasons including the pandemic and the sensitive nature of addressing SOGIESC in Indonesia, we are not able to conduct these training sessions in person. Online sessions limit our methods and effectiveness. Understanding non-verbal reactions such as body language is a critical part of these training sessions, and we are unable to observe that online.
Q: How have participants responded to the training?
Mario: As a follow-up to the training, participants commit to take small actions in their daily life. That includes avoiding homophobic jokes, standing up against LGBTQI+-phobic jokes, using their social media to repost educative content on SOGIESC, and dedicating time and energy to support their LGBTIQ+ friends. They would also make recommendations to their respective organizations to conduct discussions with the LGBTQI+ community, consult with them to develop inclusive SOPs, and issue statements in support of the community especially if a critical situation arises.
Q: How has your experience been working with the staff and community members? Have you received any feedback?
Mario: It has been a wonderful and rich experience. The participants were eager to learn and share openly. We received mostly positive feedback and various requests and recommendations to conduct the sessions in person. We are looking forward to continuing this work with organizations and community members to build inclusive spaces.