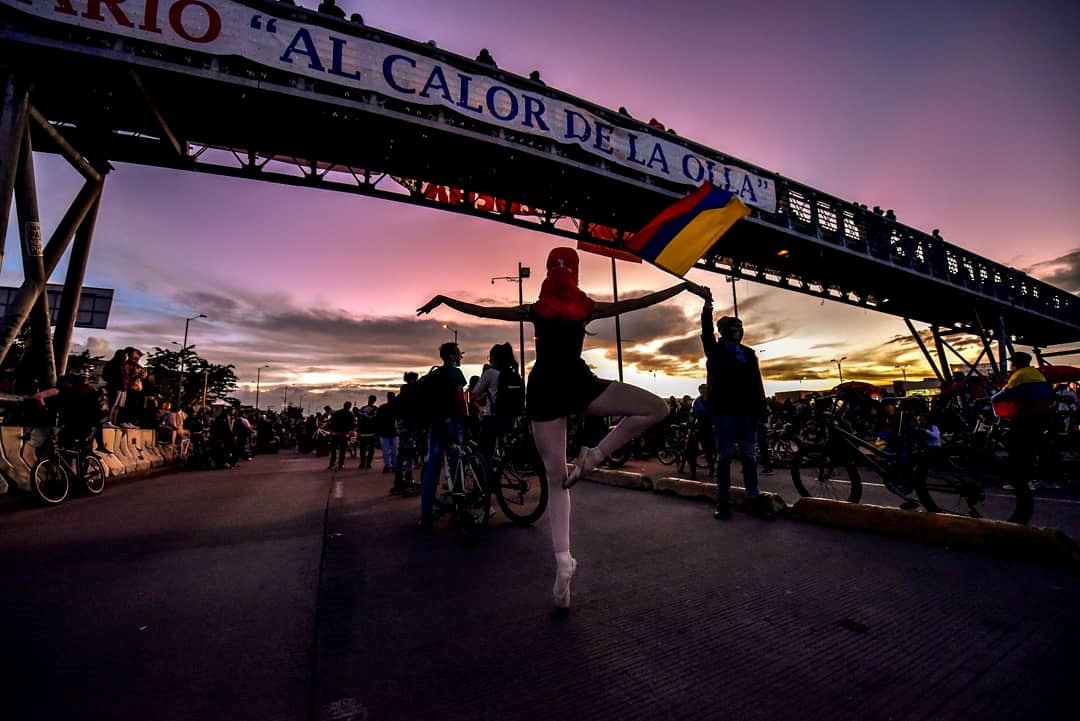 Since April 28, multiple cities, towns, and rural communities in Colombia have seen their young people, workers, and farmers, as well as Indigenous and Afro-Colombian communities, join mass protests as part of a national strike. The mobilization began in response to proposed tax hikes amid the social and public health crisis caused by COVID-19. The demands of the movement grew to include changes to ensure just and equitable health and labor systems; access to free, quality education; and compliance with the peace accords signed in 2016.
But while protests have been for the most part peaceful in nature, the Colombian government has responded with violence and brutality, deploying police, military forces, and even armed civilians—criminalizing protesters and militarizing several cities and towns. Since the start of protests, at least 43 people have been killed, more than 1,200 protesters detained, and there have been 2,905 cases of police violence, according to human rights groups. In addition, at least 129 people, including activists, have been reported missing, according to the Colombian ombudsperson.
AFSC stands in solidarity with protesters in Colombia. We join all citizens, organizations, and international agencies calling on the Colombian government to cease military action and human rights violations against protesters.
And we ask all people in the United States to stand with us by urging the Biden administration and Congress to speak out against the violence and police abuse as well as call for a review of security cooperation agreements between the U.S. and the Colombian government.
For decades, the United States has funded the militarization of Colombian police forces. Between 2010-2020, the Colombian government received close to $3 billion from the U.S. (43% of all assistance for Latin America and the Caribbean) for narcotics control and law enforcement, counter-drug assistance, military financing, anti-terrorism, counterinsurgency activities, and related programs.
In recent years, concerns have grown that U.S. funding has been used to fund human rights violations. In just one recent example, complaints were filed against the Colombian government for allowing its army to use intelligence equipment—donated by the U.S. and various European countries—to surveil human rights defenders, journalists, opposition politicians, and judges. Another example is the funding of aerial herbicide spraying for anti-drug purposes, despite public health risks.
We're also concerned about the Biden administration's recent statements about the current situation in Colombia, including demonstrating a lack of awareness of the structural causes of the protests, suggesting demonstrations were infiltrated by organized crime groups, and refusing to speak out against government threats to prosecute people for "terrorist crimes."
The U.S. and the international community must do everything possible to ensure any aid provided to Colombia does not support further violations of human rights. Furthermore, it is of the utmost importance that the international community endorses the calls made by Colombian citizens and human rights organizations to "establish an independent mechanism in the country that works with national authorities in the investigation of human rights violations, to overcome the prevailing impunity of these serious events and recommend measures that will contribute to their non-recurrence." This measure is essential, considering that violence in Colombia has escalated in recent years, without justice for victims including social leaders, ex-combatants, environmentalists, farming communities, and Indigenous and Afro-Colombians.
We urge the Biden administration to:
Denounce violence against protesters and speak out in support of Colombians' rights to peacefully protest.
Urge the Colombian government to comply with national legislation and international agreements on human rights.
Immediately end U.S. funding to Colombia for police or military spending. Under current conditions, such assistance would be in clear violation of the Leahy Law given the gross violations of human rights that are taking place at this time.
Support measures to guarantee the independence of the judicial investigation for human rights violations committed during the national strike—and to stop future government abuses.
Please join us in standing with protesters in Colombia and calling on the Biden administration to take action today.