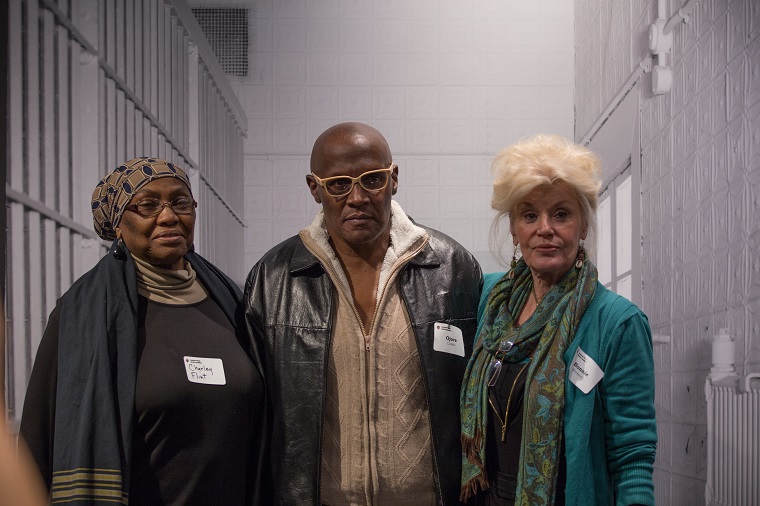 Last month, New Jersey Gov. Phil Murphy signed "The Isolated Confinement Restriction Act," a new law that will significantly reduce the use of solitary confinement in New Jersey jails and prisons.
The law – considered one of the most progressive in the nation – comes after years of advocacy by AFSC and partners in the New Jersey Campaign for Alternatives to Isolated Confinement (NJCAIC), a coalition of state and local religious, family, and community groups.
Solitary confinement is a pervasive practice in New Jersey and in most jails and prisons throughout the United States. People are imprisoned in cages about the size of a typical household bathroom – about 50 square feet – for an average of 23 hours a day for a day, weeks, months, and often years.
Isolated confinement is indiscriminately applied to people incarcerated – immigrants in detention, people with mental health issues, those with strong political views, and often, young people under 18. The serious psychological effects that can leave victims with lifetime mental health injuries have been well documented and often fall into the category of post-traumatic stress, which left untreated, can contribute to mental health deterioration.
New Jersey's new law dramatically limits the length of time and situations where people in prison or detention centers can be kept in solitary confinement. No person can be isolated for more than 20 days in a row, or for more than 30 days during any 60-day period.
The bill also:
Clearly outlines vulnerable categories of people that are protected, including people with mental illness, serious medical conditions, pregnant women, the elderly, people age 21 and younger, and LGBTQIA+ individuals.
Requires that isolated confinement follow a strict protocol that involves specialized medical staff and oversight that goes beyond previous standards. For instance, the role of the mental health specialist is essential in evaluating a person's physical and mental health both before and during the isolation period.
Creates strict reporting guidelines at all levels of the prison system to ensure compliance.
For many decades, AFSC has been at the forefront of efforts to end isolated confinement, considered by the United Nations as torture if used longer than 15 days.
During the past 30 years, Bonnie Kerness, director of AFSC's Prison Watch Program in Newark, has pioneered the national resistance to solitary confinement, essentially "no-touch" torture. AFSC's Prison Watch and Immigrant Rights Programs have documented hundreds of stories sent by people in prison describing their plight in New Jersey's notorious management control unit and throughout the country. Our decades of work have been pivotal in communicating the impact of solitary confinement – and has helped propel community groups opposing this form of torture throughout the nation.
In 2015, the increase of immigration detention prompted a study of the practice of isolated confinement in New Jersey county jails detaining immigrants. The result was the publication of two significant reports detailing the extensive use of isolated confinement produced by AFSC Immigrant Rights Program in partnership with the NYU Immigrant Rights Clinic: "23 hours in the Box" (examining the use of solitary in immigrant detention centers in Hudson and Bergen countries) and "Isolated in Essex" (focused on Essex County Correction Facilities). These reports exposed the use of solitary confinement in New Jersey prisons, jails, and immigrant detention centers – research that supported the stories of many courageous individuals and their families who shared their own experiences with solitary confinement.
New Jersey's Isolated Confinement Restriction Act gives the Department of Correction (DOC) a little over a year to set regulations for implementation. As part of the New Jersey Campaign for Alternatives of Isolated Confinement, AFSC is helping to organize monitoring and oversight to ensure that DOC regulations reflect the spirit of the law.
And we will continue to push for changes in New Jersey and across the U.S. to end solitary confinement and demand policies that promote hope, healing, and transformation – instead of punishment – in our justice system.
More resources:
"NJ Limited Solitary but we didn't end the torture of human beings, prison watch group says," (Bonnie Kerness, NJ.com)
Testimonies of Torture in New Jersey Prisons
Survivors Manual: Survival in Solitary
Inalienable Rights: Applying International Human Right Standards to the U.S. criminal justice system
Survivors Speak: Prisoners Testimonies of Torture...a shadow report submitted to the United Nations Committee Against Torture