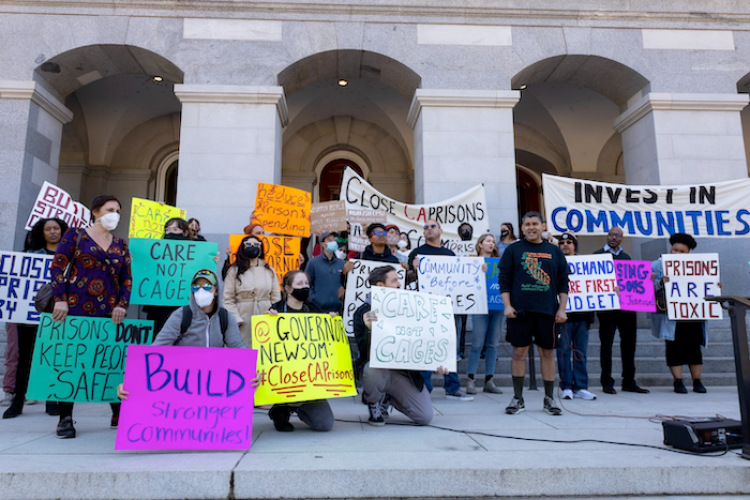 California's prisons are a disaster. They disproportionately incarcerate people of color. In fact, California disproportionately cages more non-white people than any state of the former Confederate South.
Prisons are also environmentally hazardous. At least one California prison dumps industrial waste and sewage into local waterways. And 21 state prisons water sources are toxic and unsafe for human consumption, yet people locked up in these places often have no other choice but to drink and shower in contaminated water.
These inhumane cages are costly to taxpayers—while critical services are severely underfunded. The per-person cost of incarceration exceeds the California median annual rent, tuition, and child care costs combined. Even the state's nonpartisan Legislative Analyst's Office calculated that shutting down five adult prisons would save the state $1.5 billion each year.
Since 2020, AFSC has been part of the Close California Prisons Campaign, a coalition to reduce the number of people in state prisons and reduce the number of state prisons. The campaign's committed goal is to close 10 prisons by 2025. Shutting down these facilities will free up billions of state dollars that can be directed toward programs that address the lack of affordable housing, health care, and community services. Moving this money out of prisons—and reinvesting in communities—can create the public safety nets that in turn create real public safety for all.
When the Close California Prisons Campaign first started, we were told closing prisons was a too-radical idea. But our persistence has moved conversations about prison closure from the realm of ridicule to reality. The state has since closed one prison with little controversy (Deuel Vocational Institution closed in September 2021) and scheduled to close another prison after lengthy legal battles (California Correctional Center, or CCC, in Susanville will close in June 2023).
And in December, our coalition moved even closer to our goal of shutting down 10 prisons by 2025 when the governor announced that two additional prisons would be slated for closure! CoreCivic's California City Correctional Facility (the state's last private prison) will close in March 2024, and Chuckawalla Valley State Prison will shut down in March 2025.
How did we do it? Our coalition lobbied and rallied in Sacramento. We built media narratives, amplifying the voices of the most directly impacted people, those inside these prisons. We held public education and listening sessions, sharing the multifaceted need to close prisons as we also created space to learn how the presence of prisons affect those who live free but in their shadow.
And we grew our coalition to more than 80 organizations, building broad support to address one of the most significant moral and ethical issues of our time. When prison closure is the right path forward for many different reasons, it's easy for a range of organizations to sign on to the campaign. Environmental justice organizations want to stop prisons from poisoning the land. Public health organizations want prisons to stop manufacturing public health crises, and for California to instead invest in preventative care for those who most need it.
The need to move away from the country's racist, punitive criminal legal system is apparent. As we demand the closure of more prisons, we must also build out community programs that allow us to move away from prisons and policing. We must dismantle our reliance on police and prisons by establishing community alternatives that promote healing and transformation. While we move toward the closure of more prisons, we demand the release of people from prison to their families and communities—not transfers to other facilities. Many people currently imprisoned in California are eligible to challenge their racially biased convictions and sentences, thanks to a new state law that fights racism in court proceedings.
Our coalition has much more work ahead in reaching our goal of shutting down at least six more prisons in the next two years. But these recent prison closure announcements remind us that our collective efforts are making a difference—and lift our spirits as we keep pushing ahead.
On January 12, AFSC will be joining a virtual campaign rally to outline campaign demands in 2023 and participate in collective digital action to deliver those demands to Governor Newsom and the state legislature. We invite you to join us January 12 to call for additional prison closures.
Register for the Close California Prisons campaign's virtual Thu Jan 12 rally
To learn more about the Close California Prisons campaign, read more from The People's Plan for Prison Closure.
I also encourage you to explore AFSC's North Star, which guides our work to a future without prisons and policing.