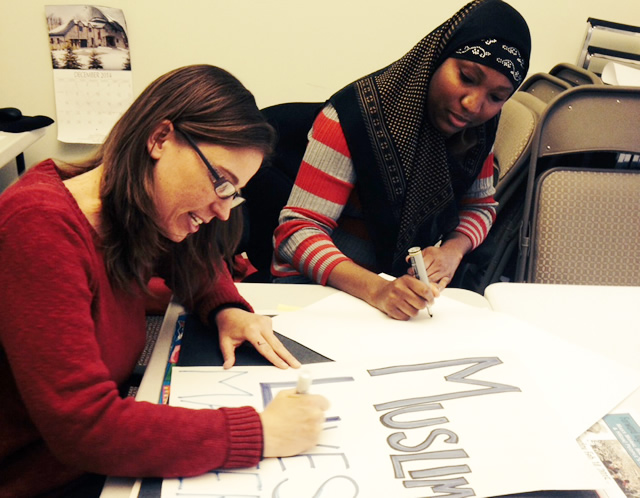 A gunman who had posted anti-religious messages on Facebook and quarreled with neighbors was charged with killing three young Muslims in Chapel Hill, North Carolina, on Wednesday, February 11, 2015.
The victims were newlyweds Deah Shaddy Barakat, 23, a University of North Carolina dental student, and his wife Yusor Mohammad, 21, and Yusor's sister, Razan Mohammad Abu-Salha, 19.
 All were involved in humanitarian aid programs. Barakat, an American citizen of Syrian origin, wrote in his last Facebook post about providing free dental supplies and food to homeless people in downtown Durham. He was raising funds for a trip to Turkey with 10 other dentists to provide free fillings, root canals and oral hygiene instruction to Syrian refugee children.
Thousands gathered at the campus Wednesday night to pay tribute to the victims.
This reflection is by Lori Fernald Khamala, AFSC's Immigrant Rights Program Director in Greensboro, North Carolina, where we seek to build a community which values the human dignity of all residents.
Deah Shaddy Barakat, Yusor Abu-Salha and Razan Abu-Salha,
I feel compelled to say their names again and again as my heart breaks for the three Muslim students murdered in Chapel Hill this week. It's their wedding pictures that get me, taken not even two months ago.  Like Yusor, I was 21 and just out of college when I got married and was so ready for my adult life to begin.  Like Yusor, my ex-husband and I had difficulties with a neighbor after moving into our first apartment in North Carolina's Triangle region. Yet this never deterred us from enjoying our young lives. These murders are close to home, in the city where my daughter was born, just one hour from where we live now.
I am ashamed to admit that when I heard the news yesterday, my very first thought was a cold and distant, "Sigh. There's another one." Grief piles on top of grief with one killing after another. It is almost too much to bear. To cope, we desensitize ourselves so that we can get through the day.
Just a few weeks ago during our South Organizing Against Racism event related to the Black Lives Matter movement, we mourned youth of color and transgendered individuals who were recently killed. The feeling creeps in that these killings are commonplace, bordering on normal. But as William Barber III reminded us at our event, we must never succumb to accept that this is normal. We must not lose our sense of outrage, our heartbreak at the loss of life to violence. Because it is outrageous.
Hawa is an intern and friend at our Greensboro AFSC office. She is a Muslim woman who wears a Hijab. She told me that she woke up at 5 a.m. today (Thursday, February 12) as usual, to take her morning run. As she stopped to catch her breath, a car approached with a white man driving. He stopped the car, stared at her, and flashed his lights in the dark morning with no one else around. Especially after hearing the news of the murders yesterday, Hawa felt on edge. She has decided to change the time of her morning jog, so she won't be alone, even in her "decent neighborhood." Hawa hasn't even told her mother about the killings, because of how nervous her mother will be.
Hawa says, "Our family is saddened by the news. One thing I like about America is freedom of religion. Now, with this action, I am confused. My brother was asking me to move overseas, I said no, because there is nowhere like the United States. Here I thought I can wear my Hijab anywhere without anything happening to me. But for something like that to happen, I feel lost now."
I am outraged that my friend can no longer jog when she wants to. I am outraged that three young people had their lives cruelly ended far too soon. I am outraged, and I hope you are too. I pray that we don't lose this outrage, but that we channel it into acts of nonviolent action that demonstrate solidarity with the Muslim community, that create understanding and embrace the beautiful tapestry that enriches our communities.
Deah Shaddy Barakat, Yusor Abu-Salha and Razan Abu-Salha. #MuslimLivesMatter.