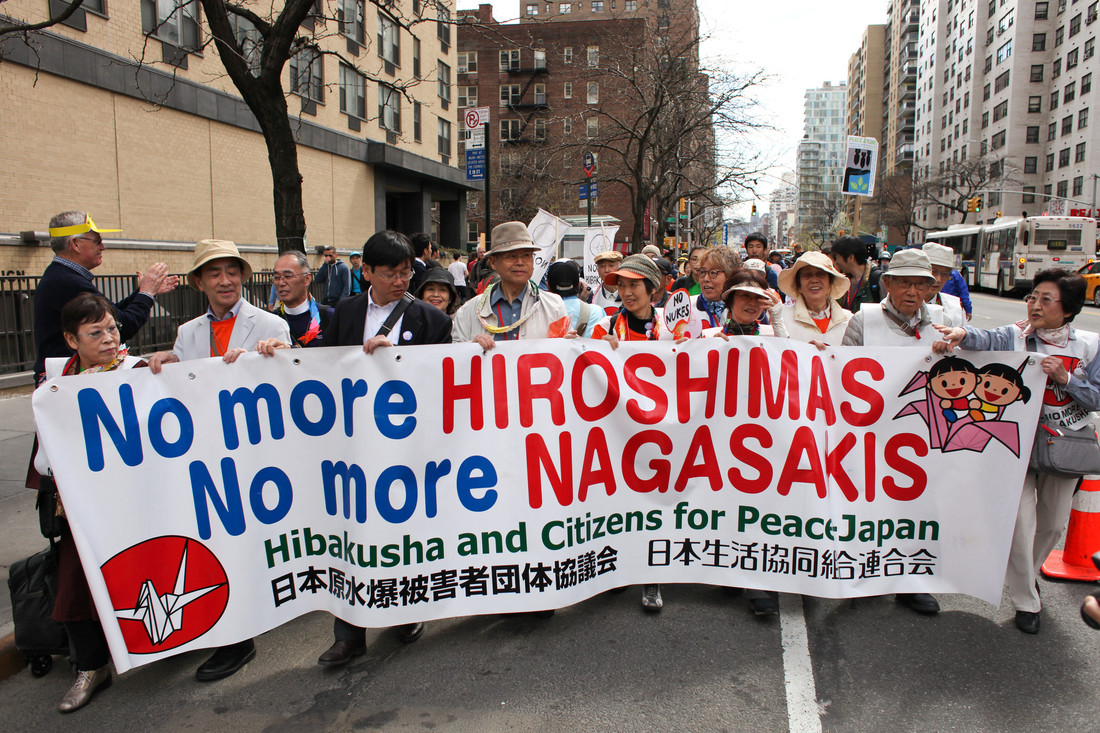 From April 24 to 26—on the eve of the Nuclear Nonproliferation Treaty (NPT) Review Conference at the United Nations—AFSC, partners, and thousands of individuals will gather for the World Conference and mass mobilization for nuclear disarmament, climate, justice, and peace. 
Our gathering is a unique opportunity for nuclear disarmament activists, allied movements and organizations, and others committed to eliminating nuclear weapons to amplify our demands to the review conference. We hope you will join us there. (see worldconference2020.org)
AFSC is privileged to play a lead role in organizing the World Conference, which will be held in the Riverside Church—the site of the Rev. Dr. Martin Luther King, Jr.'s seminal courageous "Beyond Vietnam" speech in which he urged the world to challenge the triplets of evil: racism, poverty, and militarism. We're building from that analysis and tradition and adding the urgent need to stanch the climate emergency.
As nuclear-armed states continue to resist fulfilling their disarmament obligations—and engaging in increasingly unrestrained nuclear arms races—it's critical that we continue to demand a nuclear-free world. The World Conference also provides us a rare opportunity to build international and intersectional collaborations for the longer term, drawing an estimated 2,000 participants, including A-bomb survivors from Japan, Korea, and the U.S. as well as activists from as far as Nigeria and Nepal and Berlin to Boston.
The World Conference now has 21 co-sponsoring organizations, including sister Nobel Peace Laureate organizations International Physicians for Prevention of Nuclear War and the International Peace Bureau (IPB), the International Trade Union Confederation, Peace Action, Pax Christi, the Campaign for Peace Disarmament and Common Security, the Rosa Luxemburg Foundation, with a deep collaboration with the Poor People's Campaign and a growing number of endorsing organizations.
Participants will also hear from 31 plenary speakers, including:


Setsuko Thurlow and Beatrice Finn, who received the 2018 Nobel Prize on behalf of the International Campaign to Abolish Nuclear Weapons (ICAN)
Noam Chomsky, Michael Klare, Kathy Jetnil-Kijner, and others, who will address the dual threats of nuclear weapons and the climate emergency
The Rev. Liz Theoharis, co-chair of the Poor People's Campaign 
Speakers from Korea, Iran, the Philippines and the international labor leader Philip Jennings of IPB, who will make the links between nuclear disarmament and peace and justice struggles.

We're also planning for 24 breakout forums and workshops, the largest being the Hibakusha (A-Bomb witness/survivors) forum initiated by the Japan Council against A- & H- Bombs.  
On Sunday afternoon the 26th, we'll gather at Union Square for a rally and march to the United Nations, where we will deliver more than 10 million petition signatures urging the fulfillment of the NPT's promise to U.N. and NPT Review officials. The march will be led by Japanese and Korean Hibakusha, as well as by leaders of the assembled movements who understand the interconnected nature of their concerns and the imperative of building multi-issue movements.
As someone who has helped to coordinate this conference for the past year, it is a privilege to be working with such a diverse and international coalition to hammer home the need for disarmament, peace, and climate, economic, and racial justice. It has also been a delight to watch our young organizers committee make its contributions to this event and plan their own mini conference immediately prior to the World Conference. That bodes well for the future.
With increasing threats of war, rising tension between world powers, new arms races, rising seas of the climate crisis, and continued violence against people of color, we are organizing to create the foundation for real security for future generations.
I hope that you will be able to join us in New York or take part online by watching our live stream (watch our World Conference website for more details.)  
For more information on the World Conference, including how you can volunteer and support the event, visit worldconference2020.org or contact JGerson@afsc.org.