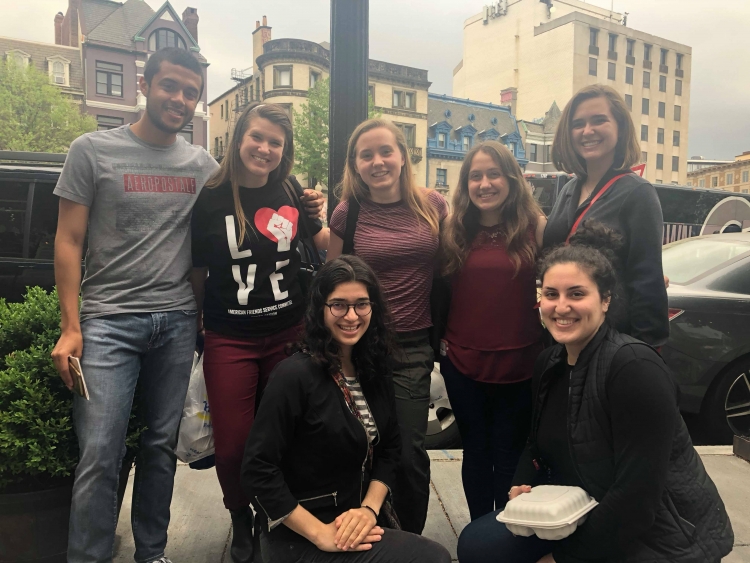 In 2008, the American Friends Service Committee was critical in leading an effort to declare Washington, D.C. a Human Rights City. Last month marked the 10th anniversary of that effort. 
In honor of this milestone, AFSC's D.C. Peace and Economic Justice Program organized a Human Rights Week of Action from Dec. 10 to 14.
This week began on International Human Rights Day (Dec. 10) and concluded with a community open house at ONE D.C.'s Black Workers and Wellness Center on Dec. 14. 
The open house event, "Celebrate & Renew: D.C. Human Rights 10th Anniversary," was both a celebration of D.C.'s human rights history and a renewed call to action for the next 10 years of human rights work in DC. Speakers included D.C. City Councilmember Mary Cheh, ONE D.C.'s Maurice Cook, and AFSC General Secretary Joyce Aljouny, as well as a spoken word performance by Dwayne B. Lawson (The Crochet Kingpin) and Morgan Butler (Momo the Mermaid) of Busboys and Poets.
Read our blog series from this week of action, featuring writing from partners including the United Nations Association of the National Capital Area, DC Jobs with Justice, Friends Committee on National Legislation, Empower D.C., Jewish Voice for Peace D.C. Metro, and U.S. Human Rights Network's National Human Rights Cities Alliance.
Human Rights Week of Action Blog Series: Post 1
By Ina Padua, organizer, D.C. Jobs with Justice
I had not known that D.C. was made a Human Rights City eight years ago before I moved here this past June. I had no idea what it meant. According to the People's Movement for Human Rights Learning: 
"A Human Rights City is a city or a community where people of good will, in government, in organizations and in institutions, try and let a human rights framework guide the development of the life of the community. Equality and nondiscrimination are basic values. Efforts are made to promote a holistic vision of human rights to overcome fear and impoverishment, a society that provides human security, access to food, clean water, housing, education, healthcare and work at livable wages, sharing these resources with all citizens—not as a gift, but as a realization of human rights."
Through working at D.C. Jobs with Justice I have been able to see this type of framework be implemented. To me, that looks like community, youth, labor and faith groups working together for collective justice and causes. When we think of human rights, we think of housing security for all, access to food, living wages, healthcare and community and workplace safety. Through working with people who care about what happens to members in their communities I have been able to see what it means to be part of a Human Rights City. 
Human Rights Week of Action Blog Series: Post 2
By Katy Deleon, U.N. Association of the National Capital Area
What living in a Human Rights City means to me
To me, living in a Human Rights City means that I am able to continue on fighting for women's rights and carry on the legacy that all the amazing women have left before me.
Two of my biggest role models are my grandmothers. As I grew older and grew closer to them, I was able to hear both of their incredible stories. They both worked hard to get not only bachelor's degrees but also master's degrees in a time when it was uncommon for women to pursue these degrees. They had to fight against the wishes of their own families, but they did it so that their families could have a better future. And they did not stop there.
During their careers, they pursued women's rights in peaceful and empowering ways. As two teachers in Texas they knew that they had a long fight ahead of them, so they took small steps. They gathered groups of teachers in their schools to fight for things like better toilet paper and higher wages for female teachers. These might be small steps but they very important steps on the path towards women's rights. They showed the other teachers that they can make a difference if they work together and stand up for themselves. These acts helped to empower the other teachers to make a difference and continue to do so as they moved forward in their careers.
I am proud that I am able to continue on with this legacy and continue to peacefully fight for women's rights. I will always love Texas, but I moved to D.C. so that I could learn from a city that has deeply committed itself and its people to fight for Human Rights. It is my goal to pursue this through the field of Public Health, knowing that health is a universal human right. Living here in D.C. makes this dream even more possible.
Human Rights Week of Action Blog Series: Post 3
By Heather Hill, Chair, United Nations Association of the National Capital Area Human Rights Committee
I cannot remember a time when I didn't care about human rights. Has there ever been a time when I didn't think that people had a right to their own sovereignty? To not be tortured? To have a voice? To be treated equally, be tried and punished fairly, to relax or believe whatever they wanted, to get a real education, and have their own opinions? No, from as far back as I can recall, I thought that's just how things should be—even though I also could see clearly that they weren't.
My beliefs from a young age were deeply informed by a global life. To this day, I balk when someone asks where I'm from because I have no quick or easy answer. I grew up between worlds and among many different cultures with all their unique, overlapping, and occasionally opposing systems and practices. I spent my childhood in a colony and my adolescence primarily in the former Soviet Union. I understood oppression and brutality as I watched the wellbeing of my fellow colonized friends be subjugated to the whims and sidelined to that of the colonizers. I watched how narratives both lock people in and can be the powerful key to freedom.
As a teen, I grew up the same age as the country I lived in, and we stepped into adulthood together, experiencing the weight of what it means to be sovereign selves, responsible citizens, and face our own historic flaws, biases, and racism. My siblings and I watched tanks roll past and cowered a bit when our house shook as heavily loaded NATO planes flew overhead on their way to bomb Kosovo, where we had friends in hiding. Wandering around city streets across Europe and talking with friends and strangers alike, I absorbed first-hand holocaust survivor stories and saw the brutality of what happens when people's rights and humanity are stripped away or denied. Later, during college, I studied in Rwanda, where I witnessed ongoing trials from the genocide and spent significant time conducting interviews and documenting stories from both sides of that devastating conflict.
What baffles me still is that for all of these formative experiences and strong beliefs, I didn't think that I knew anything about human rights—and not only did I not really know about the UDHR, but I was unclear about what other UN resources could be used locally aside from the deployment of peacekeeping troops or the ICC.
I joined the Human Rights Committee of the United Nations Association – National Capitol Area (UNA-NCA) a year after moving to Washington D.C. not because of human rights, but because I simply wanted to be more involved in the UNA-NCA. What I found was a place where I could finally connect issues that I had locally experienced globally to what until then had seemed to me a very abstract, academic concept—human rights—and I discovered that there are many tools and avenues to making sure that human rights aren't abstract; aren't just something that happens on "the international stage;" but take place right where we live. One of those ways happens to be turning your city (or town or hamlet) into a Human Rights City.
We have probably all heard a thousand times this year the famous quote, "Where do human rights begin? In the small places, close to home." Eleanor Roosevelt was right about the UDHR—and what a legacy to leave!—and she is, I think, also right about this. I unknowingly cared about human rights my entire life because of experiences close to home, but until I bumbled my way into a committee that took the concept of human rights from its high place and brought it home to "how does this impact us locally and how can we locally impact it in turn," I said I wasn't "a human rights person."
Human rights do begin close to home, whether it is in the awakening of our personal indignation and outrage at the stripping of what we have been encultured to or the understanding of how we can access resources in our own communities and build structures, systems, and educational materials that have human rights principles at their core and actualize for all citizens this fundamental truth stated in the UDHR preamble: that "All human beings are born free and equal in dignity and rights." I am proud to be living in a city that is working towards this systemically and am eager to play my part in the empowering work as a resident.
Human Rights Week of Action Blog Series: Post 4
The Friends Committee on National Legislation is a Quaker organization which lobbies for Quaker values in national policy. Program Assistant for Militarism and Human Rights, Emmet Hollingshead, recently sat down with Executive Secretary Diane Randall to discuss the importance of human rights in DC, and what it means to live in a Human Rights City.
Emmet Hollingshead: Let's start with a very broad question: what is the value of human rights? And why do we continue to fight for human rights even in a country where we enjoy so many rights already?
Diane Randall: I think particularly as Quakers, we take for granted that people support human rights. But in reality, there are a lot of places where human rights aren't respected in the sense of the full declaration of human dignity.
And it's also about the idea of human beings as sacred individuals, which is consistent with our Quaker purpose. We're called to answer that of God in every person, and to me that means every person should have rights to live and be healthy and to breath clean the air and to have work. So, there's nothing in Quakerism per se that defines human rights, but I feel like there's a really close alignment to what that concept of human rights is about.
Emmett: What is the importance of these big ideas on a local level?
Diane: So, when I heard about the anniversary of D.C. as a Human Rights City, the first thing I thought of was the struggle for D.C. statehood. This is a huge issue, I think, for human rights. Honestly, to me that's kind of a fundamental question- is that if you believe that people should have a fair representation and equal representation then that should be a human right within the District of Columbia as it is in every other state. And as someone who encourages other people to contact their members of Congress, it would be great if we had Senators and a voting member whose vote counted.
The other reason I think it's really important is that the closer government is to people the more confidence they have in it. And so, when local communities -- a city or even a neighborhood -- says they're going to pay attention to human rights, I think it's more powerful because it's so personal. And not just in D.C. but any city that chooses to say "we want to be a human right city" is paying attention to the needs of people in the city, which is a really positive thing.
Emmet: Why is it important for D.C. specifically to have human rights values?
Diane: You know it's one thing for us to tell other countries they have to behave in certain ways but when we ourselves as a country or a community are violating people's rights then that's a problem for us on international basis. I mean I'm really concerned that we don't hear a lot of conversation about human rights right now in this administration. And so, to the extent D.C. can hold the city up, lift the city up, as a community, as a place of national government that pays attention to human rights, it could have an impact on international standing, given the fact that we're not seeing it so much from White House.
Moving forward for D.C. as a city, how might we incorporate human rights issues in city government, in our personal lives, in our workplaces?
Well I tend to think about government structures because we work on lobbying, and so within D.C. I think it's important to educate people within D.C. about the existing local government even if we don't have statehood. Clearly our city council has a lot of impact and we have these Advisory Neighborhood Commissions, the neighborhood representatives, which have a pretty much small block area where people can talk to them directly about issues. So that's a positive thing because it enables people to get involved.
I think the other thing is knowing those organizations like we've talked about that are addressing human rights, whether it's around social services or education issues or jobs. There are people who are really trying to pay attention to things, who are looking at some neighborhood issues and showing up for racial justice, who get involved with different organizations, who are working like for instance [our Young Adult Program Manager] Katie Breslin worked on Pay Our Interns. I mean there's been some causes that people get involved in that are about human rights.
You know in my mind so much of FCNL is focused on federal advocacy -- obviously it's in our name, National Legislation -- but I do think that as individuals get involved locally it makes a huge difference. You just feel more connected, you get to know other people.
Emmet: Is there anything else you'd like to add on your thoughts on human rights localities and us as a city?
Diane: So, I would just remark on this one item.
A couple of years ago there was a UN Human Rights Special Rapporteur that actually came to D.C. to examine human rights and poverty. It was enlightening to me because as an American I often think about human rights as an issue elsewhere. It's an issue in the Congo or it's an issue in Sarajevo or places where there has been violent conflict or places where there's a lot of inequality across gender lines, but to see that this group come in to look at the question of human rights in Washington D.C. was a new way for me to think about our country needing to lift this up. And so, to the extent that we can think about that in localities, like D.C. does, I see that as a positive step.
Human Rights Week of Action Blog Series: Post 5
By Dr. Sabiyha Prince, coordinator of membership and political education, Empower D.C.
The Chasm Between Principles and Daily Practice: African Americans and Human Rights in Washington, DC
The African American struggle for self-determination and justice in the District of Columbia has been as arduous as it has been long.  Echoes of this history are hidden in plain sight in a city bearing the name of the nation's first president; a man who also accumulated wealth exploiting Black laborers who were owned by generations of the Washington family.  Indeed, the city's proudly emblazoned red and white flag is linked to plantations of the first family thus constituting a salient reminder of their oppressive, chattel-owning practices.
The past lives alongside the present as historians document the ways African American residents have shaped DC life and culture, not only through their mathematical ingenuity, contributions to the culinary arts, skilled craftsmanship, forms of musical expression, and work carried out in domestic spheres, among other influences.  African Americans have also left their mark through their suffering as well as their collective efforts to achieve equality for their communities. Auction blocks and "slave pens" were prevalent in downtown DC – albeit generally unacknowledged among the upscale condominiums, shopping centers and eateries patronized by well off residents. During the 1700 and 1800s, Black-led battles for human rights and economic opportunity in DC turned toward the courts where captive laborers used lawsuits to petition for freedom and engaged in self purchase to escape enslavement.
The dire need for safe accommodations, as well as the ability to provide for their families during the post-civil war period, produced waves of Black activism that are still tangible in D.C. today.  During the mid-19th century, Freedman's Bureau policies allowed Black Washingtonians to purchase land and build homes in Barry Farm – a sprawling parcel of land located in SE that became a public housing complex in 1954 and remains a highly contested site today.  
As African Americans moved into the 20th century, the fight for housing would only intensify with large numbers of Black residents being crowded into alley dwellings and disadvantaged by a segmented labor force that limited the majority to low paying work.  Subsequent decades would unleash the damaging forces of gentrification and urban renewal - displacing them from Georgetown, Foggy Bottom and, eventually, Southwest Washington.  Coupled with the triple threats of restricted covenants, redlining, and blockbusting, ghettoization would foster untenable conditions for African Americans thus setting the stage for, both, the massive uprisings of the 1960s and the heightened forms of gentrification that would go on to make the sustained presence of working class residents living in DC so tenuous today.
Despite the host of elected officials collaborating with private developers and displacing the poor and people of color, African Americans have not responded passively to these machinations.  As the city is making good on its decades long plan to demolish and redevelop Barry Farm, organizers are coalescing in the spirit of James Banks, Dr. Dorothy Ferebee and Etta Mae Horn.  These activists helped found the Barry Farm Band of Angels and Washington Welfare Alliance in the shadows of the civil rights movement. The work of present-day organizers, such as members of the Barry Farm Tenants and Allies Association, highlight the connections between 21st century struggles and those of the past. 
The fight to achieve housing and a sustained sense of belonging in DC during the post-slavery moment is thrown into stark relief by the contemporary efforts of African American activists to achieve the same aims.  The struggle continues as the historical record documents how the vulnerabilities of the present are inextricably linked to those of the of the past.  The battle to achieve access to truly affordable housing and economic opportunity today is rooted in centuries long acts of resistance, advocacy, and organizing designed to achieve equality for Black people in DC and, by extension, all Washingtonians.  As social justice activist Mary Church Terrell so rightfully observed, it is only when these goals are reached that the gaps between notions and praxis will be repaired vis-à-vis the image of America, as symbolized by its capital, as the global ideal of liberty and human rights.
The research of Chris Asch, James Borchert, C. R. Gibbs, Stanley Harrold, Kate Masur, George D. Musgrove, and The Reclamation Project were central to the completion of this essay.
Human Rights Week of Action Blog Series: Post 6
By  Steve Chase, member, Friends Meeting of Washington, the Quaker Palestine Israel Network, Occupation Free D.C. He serves on the AFSC-DC Program Committee. He is the author of the Pendle Hill pamphlet Boycott, Divestment, and Sanctions? A Quaker Zionist Rethinks Palestinian Rights.
Military Occupation Is No Model for D.C. Policing
Inspired by Jewish tradition to work for peace, social justice, and human rights, the members of the DC chapter of Jewish Voice for Peace are proud to live in the United States' first Human Rights City. At the same time, they believe we have much work to do to turn this bold aspiration into institutional reality. 
To aid this effort, JVP-D.C. has organized the Occupation Free D.C. campaign to stop the D.C. police department from training its personnel in countries and facilities with a significant record of racism and human rights abuse. It turns out that the MPD has long been guilty of this. Through a Freedom of Information request, JVP-D.C. discovered that the MPD has regularly accepted funds from pro-Israeli occupation advocacy groups to send department leaders to Israel in order to be trained by Israeli police and military occupation forces in the repressive techniques Israel has developed to defend it policies of displacement, occupation, and discrimination against Palestinians.
Upon learning this shocking news, JVP-D.C. immediately created a short video exposing this human rights violation by the DC police department.
As noted in the video, this is a national problem. JVP's recent report, Deadly Exchange: The Dangerous Consequences of American Law Enforcement Trainings in Israel, documents how hundreds of local police departments across the United States, as well as federal agencies like Immigration and Customs Enforcement (ICE), Homeland Security, and the FBI, are reinforcing their worst practices by having their leaders trained in Israeli techniques of invasive surveillance, blatant racial profiling, and brutal force. Baltimore County Police Captain Roman Zaryk took part in this "deadly exchange" program back in 2007 and was appalled. As he noted, "The regular use of profiling by Israeli officials is a technique that is not only illegal in the United States but could be detrimental to the complex threats in America."  
As a Human Rights City, D.C. should be a national leader in refusing to promote human rights abuses, not an active participant in training for them. The Occupation Free DC campaign therefore demands that the DC Council: "Support and pass legislation to prevent MPD from training with discriminatory trainers that violate DC's Human Rights Act." The campaign organizers argue that the "MPD has failed to implement an extant regulation to this effect (6B DCMR Sec. 1308.3), so civilian leadership needs to act." Durham, North Carolina's City Council has passed such an ordinance. It Is time for D.C. to do the same.
During the 10th anniversary of the D.C. Human Rights Act, Occupation Free D.C. invites local organizations to endorse the campaign, and encourages individuals living or working in DC to sign its petition and get involved in the campaign's community organizing efforts to ensure that military occupation is not the model for D.C. policing.  
Human Rights Week of Action Blog Series: Post 7
By Nicole Bohannon, UN Association of the National Capital Area Global Education Managing Director
My vision for DC in its second decade as a Human Rights City
I was born and raised in D.C. and have lived here for most of my life. I have seen it change; physically it has new buildings going up every month, and less tangibly it has more and more bright-eyed and bushy-tailed young people moving here every day.
But, in my experience, the one thing that has never changed is that D.C. is not a city that people end up in by accident. There are wonderful cities like New York or Los Angeles with stories of people who move there with no plan and less than $20 in their pocket with a big dream.
But D.C. isn't like that. People who come to this city are intentional - they may not know exactly the job title they'll hold, but they have the ambition to make the world a better place. The only question is what outlet they will use to accomplish that goal. 
When I think about D.C. going into the next decade as a human rights city, that's what comes to mind: ambitious young people who aren't blind to what's wrong with the world, but have the resilience to address those problems and actually do something about it.
I see this every day in my job as the Global Education Managing Director at the United Nations Association of the National Capital Area. My program, Global Classrooms D.C., works with about 1,000 middle and high school students in the D.C.-area, and I work directly with teachers, parents, mentors, and more who are giving students the tools they need to make an impact on their world. I've seen kids as young as 10 years old advocate for refugees to have equal rights as any citizen in the world; I've heard them question the inaction of other countries and propose possible solutions; I've worked with them as they discover their voice.
Many people nowadays worry about how much time kids are spending on the internet or their phones. But I have never lost a minute of sleep over that - I know we are already witnessing a massive wave of activism of enlightened, passionate young people in our city. Not only will these same kids be out of college within 10 years - they will be employed by governments, nonprofits, and even corporations, improving the system to make it more equal and accessible to people regardless of religious beliefs, sexual orientation, ethnicity, race, or gender.
There are many terrifying and overwhelming realities we face every day in DC: homelessness, discrimination, structural violence, and more. But if the last ten years of progress are any indication, the next 10 years are looking brighter than ever.
Human Rights Week of Action Blog Series: Post 8
By Jean-Louis Peta Ikambana, former Director of American Friends Service Committee's DC Peace and Economic Justice Program
Jean-Louis is well known for his dedication to advancing human rights locally and globally. In 2008, Jean-Louis led a grassroots coalition in successful advocacy to establish DC as the first Human Rights City in the United States. During his tenure at AFSC, Jean-Louis also established AFSC's Human Rights Learning Program, which seeks to expand human rights education to DC students. Through this program, DC students use the Universal Declaration of Human Rights as a framework to identify, define, analyze, and take action to address human rights violations in their own communities. 
Having led DC's human rights city movement for its first nine years, AFSC asked Jean-Louis to share his vision for DC in its second decade as a human rights city. Given his passion for education, it is not surprising that Jean-Louis's vision for DC's future as a human rights city is centered around that topic.
He writes: 
My vision for D.C. in its second decade as a Human Rights City is a full realization of its real meaning: A Human Rights City is one whose residents and local authorities, through on-going discussions and creative exchanges of ideas, come to understand that human rights, when widely known as a way of life, assist in identifying the issues and informs the actions in our DC communities, for meaningful, positive economic and social change". As starter, I dream of a City where every DCPS student knows and understands the Universal Declaration of Human Rights and is motivated to become an agent of peace and social justice.
Jean-Louis now serves as the Director of Partnerships for TEACH-NOW.
Human Rights Week of Action Blog Series: Post 9
By Jackie Smith, Pittsburgh Human Rights City Alliance & National Human Rights Cities Alliance Steering Committee Member
Leading the Way in National Human Rights Cities Organizing
The United States was late to the game in joining the global movement for human rights cities. After more than a decade of growth in this global movement following the UN World Conference on Human Rights in Vienna, the American Friends Service Committee helped lead work to make Washington DC the first Human Rights City in this country and to support and build the work of the D.C. Human Rights City Steering Committee. The AFSC was also was a catalyst for the Pittsburgh Human Rights City initiative, leading our city to become the 5th U.S. Human Rights City in 2011.
As we celebrate Washington's 10th anniversary as a human rights city, it is worth telling the story of how this movement has grown, and how groups like AFSC have helped nurture work to build and support a growing movement working to take back our cities. What the human rights city framework does is help shift the discourse around economic development to prioritize human rights over economic growth and corporate investments. We're changing the script for local policy and planning discussions and centering people and communities rather than profit margins and financial returns. As we say in Pittsburgh, "Human rights don't trickle down, they RISE UP!"
Human rights city leaders in Washington DC have not only inspired work in this country to "bring human rights home," but they have also supported work to build a national movement. In 2016, AFSC and the DC Human Rights City Steering Committee hosted a gathering of human rights leaders that led to the creation of the National Human Rights Cities Alliance, within the framework of the U.S. Human Rights Network. The National Alliance has been growing, and we returned to Washington D.C. last summer to share lessons about human rights city organizing and to develop strategies for supporting local work around human rights. In light of the Amazon 2nd Headquarters competition, we discussed the problem of corporate influence in local politics and we continue to work with leaders in the human rights city of Seattle to develop our thinking about how best to counter this significant threat to local democracy and human rights. These conversations are continuing: human rights city organizers gathered recently in Greenville South Carolina and are planning meetings in 2019 to include Atlanta and other cities of the U.S. South. As D.C. moves into its second decade as a Human Rights City, we see promise for substantial growth and innovation in our national human rights cities movement! We are the ones we've been waiting for!