Denise Altvater is a Passamaquoddy Tribal citizen and coordinator of AFSC's Wabanaki Youth Program in Maine. In 1978, the Indian Child Welfare Act (ICWA) was passed to re-establish tribal authority over Native children, due to high rates of state removal of children. In spite of ICWA's passing, Native children were placed into foster care at high rates in Maine. Concerns about the contemporary relationship between the state welfare system and the tribes, as well as the lasting effects of foster care trauma on tribal communities, brought about the Maine Wabanaki-State Child Welfare Truth and Reconciliation Commission, the first Truth and Reconciliation Commission between Native peoples and child welfare. The following is edited exerpts of our conversation. 
Genevieve Beck-Roe (GBR): The last time Acting in Faith wrote about the Maine Wabanaki-State Child Welfare Truth and Reconciliation Commission (TRC) was in early 2013, soon after the mandate had been signed. In June 2015, the commissioners presented their report and the formal TRC concluded their work. Tell me a little about the process of the TRC from the signing of the mandate to the presentation of the report.
Denise Altvater (DA): There were five commissioners. One was from out of state, a Lakota woman from North Dakota. One was from Mashpee on Cape Cod, he's Wampanoag. Another was a professor at the University of Maine. One was a philanthropist in Maine who did a lot of volunteer work. The other was the Secretary of the State of Maine.
They took about six months to be trained about what the process is about and what was expected. They did research. They looked at state records, child welfare records back from the 60s and pre-Indian Child Welfare Act (ICWA) to the present. According to the mandate they were required to have a certain number of gatherings where people could come and share their stories.
The opening gathering was at Pleasant Point reservation, the reservation that I live on. At each gathering, we had a sacred fire, and we did this thing called the Burning of the Tears. We brought a basket, and everybody's tissues would be put into the basket. At the end of the gathering, which would usually lasted two to three days, the tissues would be burned in the sacred fire.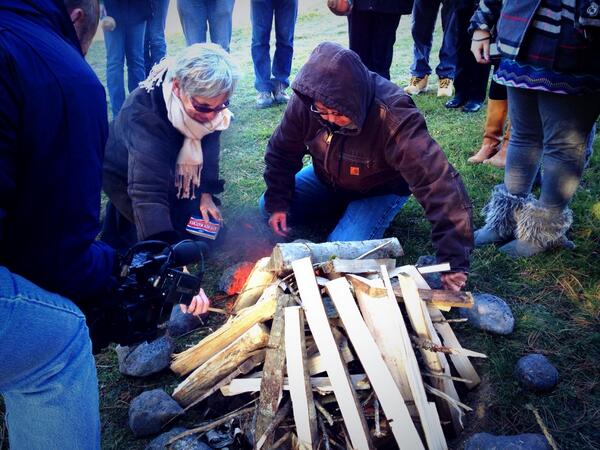 During the gathering process we would have group meetings as well as private interviews. Some people were only interested in speaking with one or two of the commissioners. We had all kinds of different ways people were able to give their statements. They could write it or record it and turn it in, or they were able to have a person tell their story for them while they were there because they would be too emotional.
There were all these different options because we wanted to make sure people had total ownership of their stories. The most important piece of this was the healing process. People have to have control of their story and be able to tell their story not just for the commission process but for healing. So we were very careful, which was why everybody had two support people that they chose. For a lot of them it was the first time they had ever told their story so we wanted to make sure that they had people to support them. In addition, every Native community held a healing circle once a week, and they're still doing that.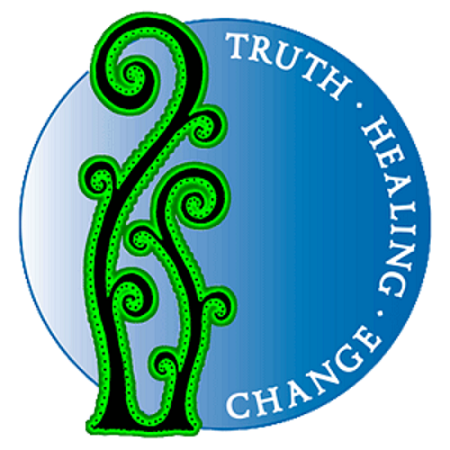 GBR: You mentioned the Burning of the Tears and the support people. What were some other ways healing was encouraged during and after the TRC process?
DA: Before we started the process we got trained in different ways of healing and soothing. We were trained in co-counseling because we knew that in order for people to talk, they needed to know that somebody was listening and really paying attention to them. We also learned the "tapping" process of self-soothing.
We connected with all of the tribal communities and met several times with the professionals there, the counselors and psychologists and psychiatrists, to make sure that they understood what we were doing and what the people were going through. They set up their own group to prepare themselves for what was going to happen during and after when people told their stories.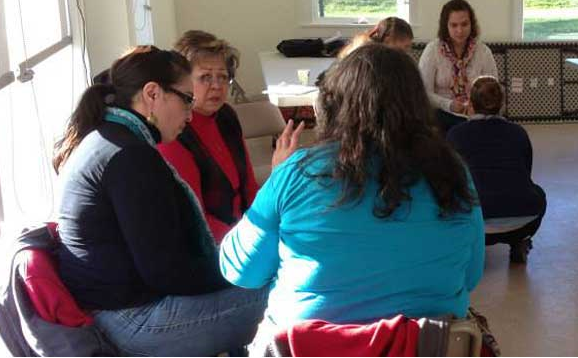 GBR: Back in 2013 you said that you hoped the process would result in the beginning of the healing of the Wabanaki people, a systemic change in the child welfare system, and for the Wabanaki youth to understand their history. How has the process accomplished these goals?
DA: I'll tell you a personal story of mine to give you an idea of what happened within families. I told my story, and I've been telling my story for a while but none of my family ever told their story – my siblings, my mother, we never talked about any of this. I never talked about this with my children or my husband. The Truth and Reconciliation process was the first time I ever spoke about what happened to me in the system with them.
I asked my children if they were willing to be interviewed and talk about what their life was like with me as a parent. Both my daughter and my son were interviewed. They talked a lot about what it was like when they were children and said things that I had never heard before. They talked about things that I totally did not remember, just blocked out of my mind.
All of my children have really severe problems. My son is a chronic alcoholic and can't stop drinking. I went to his house one morning and he was sitting there drinking a cup of coffee. I said, "Honey, I need you to tell me the truth about what happened to you when you were little, because you mentioned in your story that I had beaten you and I don't remember that." And he looked at me and he said, "Mom, how could you not remember?" I said, "Well, I need you to tell me. Will you tell me, and will you tell me everything?"
He said yes so I sat there, and he told me everything that happened in his childhood. He was crying, and I was crying but I was trying not to cry over him, because I didn't want him to stop. I wanted him to keep going. He told me things I did not remember that I did when he was younger.
I told him afterwards, "Honey, there's nothing in this world that I could ever, ever do to make up for what I did to you." I said, "I know I've made amends and I've told you I was sorry that I was an alcoholic when you were younger and that I wasn't a very good mother and that you had a really awful childhood" I said, "But I could never make up for any of that" And he said, "Yes, you can."
And I said "What?" I thought he was going to say, "You could buy me a car" and he said "You could be my mother, because you still haven't been my mother." He said, "You're mad at me all the time, you want me to have this life you think is good for me and you get mad because I can't." He said "I am doing the best I can, and I want you to be my mother and accept me the way I am so that I can come and talk to you. It's not too late."
That was my experience with my child. With my other two children it was a different type of experience, but I imagine that those conversations happened in other families. After I had that talk with my son, our relationship has been so different. He comes and visits all the time, and we talk. If he's drunk, I don't scream and yell at him and get mad. I let him know I'm here if he needs me.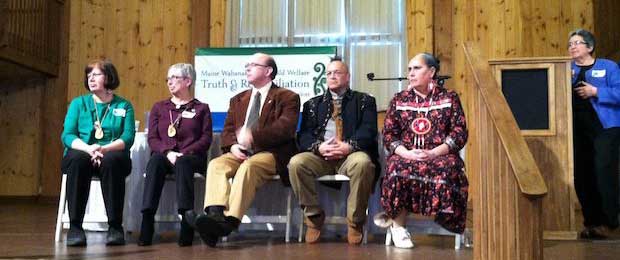 GBR: What surprised you about the TRC process?
DA: The number of people who had been in child welfare, the number of people who had been taken pre-ICWA, and how they were taken. I was surprised because nobody ever talked about it. When we first started this process, I didn't have any idea how many people were involved and how many people would be willing to give their statements. In total we got over 80 statements in a year and a half, and we're still taking them. That was the big surprise for me.
GBR: You were instrumental in bringing about the process of the Maine-Wabanaki Child Welfare Truth and Reconciliation Commission. How has your role changed since the TRC began and ended?
DA: As soon as the commission took over, we had to let go of the process of the truth telling. We took on a new role. We put it in the mandate that we went from being the Truth and Reconciliation Convening group, to being REACH (Reconciliation, Engagement, Advocacy, Change, Healing). REACH's responsibility was to make sure that the Truth Commission came into our communities the way that we wanted it done and that they followed our rules. Since then REACH has expanded. We're still doing the work around truth and reconciliation, youth work, prison work, healing work. But we're also doing work that keeps evolving. Whenever there's a need or a crisis in a community, REACH is there.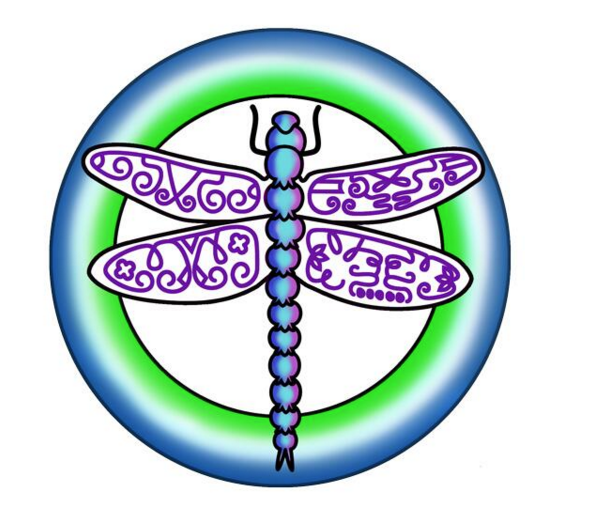 For example, something happened a few weeks ago. There aren't jobs around here and Washington County is one of the poorest counties in the state. A lot of people make their living clam digging. The clams around the shore where we live have all been dug so people have to go to these little islands to dig clams. Recently, a canoe fell over and a man drowned. He was 23 years old, and he had a nine-month-old baby. They couldn't find his body, and the professionals gave up after three days because they didn't have the resources to continue the search. So the community and REACH did a huge expansive gathering of all of the tribal communities and on the second day we found his body. It was REACH that came and provided a place for people to come and talk about what they were going through. We would have coffee and food and counselors there and talking circles. In the end we did a lot of work in the community with healing, especially with those who finally found the man. That's the stuff that REACH does to support all of the communities.
Related Content
How a community heals: A conversation with Denise Altvater
The journey home: a prayer for healing
First Light is a 13-minute film independently documenting the work of the Maine Wabanaki-State Child Welfare Truth and Reconciliation Commission (TRC).
First Light from Upstander Project on Vimeo.