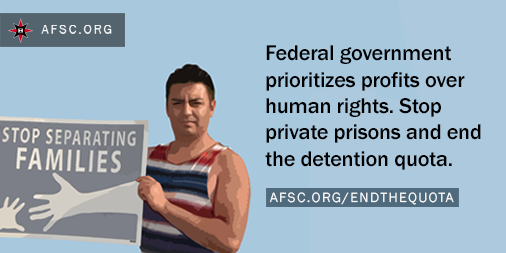 Nearly every weekday in Tucson, Arizona, up to 70 men and women from Mexico and Central America are brought before a judge in the Evo A. DeConcini Federal Courthouse. They are handcuffed and shackled around the ankles. Some are wearing the same clothes they crossed the desert in, sometimes limping or otherwise visibly injured.
In less than two hours—and sometimes as quickly as 30 minutes—all 70 or so of these immigrant sisters and brothers will have pled guilty to the misdemeanor criminal charge of improper entry and be remanded to a federal detention facility for as long as six months. From this moment on, each of them will have a criminal record, effectively foreclosing any chance of returning to the United States through official channels. Following this incarceration, a judge in immigration court will order them deported to their country of origin where, more than likely, the immigration process is simply restarted.
This fast tracked plea agreement hearing is called Operation Streamline. It is a loosely organized federal program aimed at deterring border crossers from re-entering the country by making the immigration process that much more painful—a commonly used tactic by the Customs and Border Protection (CBP) as part of the "consequence delivery system," Operation Streamline was first implemented in Del Rio, Texas in 2005 and loosely replicated in other border sectors, including Tucson, Arizona in 2008.
As part of a community observation project of Operation Streamline proceedings, I have witnessed countless individuals effectively being uprooted from their lives in this country. Though the government purport the program is about "border security," too often the stories of each individual paint a dramatically different picture. I remember one man asking the judge in perfect English when he might be able to see his family again. He described living in the United States for over 20 years with three children and a wife in Arizona. The judge simply said that hopefully they could come to Mexico to see him.
What wasn't articulated was the fact that due to the criminal conviction that he was agreeing to plead guilty to in the Operation Streamline proceedings, he would be ineligible to obtain official documentation to return to the United States. It would no longer matter if his children had citizenship, his only option was to remain in Mexico and hope for visits, or to risk crossing the border again to be with them. This is the tragedy that our border policies place on family after family.
But as shocking as it is to see 70 people funneled through criminal proceedings at such a high rate, Operation Streamline represents only a fraction of the criminal prosecutions aimed at immigrants—and one small piece of the problem of the mass criminalization of immigrants in the United States.
Since 2005, over 730,000 people have received criminal charges simply for being found in the United States without documentation. Today, 49 percent— nearly half—of all federal crimes prosecuted are for being in the country without documentation.
The mass criminalization of immigrants through tactics such as Operation Streamline, has shifted what was previously a civil matter in the realm of criminal courts, adding costly prison sentences, and draining precious taxpayer dollars. What's more, it has created a subclass of people through criminalization and deportation and devastated families and communities, with no impact whatsoever on the stated goal of "border security".
Arizona Senators John McCain and Jeff Flake have publicly praised the criminalization strategy—claiming it is a deterrent against further undocumented immigration—and supported its expansion in Tucson. That expansion was outlined in 2013 as part of Senate Bill 744. At the time, SB744 was described as an immigration "reform" package, but it would have been more aptly described as a border militarization bill that increased enforcement and further bloated the spending on immigration and CBP officers.
Incidentally, both McCain and Flake were among eight U.S. senators who crafted the original language for SB 744. All but one of these eight Senators had a history of accepting donations from for-profit private prison lobbyists.
Not surprisingly, one of the many drivers behind maintaining such a massive immigrant criminalization machine, is the for-profit private prison industry. In the recently published report Indefensible: A decade of mass incarceration of migrants prosecuted for crossing the border, the authors conservatively estimate that $7 billion has been spent on criminal prosecutions alone since 2005. Given that 62 percent of all immigrant detention facilities are run by private companies such as Corrections Corporation of America (CCA) and GEO Group, one need not look too far for incentives to continuing the steady march of immigrants into carceral spaces.
In 2011, for the first time ever, the U.S. spent over $1 billion in taxpayer dollars on immigrant detention, when over six in ten facilities are run by private for-profit companies. CCA brings in 44 percent of its annual revenue from federal government contracts, which includes facilities that hold immigrants convicted under Operation Streamline.
Community members people are fighting back, in Tucson and around the country are fighting back against the mass criminalization of immigrants and the system that profits from it. The report, Indefensible, is not only a critical history of the mass criminal prosecutions of immigrants, but a clarion call for change to our nation's priorities, policies, and practices with regard to immigration. And it is essential reading for anyone concerned about ongoing immigrant criminalization.
In October 2013, community members and activists in Tucson, Arizona stopped buses transporting people to Operation Streamline proceedings by locking themselves around the wheels and refusing to leave. None of those 70 men and women received criminal records that day.
Also in Tucson, Arizona, community members are participating in daily monitoring of Operation Streamline proceedings, cataloging failures of legal representation, judge misconduct, and other blatant abuses suffered by the apprehended immigrants that take place every day. We have organized street theater and protests in front of the Federal Courthouse, as well as reached out to judges and U.S. attorneys to demand changes to these criminalization tactics.
Slowly, we are beginning to raise the specter of immigrant criminalization across the country. Communities all around the country are demanding the end to criminal prosecutions of migrants for border crossing, and as more people do so, the opportunities for intersectional efforts between those working on mass incarceration and immigration issues continue to present themselves. We must seize these opportunities and confront criminalization in all its many forms.
Matthew Lowen is also a contributing author to the forthcoming book "Intimate Economies of Immigration Detention: Critical Perspectives." Abingdon, Oxfordshire: Rutledge.