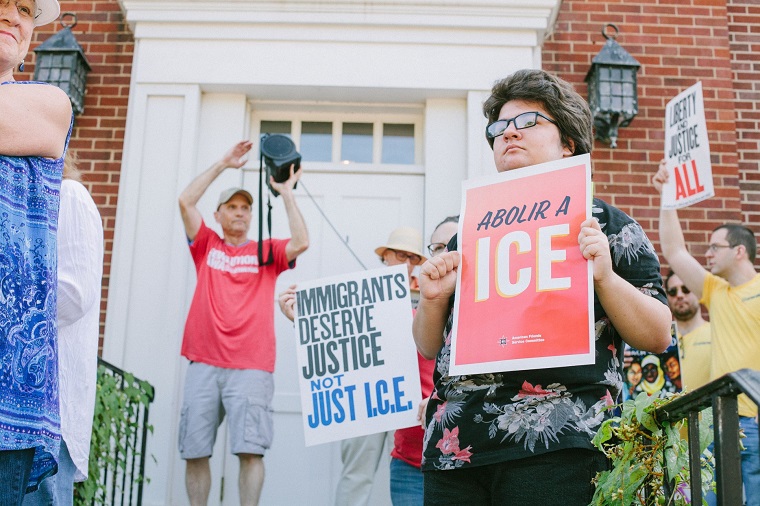 For months, headlines have been dominated by the devastating impacts of the Trump Administration's immigration policies and the growing movement against them. Loved ones have been torn apart at the border, thousands have been funneled into a cruel and inhumane detention and deportation system, and there are almost 500 children who still remain separated from their families.  
This devastation is only possible because our elected officials continue to fund it. And now they may be trying to increase just how much they are paying through a loophole in the budget process.  
Though the appropriations process can feel complicated and abstract, these budget bills have immense power to shape the world we live in. Here's what you need to know: 
What's going on with the budget? 
Congress has been scrambling to pass funding bills before the fiscal year ends on September 30th, to fund the federal government for 2019 and avoid the possibility of a government shutdown before the midterm elections. But it is unlikely they will reach an agreement on Department of Homeland Security (DHS) funding before that deadline, so they will try to pass a continuing resolution. A continuing resolution is a bill that continues funding at the levels of the previous year for a set amount of time. It is used as a stopgap measure when lawmakers have been unable to agree on funding levels for the new year.  
What is ICE trying to do? 
Despite nationwide calls to abolish Immigration and Customs Enforcement (ICE) in its entirety, the administration is instead trying to use the continuing resolution as an opportunity to seek even more funding for ICE detention. Already, ICE's budget has jumped by almost a billion dollars in the last two years, and they are currently funded to detain over 40,000 people every night in detention centers and jails across the country. Because of ICE's policies – detaining families, refusing to release asylum seekers, conducting raids on homes and businesses, and aggressively targeting immigrant communities – they are claiming that even this astronomically high number of detention beds is not enough. Right now, ICE is detaining around 45,000 people per day. 
Instead of changing their cruel and arbitrary policies and reining in their spending, ICE is attempting to include an anomaly in the continuing resolution that could significantly increase funding for detention. An anomaly is a vehicle for agencies to request additional funding within a continuing resolution. Because a continuing resolution receives way less attention from the media, it's a way for agencies like ICE to receive massive funding increases for their destructive practices with limited public scrutiny. 
Why does this matter? 
ICE is causing a tremendous amount of harm to communities across the country, which is why AFSC and many others are calling for it to be abolished entirely. ICE routinely engages in racial profiling and violates human rights. Between 2010 and 2017 alone, 1,224 complaints were filed by those in immigrant detention for sexual and physical abuse. And ICE provides substandard care, leading to injury and even death for many in ICE custody.   
To give just one example, this summer, one-and-a-half-year old Mariee Juarez died shortly after her release from the South Texas Family Residential Center due to the inadequate care she received in ICE custody. Mariee and her mother had come to the U.S. seeking asylum.  
While lawmakers may speak out about tragedies like this one, ICE is only able to commit these abuses because Congress votes, year after year, to give them more money. Congress has the power to put a stop to these atrocities by defunding ICE. And at the very least they must commit to voting against any continuing resolution that increases the agency's capacity to incarcerate and abuse people. 
What can you do? 
Right now, you can contact your congress people and tell them to reject any funding increases in the continuing resolution, and demand that they cut funding for ICE when it comes time to vote on the final funding bill for 2019.  
But we also need to look beyond this year's budget. There's a large and growing movement calling for the abolition of ICE in its entirety. Learn more about the call to abolish ICE and what you can do to get involved here.  
There is no need for an agency whose primary function is to destabilize and destroy people's lives. We should be investing in the resources and infrastructure that create whole, healthy communities. Building our collective power to push back against these destructive systems is a critical first step.