For the past four years, Hawo Mohamed Abdi has worked as a community-based counselor at the Dadaab refugee complex in Kenya. She visits clients in their homes, talking with them about the trauma they've experienced as well as the fears and anxieties they live with today.
Hawo knows firsthand the challenges her clients face. She is a refugee herself. Her family arrived in Dadaab nearly 20 years ago when she was just a child. They left Somalia amid drought and famine, which drove hundreds of thousands of others to leave the country, as well.
"Being a refugee is not easy—it is a struggle," Hawo says. "There is a lot of trauma and stress in the camps. If your mind isn't settled, you cannot do anything. But if people get some support, it can be very helpful. It keeps up their spirits. It can make a change in people's lives."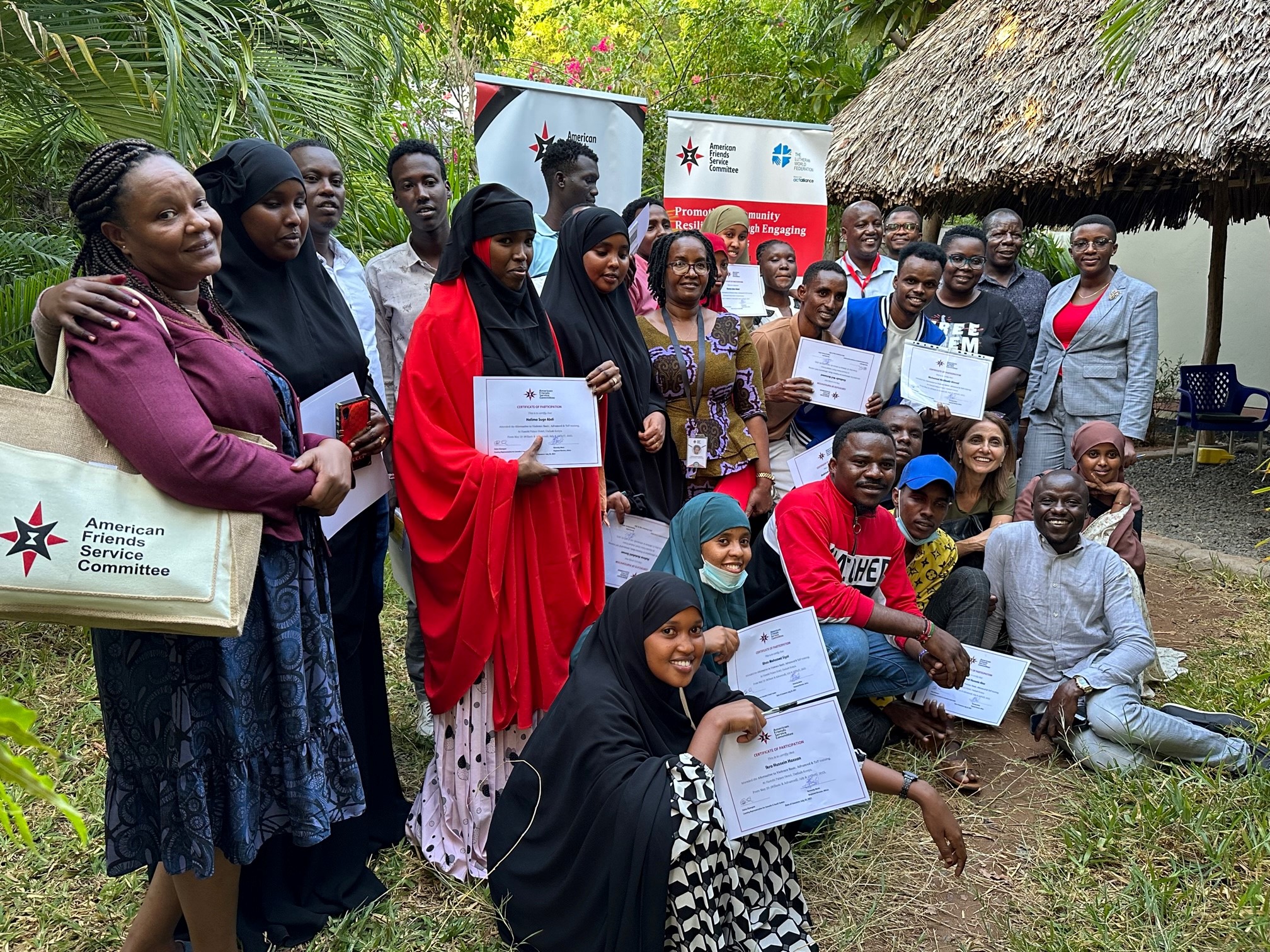 I recently visited Dadaab, where nearly three-quarters of the refugees are young people under the age of 35. Like Hawo, many have spent most—if not all—of their lives there. Although the camps help refugees meet their immediate needs (including food, water, and medical care), refugees have few opportunities to work and earn an income. As in many countries, refugees in Dadaab face restrictions on their freedom of movement and their right to work outside of the camp.* It can also take years, even decades, for refugees to get the opportunity to resettle in another country. Some will never be resettled.
These challenges are daunting, often leaving refugees with a sense of hopelessness. Stress, mental health issues, and substance use are common, and in recent years, several suicides have been reported. But young refugees like Hawo are also demonstrating how much young people have to offer—and showing what a difference it can make to have meaningful support.
Since 2014, AFSC and our local partner, Refugee Consortium of Kenya, have helped refugees in Dadaab camps access psychosocial services and community programs that enhance peaceful coexistence. Thousands of people have been able to heal from trauma and improve their lives with support from community-based counselors like Hawo. Many more have had the opportunity to participate in community dialogues and learn skills for peacefully resolving conflicts.
Bokande Muluku Jules is one of several facilitators for the Alternatives to Violence Program (AVP) funded in part through AFSC. Jules is a refugee from the Democratic Republic of Congo (DRC) and helps represent and advocate for the concerns of minority groups in the Dadaab refugee complex.
"The AVP training helped me to discover a lot of things about myself," Jules told us. "It has assisted me a lot as a leader to help my community solve problems. It has made me feel like I am a peacebuilder."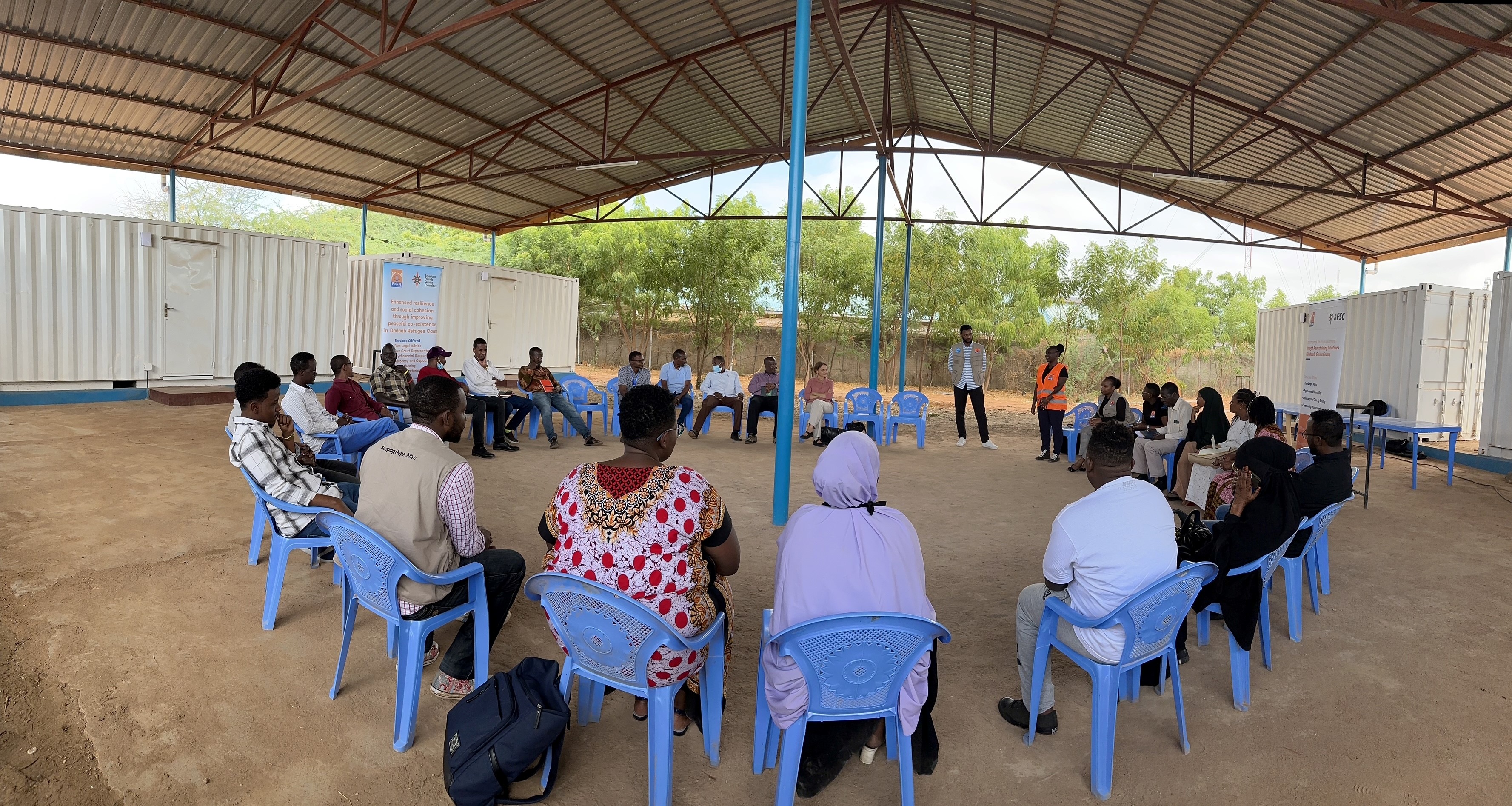 Other young people we spoke to, who completed an AVP intensive training in July, felt similarly. They developed conflict resolution skills, built their skills as facilitators, and learned how to share what they learned with others. They were also learning how to become trainers themselves.
"AVP is a life-changing program for us," one participant, Mohamed Jimale, shared during the last session of the training. "The skills we got here today will change the lives of many, starting with ourselves, our families, and community. We can make change not only in the camp, but in our countries."
Like Hawo and Jules, each of these young leaders is poised to make a difference. I am so grateful to the many people in the AFSC community whose gifts fund programs like these. Thank you for helping to ensure these young leaders have the resources they need today to build a more peaceful future in Dadaab—or wherever their journeys may lead.
* In 2021, Kenya passed a law known as The Refugee Act, which is intended to "improve refugee access to a range of rights, including freedom of movement, the right to work, better access to financial services, better access to documentation and education, and the ability to start a business." AFSC is supporting local partners in advocating for full implementation of the law. Read more about the act in Aljazeera.